Commentary
Doug Flutie staying busy with projects
Originally Published:
September 6, 2010
By
Adam Watson
| Special to Page 2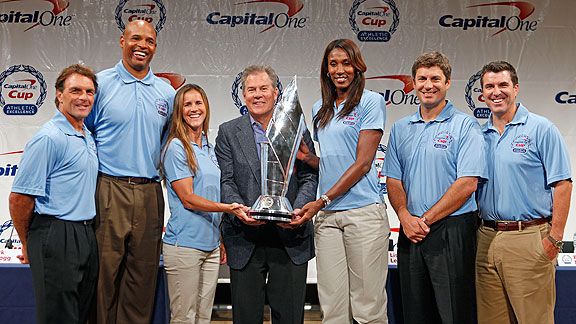 David Goldman/AP ImagesCapital One's Bill McDonald is joined by athletes from left, Doug Flutie, Clark Kellogg, Brandi Chastain, Lisa Leslie, Robin Ventura and broadcaster Rece Davis, to unveil the Cup.
Doug Flutie just might be busier these days than he ever was playing football.
The former NFL and CFL quarterback heads up the Doug Flutie Jr. Foundation for Autism, plays in two baseball leagues, plays drums in a band with his brothers and still manages to toss the pigskin around on the occasional Sunday.
Flutie has also just been named to the advisory board of the Capital One Cup; a new program where NCAA Division I athletics programs will be graded for their cumulative on-field performance. The top two schools will each receive $200,000 for graduate-level scholarships for student-athletes and will be announced at the ESPY Awards.
Page 2 got to talk with Flutie about the new program and what's been keeping him busy since he retired from football.
What do you think about being a part of the Capital One Cup?
"It's pretty exciting. I'm fired up to be a part of it. The Capital One Cup will be awarded by a point system that shows excellence in all sports- football, basketball, baseball all the way to field hockey, tennis, volleyball, you name it. It'll become bragging rights on campus."
How often do you get a chance to throw the football around these days?
"Once and a while during the spring. My nephew and his buddies every Sunday morning throughout the entire year -- they go out for about two hours and play touch football. Every now and then, for the fun of it, I'll go down and quarterback. I'm all-time QB."
You play on two baseball teams -- the Natick Knights, who are in the over-30 Boston Men's Baseball League, and the Reading Bulldogs, an Intercity Baseball League team with guys half your age. Which one do you like better?
"I really do enjoy the Knights thing. It's all guys that I played back in high school with. We've known each other for 30 years, and it's so much fun. We're older than the average team in the league, and we've still done well. It's a blast. We can read each other's minds at this point. The Reading team was a couple kids I had coached in Legion ball and they wanted me to play for them. It was fun, but it was a big challenge keeping up. The Knights is just my little pet team, though."
You and your brothers have had the Flutie Brothers Band for over 20 years now. What's your favorite song to play?
"My favorite song to play is "Smokin'" by Boston. I actually had a chance to play that with the band Boston live. The one that brings the house down is at the end of the night we'll play "Rock and Roll All Nite" by KISS. Cheesy as it is, it's just fun. Everybody's singing, everybody's dancing, everybody's up and we have fun. We have a blast."
At 5 foot 10, you were considered an undersized quarterback. How great was it to watch another shorter than average QB and your former teammate, Drew Brees, win the Super Bowl?
"It was great. There were some knocks on Drew going into it about his height. The thing I love about Drew is that nothing has been handed to him. He's had to earn everything. I admire him so much for that. To be able to be there with [Drew's wife] Brittany and his family throughout that game was very special for me."
Let's talk about the Flutie Curse. (Wade Phillips hadn't won a playoff game since benching Flutie for the Bills '99 postseason.) Phillips finally broke it last year with the Cowboys. Considering Dallas is hosting the Super Bowl and the curse is lifted, can Phillips and his team win it all now?
"(Laughs) I hope he does well. I really loved playing for Wade and respect him. I wish him all the best and I think they'll do well this year."