Commentary
Willie Shoemaker is on All-Shoe Team
Updated:
September 11, 2010, 12:56 PM ET
By
Rob Daniels
| Special to Page 2
In honor of St. Hubbins, the "Patron Saint of Quality Footwear," according to the film Spinal Tap, we present the All-Footwear Team. Sadly, as we all know, there isn't really a St. Hubbins. But the following names are real and have not been changed to protect the innocent.
Rick Bauer: Richard Edward Bauer comes as close as anybody to being Eddie Bauer. Unfortunately for Rick, he didn't have that cultural cache on the mound when he first got to the Majors. He went 0-5 in six appearances for the 2001 Baltimore Orioles. Only three other unfortunate souls have been 0-5 in six or fewer appearances in a season.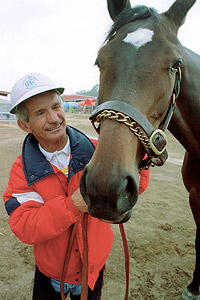 AP Photo/Sam JonesPage 2's All-Shoe Team is highlighted by horse racing legend Willie Shoemaker.
Cleatus Davidson: Cleatus was a second-round draftee of the Minnesota Twins in 1994 who stubbed his toe upon arrival in the Majors in 1999. He hit .136 in 12 games and hasn't made it back. But give him credit for perseverance; he played 400 games of independent ball for six teams in five leagues before apparently hanging 'em up in 2008.
"Boots" Day: Charles Frederick Day, an outfielder for the Montreal Expos, was one of those guys whose baseball card was destined to show up in every pack you bought. On the field, these Boots were apparently made for buntin.' Day placed second in the National League with 16 sacrifices in 1971.
Larry Foote: The Steelers let him go after the 2008 season, and they apparently realized their mistake. The linebacker is back in Black and Gold after a one-year stint with the Lions. He's won two Super Bowls with the Steelers and is best known for his hands -- not his feet -- which he used to pick off a Jake Plummer pass in the 2005 AFC Championship.
Dana and David Pump: The California twins are among the biggest power brokers in college sports. So big, in fact, that they've raised the eyebrows of the NCAA, which will effectively prohibit coaches from attending the brothers' networking/charitable events after this year. Those functions have raised millions for cancer, but the NCAA fears they create problems because the Pumps are also involved in the summer basketball business.
Harry "Silk Stockings" Schafer: The Boston Red Cap chased down 11 fly balls on Sept. 26, 1877, to set a National League record for single-game chances by a right fielder. The distinction still stands nearly 133 years later.
Bruce Shoebottom: A Boston Bruin for parts of four seasons, Shoebottom was apparently asked to kick something around when he hit the ice. In four playoff games in 1988, he collected 42 penalty minutes.
Willie Shoemaker: Having "The Shoe" on your horse was as valuable as eliminating a couple of competitors. Don't believe it? He won 8,833 of the 40,350 races he entered. That's better than a win in every five starts. The winner of 11 Triple Crown races, the story goes that Shoemaker was so small at birth (2.5 pounds) that he was put into a shoebox that was slipped in the oven for warmth on his first night. Shoemaker is the oldest Kentucky Derby winner he won in 1986 at age 54 in 1986.
Charlie Spikes: Probably best known as an important piece in a trade that sent Graig Nettles from the Indians to the Yankees in late 1972. Nettles went on to help the Yanks win the World Series in 1977 and '78. Spikes, meanwhile, peaked in 1974, when he hit 22 homers, drove in 80 runs and got to play on Ten-Cent Beer Night. He went 1-for-3 on that infamous June evening, which came to a premature end when inebriated fans charged the field and threatened several Texas Rangers.
Rob Daniels is a freelance writer for Sports Media Exchange, a national freelance writing network.
MOST SENT STORIES ON ESPN.COM