Commentary
Brett Favre of old or old Brett Favre?
Originally Published:
September 23, 2010
By
Jerry Greene
| Special to Page 2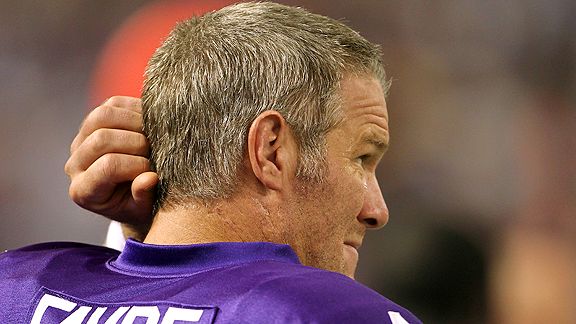 Jamie Squire/Getty ImagesBrett Favre has struggled for the first two games. Will he bounce back? What's in his head?
Wouldn't be surprising if Brett Favre sent a nice box of chocolates to Philadelphia Eagles coach Andy Reid in thanks for Reid attracting all the midweek media attention to the Eagles by announcing he will start Michael Vick on Sunday instead of going back to planned starter Kevin Kolb.
Not that the distraction worked in Minnesota. Everyone in Viking Country knows Favre will be the starting quarterback Sunday against the not-quite-as-hapless-as-usual Detroit Lions.
Ah, but which Brett Favre? The Favre of old -- or just the old Favre?
Nobody seems to have the answer, including Mr. Favre.
"I came back to give this team a chance to win, to be a part of it," Favre said after last Sunday's loss to the Dolphins that dropped the Vikings to 0-2, same as the Lions. "My hope is that we still do that. I knew it was going to be tough to begin with. All I can ask of myself and this team is give great effort."
Is that what Favre's thinking right now -- that he must give great effort? We asked you to guess what is going on in his mind and you came through with hundreds of suggestions. From those, we created this week's top 10 list -- and here it is:
Top 10 Things Brett Favre Is Thinking Right Now
10. "I hear the UFL is back for another season. Maybe I can go there and play until I'm 50," contributed by Matt H., Indianapolis.
9. "What am I going to do? My passing rating was as low as the everyday prices at Sears," (Yes, he's contractually obligated to mention Sears even during his private thoughts), contributed by Casey M., Columbia, S.C.
8. "I bet the grass in Kiln is getting really tall," contributed by Craig N., Ft. Worth, Texas.
7. "I'll tell them I thought I saw that TV Azteca reporter and got distracted. Yeah, that's the ticket," contributed by Brian S., Seminary, Miss.
6. "Maybe I should have done 'Dancing With the Stars' with Kurt Warner instead," contributed by Vicki A., Tempe, Ariz.
5. "Instead of Abe Vigoda they should have used me with Betty White in that Snickers commercial," contributed by Dave H., Toledo, Ohio.
4. "TGID -- Thank God It's Detroit," contributed by Jeff M., Colorado Springs.
3. "I miss my tractor," contributed by Dan N., Tomah, Wis.
2. "I can't believe Sidney Rice needed a new hip before I did," contributed by Donny E., Towson, Md.
1. "Let's see, so far this season one TD -- free; four interceptions -- free; two defeats -- free; and another $20 million -- priceless," contributed by Ben M., Peoria, Ill.
And, Brett, if you should see this, we kid because we love.
At least that's true until we see what happens Sunday against the Lions.
Jerry Greene is a retired columnist for the Orlando Sentinel. He can be reached at osogreene@aol.com.