Commentary
Shaquille O'Neal on All-Revolution team
Updated:
September 25, 2010, 9:31 AM ET
By
Rob Daniels
| Special to Page 2
Happy Birthday, America. Ten score and one year ago today (Sept. 25, 1789), the Bill of Rights was born, thereby certifying a novel government and cementing the break from the Crown. In that spirit, Page 2 presents the All-Revolution Team.
Ethan Allen: In a 13-year Major League career with six teams, Allen led the National League in doubles in 1934 and hit an even .300 over more than 4,000 career at-bats. He shares a name with a guy who was a revolutionary within a revolution. Ethan O. Allen wasn't just interested in liberation from the British; he ardently and successfully sought the sovereignty of what became Vermont, rebuffing attempts from New Hampshire and New York to annex what he thought was a separate jurisdiction.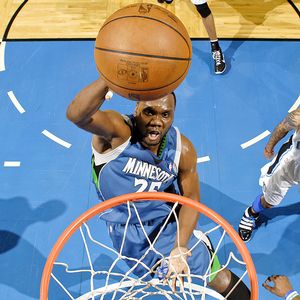 Fernando Medina/NBAE/Getty ImagesAl Jefferson would've made the founding fathers proud.
John Brown: In 1859, John Brown led an insurrection on behalf of slaves in what is now West Virginia. The revolt is widely considered one of the seminal events of the Civil War. Three decades later, pitcher John Brown's stand wasn't quite that dramatic. His one and only MLB appearance lasted three innings of a game in 1897 for the Brooklyn Bridegrooms, precursors of the Dodgers.
Juan Castro: The veteran infielder hasn't been at it as long as Fidel down in Havana, but he has similar staying power. He has carved out a 16-year career in the Majors while carrying a .228 average and never getting more than 320 at-bats in a season.
Danny Darwin: Charles Darwin's theory that man is descended from primates was so radical in its time that it was essentially put on trial in 1925. Unintentionally following the precepts of his fellow Darwin, Danny Darwin's pitching evolved in a 21-year career. Known as the "Brenham Bullet" when he made his debut in 1978, Darwin became a control pitcher who led the National League in fewest walks per nine innings in 1990.
Diego Guevara: On a March day in Hartford a dozen years ago, Guevara nearly overturned the NCAA tournament in the style of Che Guevara, the Argentine Marxist who served as Fidel Castro's sidekick in the Cuban Revolution of 1960. The UNC Charlotte guard nailed seven 3-pointers that day as the 49ers took top-seeded North Carolina to overtime before falling. One enterprising writer, Steve Elling of The News and Observer in Raleigh, N.C., referred to him as Trey Guevara. Seven years later, UNCC handed out Diego Guevara Bobbleheads at a home game. And five years since that day, Guevara is still firing the long ball. He's with Angeles de Puebla in the Mexican League.
Al Jefferson: Although not known to rock the boat in his NBA career, Al Jefferson wouldn't object to Thomas Jefferson's 1786 declaration that "a little rebellion now and then is a good thing." Al Jefferson declined the college education option (he had a been awarded a scholarship to Arkansas) and entered the NBA draft out of high school in 2004. That was allowed back then, but it wasn't popular with the league establishment, which instituted the age requirement of 19 a few years thereafter.
Shaquille O'Neal: The newest Boston Celtic is known as "The Big Aristotle" for his profound opinions on various topics, and there was no bigger revolutionary in antiquity than the Greek philosopher Aristotle, who postulated that the Earth was round rather than flat.
Cristian Zapata: The Colombian soccer star probably agrees with the famous quote attributed to Mexican revolutionary Emiliano Zapata, which says, "It's better to die on your feet than live on your knees." Indeed, it would be difficult to halt opposing strikers, as Cristian Zapata has done for several years, if forced to kneel.
Rob Daniels is a freelance writer for Sports Media Exchange, a national freelance writing network.