Commentary
Jesse Metcalfe loves softball
Updated:
October 2, 2010, 3:18 PM ET
By
Kelley Carter
| Special to Page 2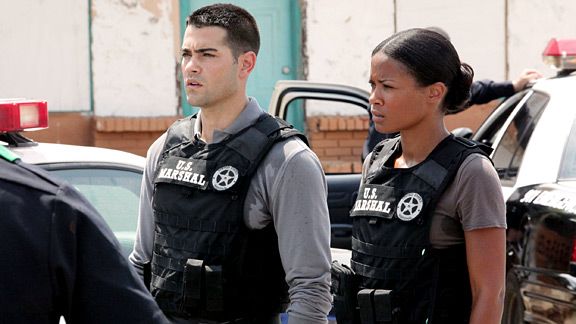 AP Photo/NBCJesse Metcalfe and Rose Rollins star in "Chase," a TV show about U.S. Marshals.
If you ask Jesse Metcalfe, there's only one job that tops being an actor in his book.
If he weren't co-starring in NBC's new procedural police drama, "Chase," he'd be a professional softball player. Yep. You read that right. Softball.
"Hey," Metcalfe says laughing, "if I can get paid to play softball, that'd be awesome. I always said the only job better than being an actor is being a professional athlete."
He's partly serious. When Metcalfe, 31, and his "Chase" castmates (the show airs Monday nights at 10 p.m. ET) aren't running lines or figuring out stunts, they're playing some local dudes in Dallas -- where they film -- in a softball league. So far, their team is 3-1, and he says it's on fire.
Know what else is on fire? Playing a U.S. Marshal -- pretty intense business, he says.
What made you want to be a part of "Chase?"
"I wanted to do something with a little edge, a more mature role that had a certain amount of physicality to it. I wanted to get away from that sort of teen-y, kind of boytoy image that I had, and it was a great opportunity -- a Bruckheimer production -- an action show where I get to play a U.S. Marshal, so it was perfect."
Are you doing much of your own stunts for the show?
"Yeah. We're doing a lot of our own stunts. A lot of actors go on interviews and they go 'we're doing all of our own stunts,' and that's never true! The thing is we have massive explosions going on and a lot of really intense special effects done, so we do as much as we can to make everything appear very real and authentic. And as far as handling our weapons and stuff like that, we kind of mastered some tactical training, training with like ex-SWAT members, U.S. Marshals, the CIA, the FBI in Westwood, Calif."
Did you have to change the way that you train for this role in particular because of the physicality of it?
"I didn't really change the way that I train, but I just kind of cranked it up a little bit, you know? I started doing high intensity training and started really hitting the cardio a lot harder, doing sprints, a lot of the uphill sprints, which really help lean you out."
Since you filmed in Dallas, does that mean that you got into Dallas sports teams?
"Oh, man, how can you not be into the Cowboys? You know? It's the regular season right now in Dallas. And I've been to a ton of Mavericks games and any opportunity I get to go to new Cowboys Stadium, you know I definitely go. We went to the Pacquiao-Mosley fight at Cowboys Stadium, and we've been to a few Rangers games."
Did you play any sports growing up?
"Yeah, I played a lot of baseball and basketball. Those were my two sports, but basically the sport I played all growing up was baseball. I mean we're talking tee ball, minor league, Little League, Babe Ruth, high school."
Was there ever any thought of trying to pursue a pro baseball career?
"Definitely not! I was a late bloomer, so my love for sports really took off when I was out of school, kind of in my mid-20s. So no, I never really contemplated a career in sports, but I love sports, man. I'm kind of an everyday sports watcher."
Kelley L. Carter is a freelance entertainment journalist based in Los Angeles. She can be reached at Kelley@thekelleylcarter.com