Commentary
Readers tell us top 10 worst stadiums
Updated:
October 7, 2010, 12:24 PM ET
By
Jerry Greene
| Special to Page 2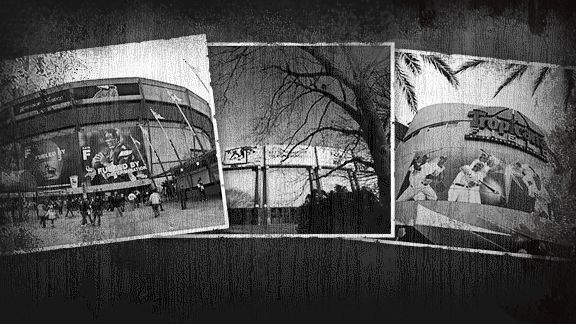 ESPN.com IllustrationWe asked readers their thoughts on worst stadiums and they were passionate with their answers.
Wherever deceased Vice President Hubert H. Humphrey might be, let's hope he doesn't have free Wi-Fi, because he will be saddened if he reads this list. Alas, the HHH Metrodome in Minneapolis is the clear-cut winner (loser?) in our search for the Top 10 Worst Sporting Venues.
Venues are our subject this week as a somewhat backhanded salute to Orlando's unveiling of its $480 million Amway Center, home of the NBA's Magic. (Take that, Miami Heat. Maybe you did get LeBron "King" James, but Orlando got a mansion fit for royalty as a new playroom.)
Bigger and better.
It's the American way.
So what are the venues that need to be replaced? Which ones most deserve a wrecking ball? Your answers include some shockers, although if anyone out there would defend the Metrodome, he or she did not speak up.
Based on the votes that poured in for "The Hump," apparently everyone who goes there now can't stand the 38-year-old home of the Minnesota Vikings and former home of the Minnesota Twins and the University of Minnesota Golden Gophers.
Listen to a sampling of voters' remarks:
• "Far and away No. 1, the Metrodome. Eerie lighting, echo chamber with piped-in crowd noise, troughs for urinals, etc." -- Jonathan K., Oshkosh, Wis.
• "Worst place is the Metrodome. The roof is falling apart and it is as visually appealing as Florence Henderson on 'Dancing With The Stars.'" -- Dave S., Chicago.
• "Has to be the Metrodome. The overall feeling of being in someone's basement. Often called 'the big inflatable toilet.'" -- Jeff, Delano, Minn.
You made your point, guys. Not that the Metrodome was alone. Your votes gave us a strong top five, as the fifth-place facility received twice as many votes as No. 6. But we said we were doing a Top 10, so that's what we'll do. Why not spread the love?
Incidentally, two of baseball's most revered parks and a couple of historic football fields made the list. You just don't pull your punches. So here is the list no venue wants to be on:
Top 10 Worst Sporting Venues
1. HHH Metrodome -- We already told you about that.
2. Nassau Veterans Memorial Coliseum, Uniondale, N.Y. -- "When Bette Davis said 'What a dump!' she must have been standing in this place. Odds are that your kids' high school has a better facility than the Islanders." -- Rich S., Brooklyn, N.Y.
3. Tropicana Field, St. Petersburg, Fla. -- "The concourse feels like some 'Twilight Zone' version of a shopping mall with a baseball game happening on the other side of a big blue wall. I just kept saying, 'What a dump!' all night." -- Jonathan H., Springfield, Mo.
4. Wrigley Field, Chicago -- "How about they trade in all that ivy for some clean restrooms? Standing at a trough to relieve yourself is not the definition of 'civilized.'" -- Ralph H., Chicago.
5. Oakland-Alameda County Coliseum -- "Also known as 'The Mausoleum,' it is a relic of the cement cookie-cutter fad of the late '60s. Add in the A's and the Raiders, two of the most boring and forgotten franchises in their respective sports, and it has the perfect nickname." -- Harrison K., Alameda, Calif.
6. Soldier Field, Chicago -- "Remember those great sci-fi movies of the '50s when aliens would attack our planet? You can see it live on Lake Shore Drive because a spaceship crashed into the old Soldier Field. No wonder it's known as the Mistake on the Lake." -- Fred A., Green Bay, Wis.
7. Fenway Park, Boston -- "Defenders of the ballpark will tell you about all the amenities that have been added. It's like putting lipstick on a pig. The animal may fool you for a minute but it's still a pig." -- Jonathan F., Boston.
8. Michigan Stadium, Ann Arbor, Mich. -- "I nearly wet myself at 'The Big House' while standing in line to reach a porta-potty inside the stadium. Had to eventually stand behind a dumpster." -- Joe D., Washington, D.C.
9. Citrus Bowl, Orlando, Fla. -- "The Cap One Bowl is played in a place not fit for pee-wee leagues. It reminded me more of a run-down country fair than a college football game." -- Josh S., Olyphant, Pa.
10. Cowboys Stadium, Arlington, Texas -- "Call it by its real name, Jerry's World. Jerry Jones had it built as a monument to Jerry Jones. It's our first modern-day pyramid and Jerry probably plans on being buried in it when he goes." -- Carl F., Houston.
Safe to say that you didn't hold back. Want to add one vote that we didn't know how to count: "Tropicana Field and Minute Maid Park because any stadium named after a juice box should automatically make this list." -- Ben M., Peoria, Ill.
One out of two ain't bad, Ben.