Commentary
Amani Toomer trains for NYC Marathon
Updated:
October 10, 2010, 9:32 AM ET
By
Jeff Arnold
| Special to Page 2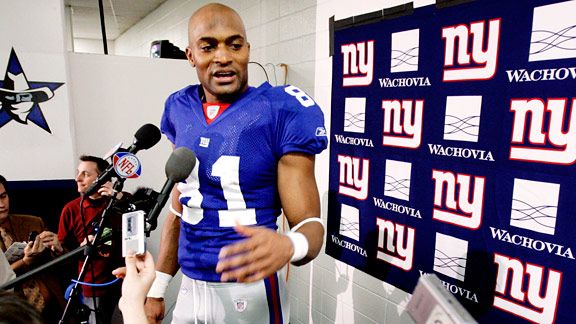 AP Photo/David J. PhillipFormer NFL star Amani Toomer is preparing for the New York City Marathon.
Amani Toomer runs worry-free these days, no longer on the lookout for defensive backs hell-bent on snapping him in two.
It's a relief, really, for a 13-year NFL veteran who is content to put his music on and run, armed with a technological wrist gizmo that monitors his heart rate, and provides a GPS read-out of where he's headed and how far he's run.
Gone are the 25 (give-or-take-a-few) pounds the New York Giants all-time leading receiver packed on during the first guilt-free six weeks after his professional career ended last year.
After all, when you're attempting to become the first former NFL player in 17 years to complete the New York City Marathon, any extra baggage isn't advised.
"It's not like bones haven't been beat up enough, right?" Toomer said.
OK, it sounds crazy that Toomer, who spent the final season of his NFL career following a regimen of pre-workout massages and cold-tub treatments just to get his body ready for Sunday afternoon, would put his 36-year-old body through six months of marathon training.
But on Nov. 7, Toomer will start dead last in a field that last year eclipsed 40,000 runners. Timex will donate $1 for every competitor he passes to the New York Road Runners Youth Program, one of the key sponsors of the event.
Toomer began training in May with Chris Thomas, the 2009 USA Triathon Amateur Athlete of the Year. Thomas' initial challenge was to transform Toomer's natural breakaway speed into a steady pace that could last the 26.2-mile course.
Throughout his NFL career, Toomer remained in shape, aware that roster space was rarely reserved for veterans who had lost a step.
But Toomer's training had always been meant to preserve his speed for quick-burst runs rather than the grueling marathon course he will face in November.
Before May, Toomer had never run more than five miles at one time. In the beginning, he struggled to remain patient while plodding along and digesting a new way of training.
"The natural tendency for someone coming out of his background and with his athletic pedigree is that you want and you expect immediate gratification," Thomas said. "But with building an endurance platform foundation, it takes time. No matter who you are."
Each day, Thomas e-mails Toomer workouts that combine shorter runs to maintain his heart rate as well as longer runs to build his endurance. They spent days working on hill-climbing and others focusing solely on pace, changing the way Toomer approached his workouts.
"He's worked his butt off, and the transformation has been amazing," Thomas said.
Toomer is the first former NFL player to tackle the marathon since 1993, when Hall of Fame receiver Lynn Swann, at age 41, completed the course in 4 hours, 26 minutes, 21 seconds.
Toomer has worked his way up to 18 miles, leaving him about a month to work the remaining 8.2 miles into his training routine.
Over the next month, Thomas will teach his pupil to employ mind tricks to convince the body it has something left when, in essence, it doesn't.
Toomer insists he is up for the challenge.
"I don't know if a lot of distance athletes know how hard [football] is, in terms of the stamina you need to not only play football, but to compete at a high level," Toomer said. "I want to pass as many people as I can and I want to be respectable.
"I don't want to run across the line in like six hours and have people say, 'Yeah, see, football players can't do anything.'"
Jeff Arnold is a freelance writer for Sports Media Exchange, a national freelance writing network.