Commentary
Max Hall latest 'Madden' ratings surprise
Updated:
October 12, 2010, 5:24 PM ET
By
Patrick Hruby
| Page 2
When surprise players such as Arizona Cardinals quarterback Max Hall -- undrafted rookie in August; unlikely starter last week -- emerge on the NFL landscape, opposing players and game-planners often are at a loss, with scant film and skimpy scouting reports producing lots of educated guessing.
[+] Enlarge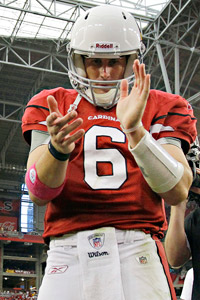 AP Photo/Matt YorkMax Hall is the latest "Madden NFL" player to get a high-profile ratings adjustment.
"Madden NFL" producer Donny Moore can relate.
"We're always trying to get [in-game player ratings] right," Moore says. "But it's a hard task. The good thing is that I can always play catch-up and change the ratings a couple weeks down the road. For pro coaches, it's going to cost them a couple hundred thousand dollars -- or maybe their jobs -- if they guess wrong on a player."
As Madden NFL's player ratings guru, Moore is in charge of making sure the game's digital athletes look and play like their real-world counterparts -- and because the title traditionally ships to stores in early August, he's also responsible for creating and adding players like Hall via weekly downloadable roster updates.
To better understand Moore's method, Page 2 asked him to break down some of his most memorable come-from-nowhere players:
Tom Brady
Nowhere: Began 2000 season as No. 4 quarterback on New England's depth chart, behind Drew Bledsoe, John Friesz and Michael Bishop.
Somewhere: Took over for injured Bledsoe; led Patriots to Super Bowl; later became all-time great while growing fabulous hair.
In Madden: Not in "Madden NFL 2001," because online roster updates didn't debut until the next year.
Moore's take: "It was embarrassing for us. On the face of it, you think, 'My God, how could we mess that up?' But he was fourth-string, and we could only carry 55 players per team. Even the Patriots didn't have him very high."
Marques Colston
Nowhere: Hofstra receiver a seventh-round pick by New Orleans in the 2006 NFL draft.
Somewhere: A Week 1 starter for the Saints.
In Madden: Not included in initial "Madden NFL 07" rosters; added in first roster update.
Moore's take: "I personally create 60 receivers per draft class, because so many get picked. And he wasn't even in that group! He was 230-240 pounds at the time. People thought he might play tight end. We lock the rosters when the game ships … in late May, early June, but as the summer went on, he was the most requested guy for the first update. We bumped his rating up six to eight points before Week 1."
[+] Enlarge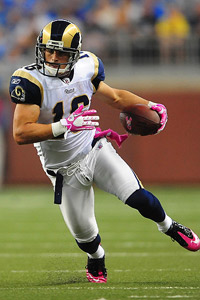 Andrew Weber/US PresswireDonny Moore says "Madden NFL" producers used Wes Welker as the template for Danny Amendola in the game.
Danny Amendola
Nowhere: Undrafted free agent receiver languished on Dallas and Philadelphia practice squads in 2008 and 2009.
Somewhere: Signed by St. Louis from Eagles practice squad last September; broke out as a slot receiver and kick and punt returner.
In Madden: Added via "Madden NFL 10" roster update.
Moore's take: "To me, he is Wes Welker Jr. In fact, when we first created him, we used Welker as our template. We do that a lot. Starting with 'Who does this player remind me of?' is better than just starting from scratch. Ratings are always tweaked. But in terms of size, body type, skin color blend, that helps. And you already know the player is going to work inside the game."
Jeff Cumberland
Nowhere: Undrafted free agent tight end signed with New York Jets this summer.
Somewhere: Has yet to appear in a regular-season game, but did make the team's roster.
In Madden: Added via "Madden NFL 11" roster update.
Moore's take: "I had to create him, and initially had his speed in the low 70s. Honestly, we knew nothing about the guy. He seemed like a blocking tight end. I put the update out and got hell for it on Twitter and Jets message boards. People pointed out his pro day 40-yard-dash time was a 4.3. They were right! I had to make a change to his speed rating."
Danny Woodhead
Nowhere: Undrafted free agent out of Division II Chadron State in 2008; spent rookie year on injured reserve; saw limited action with Jets in 2009 and 2010 before being waived in September.
Somewhere: Signed by Patriots and scored first NFL touchdown against Buffalo on Sept. 26.
In Madden: Added via "Madden NFL 10" roster update.
Moore's take: "He's a fun little player in the game. He's really elusive and fast and bounces off tackles. He does it all. Play with him, and you understand why he stays in the league."
Max Hall
Nowhere: Undrafted free agent signed with Cardinals this summer.
Somewhere: Quarterbacked Cardinals to victory over Drew Brees-helmed Saints last week, becoming what is believed to be the first quarterback not on a "Madden NFL" default roster to defeat a quarterback featured on the game's cover.
In Madden: Added via "Madden NFL 11" roster update; sports 87 rating in short throw accuracy.
Moore's take: "Before the draft, I created the top 30-35 college quarterbacks. He was like 22 on our QB draft board. The knock on him was that his arm is not that strong. But he came in high on awareness and short accuracy. When the game shipped, Matt Leinart was still on the Cardinals, so Hall didn't make the roster cut. As soon as they moved Leinart, we heard [coach Ken] Whisenhunt loved Hall. So I bumped his ratings a bit. We're not totally surprised he's getting starting action."