Commentary
Which teams would readers contract?
Updated:
October 28, 2010, 2:15 PM ET
By
Jerry Greene
| Page 2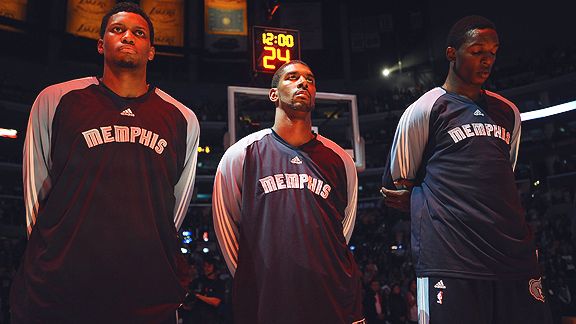 Noah Graham/NBAE/Getty ImagesSome readers don't think Rudy Gay, O.J. Mayo, Hasheem Thabeet or the NBA belong in Memphis.
Memphis Grizzlies -- you are the weakest link. Goodbye.
That is the harsh judgement by you, the not-so-gentle Page 2 readers, who gleefully responded to the question of which teams are most deserving of contraction.
The Grizzlies, stuck in a small market with a losing team, clearly were your first choice, even though NBA commissioner David Stern already has tried to quell that idea. It was Stern who played the contraction card in a recent media conference call but said Memphis should not fear elimination of its team.
One reason for Stern's support probably is that Grizzlies owner Michael Heisley is No. 252 on Forbes' list of richest Americans. Also, the FedExForum is one of the league's best arenas.
None of that interested you, of course. Your votes were intended to purify our sporting scene by getting rid of the dead wood. Many of you, in fact, went one step beyond our question by voting to contract entire leagues. Cruel -- but it is a cruel world.
The NBA commanded your greatest interest, with three of the top four teams coming from that league. Perhaps you'd just like to see the Lakers, Heat, Celtics and Magic play an 82-game round robin?
An oddity is that Nos. 7, 8 and 9 are from the same state.
Here's your list with a comment from one of you about each selection:
Top 10 Teams (or Leagues) That Should Be Contracted
1. Memphis Grizzlies -- "The first clue that Memphis doesn't know what it's doing is that there's a pyramid there. Graceland, OK, but a pyramid? The second and decisive clue is that there is a NBA team there," said Frank R., Nashville, Tenn.
2. Los Angeles Clippers -- "The only people who buy Clipper tickets are those too cheap to see the Lakers," said Mass A., Queens, N.Y.
3. Pittsburgh Pirates -- "Sadly there are only two reasons not to contract the Pirates, PNC Park and Roberto Clemente," said Dan R., Pittsburgh.
4. Minnesota Timberwolves -- "If your best player is named 'Love,' and he's a guy, you can't be good," said Nik R., New Delhi.
5. Entire National Hockey League -- "Nobody knows more than three guys in your league, so how many teams do you need?" said Ben M., Peoria, Ill.
6. Entire Women's National Basketball Association -- "Do away with that league, and the money saved would cover 30 percent of NBA salaries," said Adam A., Farmington, Utah.
7. Jacksonville Jaguars -- "They cover their seats with tarps and still can't sellout their stadium, plus we have to watch them in the Orlando area and there is not a single Jags fan here," said Mark M., Apopka, Fla.
8. Florida Marlins -- "As transient as the crowd in a train station. Miami has bigger fish to fry in the Heat and Dolphins," said Alex C., Baltimore.
9. Tampa Bay Rays -- "Your city has the best record in baseball and you draw 20,000 fans? You don't deserve a team," said Erick A., Hamden, Conn.
10. Chicago Cubs -- "They aren't real anymore. Wrigley Field is a glorified bar/museum where fans care more about who's singing 'Take Me Out To the Ballgame' than who wins," said Michael V., Birmingham, Ala.
Just missing the list were the Sacramento Kings, Charlotte Bobcats, Tampa Bay Lightning, New York Yankees (really), Toronto Raptors, Major League Soccer and the Florida Panthers.
And even though it received only one vote, we'd like to note David M. of Washington, D.C., suggested a contraction of "Tom Brady's hair."
We like it.