Commentary
LeBron James tries hard to be liked
Updated:
October 31, 2010, 10:56 AM ET
By
Jerry Greene
| Special to Page 2
Doesn't LeBron James seem a little, you know, desperate?
No, no, we're not talking about his basketball skills as they certainly have not diminished. But doesn't he seem a little desperate about trying to win us over?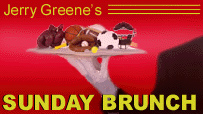 Isn't LeBron James trying awfully hard to be liked?
Admit it, you might have expected to see a lot of things Friday night when the Miami Heat played rude hosts to the Orlando (Where Was The) Magic, but you never expected to see James wearing a mouthguard that included fangs. Even with Halloween approaching, that was just weird.
And then there is his "What Should I Do?" commercial for Nike. Granted, he might have asked that question before "The Decision," but that's spilt milk now. It seems as if most people like the commercial, which must be what James was after. If that's true, we have three more ideas for him to help create a positive image:
[+] Enlarge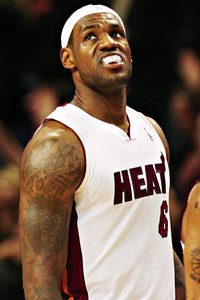 AP Photo/Jeffrey M. BoanLeBron James shows off his Halloween fangs in Friday's game against Orlando.
• Buy full-page adds in America's leading newspapers (all three of them) that let us know who else is on the Heat team: "Meet Udonis Haslem!"
• Embrace the hate and make fun of it:: Enter opposing arenas wearing a Darth Vader mask. "Dwight, I am your fah-thaw."
• Go back to Cleveland and buy everybody a cheeseburger and fries. All would be forgiven.
Or not.
Meanwhile, we have a few more notes before turning to some of America's best writers for the links to the main courses in this Sunday Brunch:
• If Charlie Sheen was in the NFL, how long would his suspension be?
• The BBC's Neil Reynolds writes about NFL football in England: "I always felt there was still a massive NFL fan base in the UK. I think they wanted to see topflight football." -- Unfortunately, we sent the Niners and Broncos.
• MLB.com has given a blog to Chicago White Sox Manager Ozzie Guillen. Sure, what could go wrong with that?
• Back to the Denver Broncos, after they gave up 59 points last week to the Oakland Raiders, NBC's Jay Leno said: "Usually when somebody gets beaten that badly at a Raiders' game, it's in the parking lot."
And now let's turn to the best columnists in the country for today's main courses in the Brunch:
• Let's start with that strange NFL Halloween gift to the American football fans of London, the lousy Broncos against arguably the lousier 49ers. Scott Ostler of the San Francisco Chronicle, uh, chronicles how Niner Coach Mike Singletary seems to believe his team is right on track for the playoffs. What track is that?
• And now for something entirely different, Jim Hage of the Washington Post tells us about the story of Pheidippides, perhaps the first great marathoner and a man who really needed an agent. It all ties into today's 35th running of the Marine Corps' Marathon in Washington, D.C., and it's a great story even if you don't run to cross the street.
• You want a definitive look at LeBron James? Dan Le Batard of the Miami Herald has just that as he looks at LeBron's refusal to give us that phony apology that we want and lets us decide when we think pride turns into arrogance. A great read.
• We probably all can name reasons why we think Viking Coach Brad Childress is losing his team and losing this season. But Dan Shaughnessy of the Boston Globe tells us what Childress did that may guarantee he'll lose this game against the Patriots.
• We can't end the Brunch without the World Series, so Tim Cowlishaw of the Dallas Morning News is our closer. He points out that Texan Ranger savior (at least temporarily) Colby Lewis was a proud member of the Hiroshima Carp just a year ago.
• Our dessert is Jerry Greene's own prediction of every NFL game and, considering his recent record, it's more trick than treat but check it out, along with his free picking game for you to play. And happy Halloween.