Commentary
'Sunday Brunch' finishes off baseball
Updated:
November 30, 2010, 2:25 PM ET
By
Jerry Greene
| Special to Page 2
Baseball is over? What will we watch now?
If you missed it, that was meant to be sarcastic. Still, we have a few unused baseball notes left like week-old bananas on the desk, so we have to use them now or throw them out.
How's that for a compelling sales pitch to keep you reading the Sunday Brunch?
About the World Series celebrations, former MLB Commissioner Fay Vincent said: "The celebrations are unattractive in large measure because they involve alcohol. It's ritualized, and I think it's silly."
Fay Vincent is 72, I'm just sayin'.
While at least 100,000 watched the parade for the Giants in San Francisco, Arlington held a rally for the Rangers that included an address from team President Nolan Ryan. Both fans attending said it was a total success.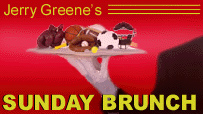 Meanwhile, back in New York, the Mets announced an average cut in ticket cost of 14 percent. This is generous considering the Mets increased their victory total in 2010 by 10.2 percent, rising up from 70 victories in 2009 all the way to 79.
Finally, our last thought about baseball for 2010 is that Sammy Sosa was "shocked" that former Cubbie teammate Mike Remlinger tried to sell the infamous broken corked bat that Sosa was caught using in a 2003 game.
Perhaps Sosa couldn't understand why anybody would buy that bat when he still has so many unbroken corked bats at home?
Now, before we get to the main courses from some of America's best writers, here are a few more tid bits to get the Brunch rolling:
• Hey, Zenyatta, you were thisclose.
• Good luck to the winless Toronto Bills. It could be worse. You could be in Buffalo.
• Funniest quote of the week came from Minnesota Viking comedian/coach Brad Childress. When asked whether he had "lost his team," Brad said: "I don't know what that means. They're all there, in the locker room."
• Tweet of the Week is from ESPN's Trey Wingo: "Saints set Guinness record with 17,777 fans in Halloween costumes for game, or put another way, what New Orleans calls 'Tuesday.'"
• So far I've got 18 bucks in my "lockout pool."
• According to ADWEEK.com, in a survey asking guys what they would "miss or be willing to postpone" if they could go to the Super Bowl, 9 percent said "their wedding day" and 5 percent said "the birth of their child." Don't women have the right to demand the names of these men?
• Former WWE CEO Linda McMahon lost her bid to join the U.S. Senate in a "Loser Leaves Politics" match.
• What was that? Oh, Illinois and Michigan each just scored again.
• And the good news, Utah, is that quail hunting season began Saturday.
OK, enough with the bits of tid. Let's get to the Brunch's main courses from some of America's elite sportswriters:
• Actually we're starting by departing from our normal haunts with a fine piece calling for more labor disputes if that leads to shorter seasons by Scott Soshnick of the Bloomburg News. Scott uses this line to talk about TV's lust for longer seasons: "Think Shark Week. Whenever a network needs to bolster its audience you can count on it showing a creature eating or being eaten." Sounds like a Dallas Cowboys game to me.
• Flip Bondy of the New York Daily News narrows our view to focus on the Miami Heat and their effect on the rest of the NBA. Can you say, "Boring?" (Please note Flip wrote this before the Heat actually lost for the second time.)
• The Heat are what's happening right now. So is Allen Iverson -- if you are watching your basketball in Turkey. John Smallwood of the Philadelphia Daily News tells us that the end of Iverson's career is sad and also exactly what he deserves.
• Check out his "Running Off at the Typewriter" notes column by Mike Bianchi of the Orlando Sentinel. It leads with his reasons for eliminating Auburn's Cam Newton as a Heisman candidate -- which may explain why there is now a Facebook page entitled "Fire Mike Bianchi."
• And we'll add one more notes column, this one from Jerry Crowe of the Los Angeles Times. He starts with Sparky Anderson and ends with Barry Bonds, so, yes, we do talk about baseball one last time.
• If it's the NFL that stirs your drink, check Jerry Greene's own picks of every NFL game (plus Fantasy tips) and even play along is his free picks contest. Can't beat it with a stick although you can beat him with or without the stick.