Commentary
Kenny Powers returns, but is this it?
Originally Published:
November 10, 2010
By
Dave Wilson
| Page 2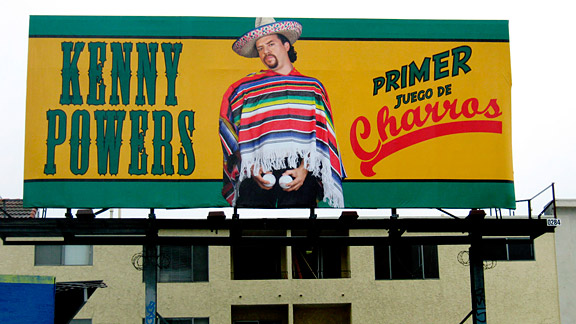 HBOThe world-famous Kenny Powers of the Charros of Copales.
Kenny Powers has returned from his Mexican adventure. And "Eastbound & Down" will return to HBO next season, the network announced recently.
But will this be the last season?
Co-creator Danny McBride, who plays the heroic protagonist, said that was always the plan.
"In our heads, we always imagined this as one really long movie and less of a sitcom," McBride said of his collaboration with longtime friend Jody Hill. "When we write each of the episodes in the season, that's why we do a short order [six episodes in the first season, seven in the second]."
"In our heads, we'd always imagined a three-act structure. We'd love to do one more season and kind of wrap up Kenny's story."
If the surge in popularity in the 18 months off between the first two seasons was any indication, the third season should be even bigger. The show's growth was powered by word of mouth between seasons, with fans quoting the character nonstop on social media or even making their own Kenny Powers jerseys.
McBride said he could feel that happening, and people started uttering his character's catchphrase to him.
"It was a pretty specific kind of humor, and as it kinda went on, I would notice it myself when I'd go out in public," he said. "More and more, I'd have people sending over a shot or coming up to me, saying 'You're [expletive] out!' then suddenly it's like, 'People are watching this show.'
"We love the fact that the show grows by word of mouth and it's something people share with each other. It feels like that's what always happens with great bands or something. You find that thing and it feels like it's small and you're kind of showing it to people, so we love that the show has grown that way."
And it has grown from a cult hit into a pop-culture phenomenon, with bizarre results. Marilyn Manson, for instance, has professed his obsession with the show, with friends saying Manson dresses like Kenny Powers and walks around on the street talking like him ("That's spooky," McBride said). Jose Canseco took to Twitter to claim the show is based on his life.
"It's definitely blown our mind the type of people that we hear are into the show," McBride said. "I don't think Jody or I ever imagined that we'd create something that Marilyn Manson would watch in his house. It's been pretty nuts."
And if you're attempting to make a wheels-off baseball character and Jose Canseco thinks it's based on him, that's when you know you've nailed it, right?
"We were shocked and surprised that he thought that," McBride said. "That's funny that he identifies himself with Kenny Powers. He doesn't get the title of the show right, which is OK, but the fact that he watches it and identifies with it, I mean, it's nuts. It's crazy that all these people who I've always heard about are watching what we're doing. It's mind-blowing."
Powers would seem to have a lot of former Atlanta Braves reliever John Rocker in him, maybe with a dash of the late Rod Beck's hair. A pinch of the train-wreck life of Canseco, perhaps. But for McBride, the character is much more rooted in his youth.
"Jody and myself, when we were kids, we played everything from soccer to T-ball to track to basketball," McBride said. "I do think that Kenny comes from either different coaches we had or just different alpha male jerks that lived in our neighborhood. He definitely is the culmination of a lot of different people that we've met through the years."
And after hearing Canseco's take, has he heard from Rocker?
"No, no, I haven't heard from any of those dudes," McBride says, laughing. "I hope that they enjoy the show."
Kenny Powers is similar in many ways to Fred Simmons, McBride's tragi-comic karate instructor in "The Foot Fist Way," another Hill/McBride concoction.
"That was a really low-budget film that Jody and myself did, and I think we shot the whole movie in 17 days; it was on a microbudget," McBride said. "But we had such a good time writing for that character that we really wanted to try to explore something else that was tapping into that sort of humor where you're trying to meld the comedy with the weird drama and tragedy and basing a story around a character that doesn't really have a lot of redeeming qualities."
And that certainly fit with Powers, who instead was based on a relief pitcher, a type that often offers plenty of opportunity for comedy fodder.
"I think at the time when we came up with the idea, we were just seeing different things in the headlines, just different players being brought up on charges of steroid abuse, and it was kind of this idea of these heroes, their legacies being called into question," he said. "That just seemed like an area kinda ripe for a kind of story we were interesting in telling -- a fall of someone -- so it felt like it was a good stage for that."
The show has such outrageous moments that McBride has to wonder how they're getting away with it.
"That happens almost every day, whatever scene we're in," McBride laughs. "When Steve Little is making passionate love to Sugar Snap, a prostitute, I can remember just looking at the monitors thinking 'What are we making? This looks like a porno.' It blows me away that people let us get away with it."
Dave Wilson is an editor for Page 2.