Commentary
Evan Turner markets Li-Ning shoes
Updated:
November 14, 2010, 12:09 PM ET
By
Chris Palmer
| ESPN the Magazine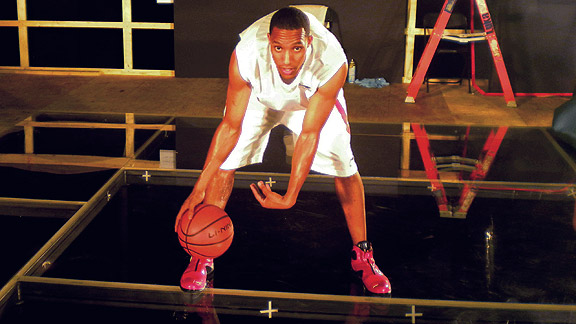 Courtesy of Li-NingPhiladelphia 76ers rookie Evan Turner films a commercial for his Li Ning shoe line.
LOS ANGELES -- Outside the W hotel in Hollywood on a crisp autumn morning trucks of a film crew line the streets as workers lay down miles of cable, adjust lights and set up Christmas decorations for a commercial that will shoot at the ritzy hotel. Extras in elf costumes carrying volleyball-sized Christmas ornaments are being funneled to and fro by well-dressed production assistants who look like they've stepped off the pages of some high fashion catalogue.
The place is buzzing and if it weren't Hollywood, you'd just as easily convince yourself that this was some sideways surreal fantasy and you haven't yet put the smackdown on your snooze button.
In the middle of the hubbub, Philadelphia 76ers rookie Evan Turner, dressed in a black sweatsuit and flip-flops, slumps on a couch in the center of a lobby. His agent, David Falk, is across the lobby on the phone with a furrowed brow and a USA Today tucked under his arm.
Turner is in town to shoot his first commercial. Not the Christmas-themed one, but a spot for Chinese sneaker company Li-Ning, which is shooting 10 miles north of Hollywood. Turner is equal parts groggy and taken aback but eager to be a part of something new.
"Everything is so different out here," he said. "It takes a while to get used to it."
Our ride for the day, a late model Infiniti QX56, pulls up and we're off. Right away Falk, one of the game's best storytellers, launches into tales about the glory days when he repped the likes of Michael Jordan and Allen Iverson. As we sail down the on ramp to the 101, Turner yawns in the back seat. Falk turns around from the front passenger seat, "I know, he's heard all these stories before," the agent said.
Upon arriving at the soundstage, Turner darts for the breakfast truck. After a quick meal of sausage links, eggs and orange juice, he swaps out his sweatsuit for red Li Ning basketball jersey and shorts and heads to a raised Plexiglass platform where a camera will capture his dribble moves from below.
The commercial has Turner slicing up imaginary defenders while earning the respect of his competition, an important aspect of Chinese culture. Several extras, mostly former college ballers, have been paid for the day to be juked by Turner's dribble moves.
The 6-7 rookie point forward is the Chinese sneaker company's biggest signing to date and the Beijing-based outfit hopes he can do for them what Allen Iverson did for Reebok's basketball division in the 1990s.
"We wanted a voice to speak to consumers in the global marketplace," said Li Ning's Brand Initiative Director Brian Cupps, who is overseeing the shoot. "Evan is going to be the guy that helps us get a foothold in America."
After the first set up, near the craft service truck outside, Turner bumps into the probably the biggest star to hail from his new adopted city of Philadelphia. Will Smith has been on the set of the neighboring soundstage while his 9-year-old daughter Willow shoots her first video, Flip My Hair.
"It was so cool to meet him," Turner said. "He looked pretty tired, though. I guess that means he's been working a lot. He said he was going to keep an eye on me this year so it's kinda cool he knows who I am."
The afternoon action moves to a green screen basketball court on the far end of the soundstage surrounded by lights almost 10 feet in diameter that put off volcanic like heat.
For the last shot Turner looks directly into a camera and says, "I am Evan Turner." After a dozen takes, the director has what he wants and it's a wrap.
"I thought he was a very quick study and responded to direction very well," the commercial's director Steve Nyuen said. "When he gets more experience and becomes less aware of the camera he's going to be very good at this."
More than 10 hours after call time, an exhausted Turner climbs back in the SUV for the drive back to the hotel. He hopes there will be more of these in his future. "I just need to get used to the repetition, doing stuff over and over," he says. "I guess it's kind of like working on your game. Do it until you get it right."
Cupps hopes people get it, and sneaker sales abound.
"This is the beginning of a new era for us," Cupps said.