Commentary
Bentley, Jett make our All-Bling Team
Updated:
November 20, 2010, 9:41 AM ET
By
Rob Daniels
| Special to Page 2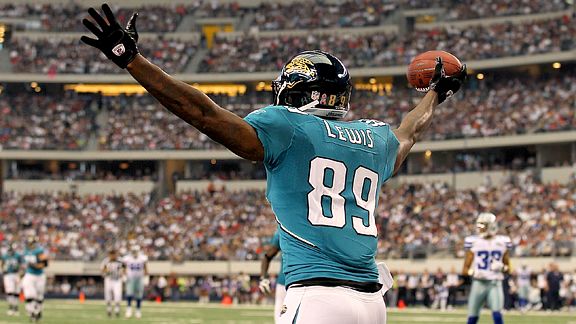 Stephen Dunn/Getty ImagesMarcedes Lewis -- hey, close enough to Mercedes -- makes our All-Bling Team.
We've got the goods, and we're gonna flaunt 'em. Now, front and center, we present Page 2's All-Bling Team:
Cap Anson: As one of the first baseball players of any skill level, Adrian Constantine Anson probably didn't have gold-plated, exclusively cosmetic caps on his front teeth to show off his social stature. Back in 1871, when he played for the Rockford Forest Citys of the National Association, the American public didn't know whether to be impressed or confused by someone who made his living playing Base Ball.
Jake Bentley: The Central Michigan linebacker needs to get on the field more often if he is to afford one of his namesake's vehicles, which are sold at only 40 dealerships in the States. We assume that as a blitzing LB, he'd prefer the Bentley Continental Flying Spur, which can be his -- or yours -- for $177,600. Offhand, we can't think of too many MAC linebackers who can afford something with a price tag nearing $180K. SEC quarterbacks? Maybe a different story.
Scott Diamond: The pitcher in the Braves system has the chance to be the next diamond in the rough. He's from Guelph, Ontario, which is far more known for sending its native sons to the NHL (19) than to MLB (five). He has put up a 3.28 ERA in two pro seasons and is expected to get to spring training with the big club.
Showboat Fisher: Said to have one of the longest swings in the game and a pronounced follow-through, George Aloys Fisher earned the moniker while hitting .374 in 256 at-bats for the 1930 St. Louis Cardinals. The name came from the other big entertainment option around St. Louis that summer, the musical "Showboat." Sadly, the player named Showboat had only 138 performances on his stage in parts of four seasons. The musical had four times that number in its original Broadway run alone.
James Jett: If that's your last name and you're a wide receiver, you'd better be fast. Otherwise, defensive backs will start calling you "Twin-Engine Cessna" by halftime. Luckily for this Jett, he did lead the NFL by averaging 23.4 yards per catch for the Raiders in 1993. Fred Lear: The utility infielder for the Athletics, Giants and Cubs (1915-20) could have found a home in a new game and a different era if allowed to time-travel.
Marcedes Lewis: With a name like that, the 6-6, 275-pound pass-catcher probably made a good college choice in UCLA, which has more Mercedes-Benz vehicles on and around its campus than any other institution in the country. Lewis has played up to his name with the Jacksonville Jaguars. Since the start of the 2008 season, only three NFL tight ends have averaged more than Lewis' 13.46 yards per reception.
Brock Mansion: Imagine if Mansion's California Golden Bears had made that field goal and held on to defeat seemingly unstoppable Oregon last week. The QB would have had to change his name to Brock Potentate Palatial Estate III.
Richie Rich: The comic book character made his debut in print in 1953, on television in 1980 and in the ACC in 2006. In a serialized world, Rich was the only child of obscenely wealthy parents who spoiled him with every needless object imaginable. In football, he was a special-teams player for the North Carolina Tar Heels.
Rob Daniels is a freelance writer for Sports Media Exchange, a national freelance writing network.