Commentary
Page 2 readers give many thanks
Updated:
November 24, 2010, 11:35 PM ET
By
Jerry Greene
| Special to Page 2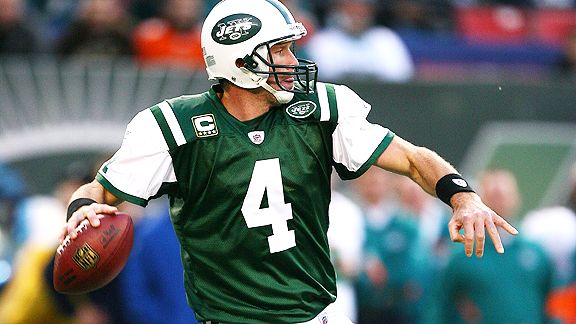 Al Bello/Getty ImagesJets fans seem to be thankful to be freed from the Brett Favre sideshow.
Happy Thanksgiving.
You remember how it began, right? The surviving Pilgrims, after a terrible voyage and a harsh beginning in the New Land, declared a three-day feast in the winter of 1621 after "our Governor sent four men on fowling so that we might, after a special manner, rejoice together after we had gathered the fruit of our labors."
As we all know, those men returned with Brett Favre.
Or not.
GIVING THANKS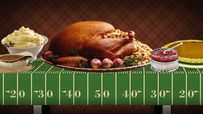 ESPN.com offers a meal of Thanksgiving material for your reading enjoyment:
• Flem File: Turkeys of the Year, 2010
• Page 2's Thanksgiving food draft
• Greene: Page 2 readers give thanks
• McGee: Giving thanks in NASCAR
• Giving thanks in open-wheel racing
• Boston athletes on Thanksgiving
• Berry: Thanksgiving fantasy game

In any case, Thanksgiving may be the best sports holiday with the football, the basketball and even the hockey going on. That's why we asked you to submit ideas for this week's special Thanksgiving list: "Top 10 Things To Be Thankful For In Sports." And you came through in your dependable caustic manner. So while the turkey is still basting, let's get to it with your reasons for each choice:
Top 10 Things To Be Thankful For In Sports
10. -- "Tiger Woods is thankful. Well, give him a second and he'll think of something," said Fred G. of Lakeland, Fla.
9. -- "The BCS is thankful that 'Big Boy' college football is not a democracy," said Susan R. of Des Moines, Iowa.
8. "As a Jets fan, I'm thankful that Brett Favre is no longer a Jet. No need to wish for more," said Paul Z. of New York City.
7. "I'm thankful I can sit down for at least one decent game on Thanksgiving (New Orleans and Dallas) and then, on Friday, I can watch the top three BCS teams, one after the other," said Mike H. of Chesterton, Ind. [Dallas is in your decent game, Mike?]
6. "I am thankful that Randy Moss keeps getting traded and traded, going further and further away from New England," said Russell T. of Erie, Pa.
5. "I'm thankful that I make less than $40,000 a year but am still an NFL owner because of the Green Bay Packers," said Seth of Seattle, Wash.
[+] Enlarge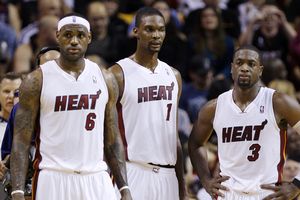 AP Photo/Lynne SladkyMany readers seemed thankful that the Heat haven't jelled like cranberry sauce.
4. "I'm thankful that the Miami Heat haven't figured out that you can't have a championship team if all your money is invested in three players, while the rest of the team is comprised of old castoffs who can't play defense," said Bill P. of Tualatin, Ore.
3. "I'm thankful that as I sit here at my $12-an-hour, post-masters degree job, I can waste time reading Page 2," said Paul F. of Corpus Christi, Texas. [We love you, Paul.]
2. "I'm thankful for the Chicago Cubs, the one team capable of reminding all Clevelanders that we are not the epitome of athletic ineptitude and that things could be much worse," said Zach S. of Cleveland, Ohio.
1. "Tom Brady is thankful for that late interception by Peyton Manning because it's about time Brady caught a break. He's got like nothing going for him in life, right?" said Casey M. of Columbia, S.C.
As is often the case, Favre was our most common subject matter, while the Heat were a close second. Here are a few more that just missed:
• "Mike Vick is so thankful he should be giving thanks until Christmas," said Susan D. of Atlanta
• "Members of the Champions Tour are thankful so many people will pay to watch old guys play golf," said Jim R. of Las Vegas.
• "Secretariat is thankful Hollywood did not decide it would be a better ending if he lost the Triple Crown," said Fran G. of Louisville, Ky.
Before we end this and get to the serious eating, many of you expressed some real reasons for giving thanks. We'll share one from David K. of Fort Smith, Ark.:
"I am extremely thankful for my wonderful-superb-loving-supportive wife, fantastic parents, caring friends, compassionate and competent doctors and other medical staff, and all others who helped me get through cancer treatment this year. With their help and unconditional love and support, I am cancer free and in full recovery so I may go to the Chiefs games and fulfill my duties as Grill Master for my regular tailgating crew at Arrowhead Stadium."
Sports can be good; life and love can be better.
One more time to all of you: Happy Thanksgiving.