Commentary
Q&A: Juwan Howard idolized Dr. J
Updated:
November 30, 2010, 1:04 PM ET
By
Mario Sarmento
| Special to Page 2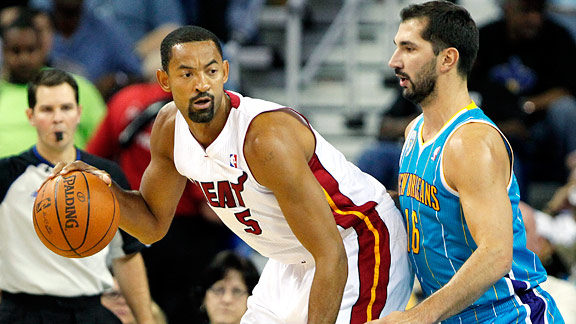 AP Photo/Patrick SemanskyJuwan Howard joined the Heat for his 17th season in the NBA.
A member of Michigan's celebrated "Fab Five," Juwan Howard spent the first seven years of his career (1994-2001) with the Washington Wizards before bouncing around the league and landing in Miami in July.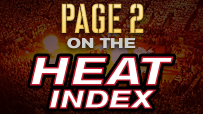 Be sure to check out Page 2's spin on the happenings of the Miami Heat:
• Q&A: Mario Chalmers admires Jordan
• DJ Khaled not worried about his Heat
• Q&A: Carlos Arroyo on being unique
• Q&A: Joel Anthony loves his BlackBerry
• Q&A: Juwan Howard idolized Dr. J
• 'Don't Hate Miami' defends city's honor
• Seikaly: Chemistry hurting Heat
• LeBron's stylist talks NBA style, tips
• Q&A: House wants Obama's number
• 'Grandmothers' standing by LeBron
• LeBron Poetry Contest's famous losers
• LeBron Poetry Contest claims winner
• Is this man a LeBron lookalike?
• Collectors eye first LBJ card with Heat
• Prose flows in LeBron Poetry Contest
• Hill: Miami is now LeBron's town
• Miami mayor: Heat to silence critics
• Seikaly: Why all the fuss?
Howard was the first NBA player to sign a $100 million contract (1996, Washington), but will play for the league minimum with the Heat this year. Now in his 17th NBA season, Howard has a career average of 14.3 points per game, and he was named to the All-Star team in 1995.
Howard shares some insight into his likes and dislikes off the court with Page 2.
What is your favorite midnight snack?
Chocolate chip cookies.
What was the last concert you attended?
Jay-Z, it was good.
What was the first car you owned?
Toyota Corolla '81, senior year in high school.
Movie you can't see enough?
"Scarface." I just love it.
Person's phone number you'd most love to have?
President Obama. I just admire him, I respect him a lot. And he's a fellow Chicagoan.
If you had a week to escape, where would you go?
I'd go to the Maldives. It's beautiful there; I've been there once … it's very expensive, and it's a long trip, about 13 hours.
What's your most prized possession?
My black 599 Ferrari from 2008. I'm a Ferrari guy.
What person did you most want to be like growing up?
I wanted to be like Julius Erving … big fan.
Mario Sarmento is a freelance writer for Sports Media Exchange, a national freelance writing network.