Commentary
Qatar, BCS matchup highlight 'Brunch'
Updated:
December 5, 2010, 9:55 AM ET
By
Jerry Greene
| Special to Page 2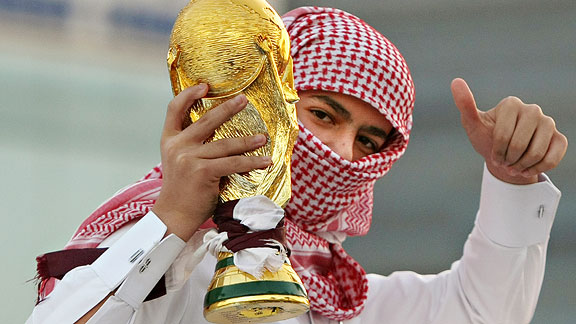 Marwan Naamani/AFP/Getty ImagesA Qatari youth holds a mock trophy after FIFA announced that the Gulf state will host the World Cup.
Qatar?
Seriously?
It was a strange and exciting week in sports, what with Auburn and Oregon clinching berths in the BCS Championship Game while both TCU and the Rose Bowl tried to understand why TCU will be in the Rose Bowl. And General James marched through Cleveland and burned it to the ground. But nothing was as strange as a tiny country that sounds like a Scrabble word crushing the United States of America by being chosen as host for the World Cup soccer games in 2022.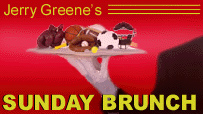 ABC's Jimmy Kimmel said we should have seen this coming, adding: "This is not the first time the United States was beaten out by Qatar. The first was in the Most Sand Competition."
Charles Pierce of the Boston Globe actually has been to Qatar. Apparently he was not impressed as he wrote: "It says something about the corrupt old buffet-grazers at FIFA that this particular flea-bitten gas station was chosen to host the 2022 World Cup over the United States."
Of course we weren't the only World Cup losers.
Here's London Mayor Boris Johnson the day before the vote: "We've been one nil down but surely just equalized with our awesome presentation."
Uh, London got two votes.
And Australia was supported in its bid by actor Hugh Jackman. Unfortunately for the Aussies, all the voters had seen "Van Helsing."
Now a few quick tidbits because we've got some excellent links about the NFL and other topics in the main section of the Sunday Brunch so stick around.
• The Denver Broncos were fined $50,000 for an illegal taping of a San Francisco 49er practice in London -- Should the Broncs been fined twice that for losing after the illegal taping?
• Not a bad week for TCU overall with a Big East invite even though the school is an average distance of 1,140 miles from the other football schools in the conference. That was explained by Notre Dame President and Big East CEO Exec Committee Chair Father John Jenkins: "If you think of conferences, they tend to be shaped by geographic proximity and historical contingency. But with this addition of TCU to the Big East, we transcend some geographical boundaries to create really interesting cross-regional competition, and we transcend historical contingencies to create possibilities for the future" -- Uh, any more questions?
• Would the sources that swore Jon Gruden would be the University of Miami coach please leave your "source" credentials at the door on your way out?
And now let's get to the main courses in the Brunch from some of the nation's brightest sports analysts and reporters:
• Bud Kennedy of the Fort Worth Star-Telegram is probably preaching to your choir when he talks about how U.S. Rep. Joe Barton, R-Arlington, hopes to be brought back as chairman of the House Energy and Commerce Committee, "which hears bills on oil spills, climate change and also on the oily scam called the Bowl Championship Series." His words, not mine, but you probably can sing along.
• Not convinced collegiate football is a big business? Michael DiRocco of the Florida Times-Union in Jacksonville provides details of the current contract for Florida Gators Coach Urban Meyer. Believe it or not, Meyer's base salary actually fell this year by nearly $11,000 but don't fret for him. He's doing really well, so well that you might wonder how he could have ever thought about walking away.
• Let's move to the NFL and talk about a big team that is in one of the season's biggest games Monday. That would be the New England Patriots and Robert Lee of the Providence Journal wonders whether you know that the Pats defense is not allowing 400 yards per game -- just 399.1. That's really bad, which Mr. Lee explains in detail.
• On the other side of the field, Jenny Vrentas of Newark's The Star-Ledger tells us how New York Jets Coach Rex Ryan and his players refuse to accept all those nice things being said about them by the Patriots. Can you say "Jedi mind tricks?" The Jets can.
• We have Mark Newman of MLB.com asking whether Leslie Nielsen's umpiring work as Lt. Frank Drebin/Enrico Pallazzo in "The Naked Gun" might be the best baseball scene in Hollywood history. It works for me -- every time.
• And if you want to see someone risk looking foolish with a NFL predictions column, Jerry Greene does that on a weekly basis. Call him what you want but in honor of the late, great Leslie Nielsen, don't call him Shirley.