Commentary
Q&A: 'The Fighter' stars Wahlberg, Bale
Updated:
December 10, 2010, 5:16 PM ET
By
Sam Alipour
| Special to Page 2
HOLLYWOOD - This after-party for what might seem to be a typical Hollywood movie premiere is in full swing. Loud men in suits and louder ones in pink shirts jockey for position at the two open bars, where the guy from "Minority Report" inexplicably serves drinks, while actor/boxer Tony Danza regales guests with tales of his fifteen fights and actor/bachelor Jeremy Piven does what Jeremy Piven has been doing for years at these things: yakking it up with a bevy of beauties who might otherwise be mistaken for his daughters.
But tucked into a corner of this Grauman's Chinese Theater-adjacent club, amidst the Hollywood hoopla that even managed to lure low-key locals like Will Ferrell and Mark Hamill, there is a genuine and rather emotional six-years-in-the-making celebration. Unusually heartfelt hugs and sighs of relief are tell-tale signs. And doing most of the blubbering: Mark Wahlberg, Christian Bale and two boxers from Lowell, Massnone of whom you'd want to mess with in a bar.
This is the premiere of "The Fighter," the inspirational bio-drama about junior welterweight champ "Irish" Micky Ward (Wahlberg), Arturo Gatti's partner-in-pain, and Ward's crack-addicted, ex-con trainer and half-brother, Dickie Eklund (Bale). One of Hollywood's most buzzed-about projects for years, "The Fighter" was born in 2004, when producers David Hoberman and Todd Lieberman ("Wild Hogs," "The Proposal") put the project into development at Paramount, where it would languish as Darren Aronofsky (The Wrestler) circled the director's chair and Brad Pitt and Matt Damon toyed with the Eklund role. The one constant was Wahlberg, who signed on to play Ward -- his fellow Massachusetts native and a childhood sports hero -- in 2005, began training for the role soon after and never could quite let the project go.
The final product justifies their commitment. "The Fighter," which is directed by David O. Russell ("Three Kings") and covers Ward's ascension to his title shot with Shea Neary, is expected to make serious noise at the Academy Awardsand if Bale doesn't take home the Best Supporting Actor Oscar for his film-stealing performance, he'll have only his infamous viral tirade on the set of "Terminator: Salvation" to thank.
At the party, weary victors were everywhere. Amy Adams (who plays Charlene, Ward's girlfriend/now-wife) clutched her bright red heels in her hands when she wasn't fielding congratulatory handshakes from the couch. Bale, dressed-down in a track jacket, looked like he'd developed over these past months a genuine dislike for rest and shaving. And Wahlberg? Dude took off almost immediately after the screening. "What party?" he kidded. "It's time to get some sleep."
Earlier, Blitz squared-off with Wahlberg and Bale, who spoke of their real life counterparts, their training, and a potential wager that may result in the bludgeoning of one or both of these men.
[+] Enlarge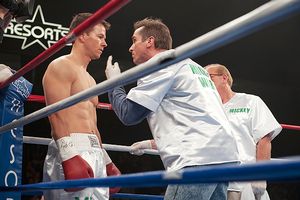 JoJo Whilden Mark Wahlberg plays Micky Ward and Christian Bale plays Dickie Eklund in 'The Fighter.'
Was it helpful to have your real-life counterparts involved, which isn't always the case?
Mark Wahlberg: It can get in the way if they're not fully on board or if they're too critical. But Micky was so excited about the movie. I've known him since I was 18. Growing up 30 minutes from Lowell in Dorchester, knowing who Micky Ward was, knowing that every time he got in the ring it was a war, I became a huge fan of his. Micky had more heart and more determination than any fighter I'd ever seen. I wanted to make him proud. For me, it was a real plus having him involved.
Christian Bale: I checked out some books and documentaries, but there's nothing better than sitting down with the actual guy. Dickie couldn't have been more helpful, sharing his stories about living hard and fast. And, by the way, it was good to know that if anyone gave us trouble during filming in Lowell, all we had to do was call Dickie and he'd sort them out. (Laughs.) Nobody messes with Dickie over there.
Do you get messed with, just so the guy can say he punked Batman?
CB: Naw, nobody recognizes me without my cape.
Matt Damon and Brad Pitt dropped out of the Dickie role, contributing to the film's long journey. Wish you could get them in the ring, just to say thanks?
MW: Naw, I like those guys. And this is a business. They had to look out for themselves. Of course, if somebody told me I'd end up training for 4 ½ years for this movie, I'd tell him he's out of his mind. But I promised Micky I'd get it done. There wasn't any backing out.
CB: I do want to thank them. I really appreciate that. That was wonderful.
Mark, did you stay in shape that whole time?
MW: Yeah, you can't train for a year, stop for six months and just pick up where you left off. You'd be back to square one. My goal was to look like a boxer who could win the welterweight title, not just an actor who could box. That meant a lot of blood, sweat and tears, literally. When I was shooting another movie, my boxing trainer and athletic trainer would put me through 3 hours of work in the morning before a 12 hour day on the set. Closer to shooting this film, it was an 8-mile run in the morning, breakfast, 30 rounds in the ring with fighters, another 15 rounds of work, jumping rope, lunch, full-court basketball, core training and then additional work on choreography. I was in the gym 8-9 hours a day. It helped that Dick and Micky lived at my house, where we did the training.
Christian, did you feel it necessary to train as well?
CB: Oh, yeah. Actually, there was a period of time where we weren't sure if we were going to film Dickie's fight with Sugar Ray Leonard, so I did prepare to step into the ring and learned the exact choreography of that fight. We ultimately decided against filming it, but we had 3 weeks straight where we all met every day at Mark's house to hang out and spar. And, holy s---, does that tire you out! Dickie is a freak of nature. The guy almost killed me, and I'm a good 20 years younger. I'd done a fair amount of martial arts training and I was a helluva lot stronger for Batman, but in terms of stamina of the heart, man, boxing got me in shape like never before.
How real were the on-camera fights?
MW: As real as you can get. I used my relationships with HBO to get the camera operators who shot Pacquiao-Margarito and the guy who directed the epic Micky-Gatti fight. And we had real fighters, like Miguel Espino, who played Alfonso Sanchez, and kickboxing champ Pete "Sugarfoot" Cunningham. We banged, hitting each other at 60%. Then, whenever somebody caught someone, it'd jump to 75%. My goal was to shoot the most realistic fighting you've seen in a movie. I think we accomplished that.
What are your schoolyard and street-fight records?
CB: Damn messy. (Laughs). But I had a pretty good track record. Of course, I didn't know how to throw a punch properly, and it always ended up with a lot of kicking and wrestling on the ground. But let's face it, back then, before you got too old and it became too serious, fighting was a lot of fun, wouldn't you say?
MW: I did alright. Some draws, not too many losses, maybe a couple of sucker punches here and there. Certainly, when I was younger, my older brothers would beat the s--- out of me -- until I was old enough to beat the s--- out of them.
How are your skills now?
CB: I learned to imitate Dickie's style, getting your weight low, "getting squirrelly," as he likes to say. And I now know how to throw a boxing punch, not just a martial arts palm strike.
MW: I don't like to talk about myself like that. But, by the end, Micky and Dickie were trying to persuade me to take a couple of four- and six-rounders, professional fights. They were pretty confident about my ability in the ring.
Who wins in the ring?
CB: Look, Mark would have been an athlete had he not become an actor. And he's got the experience and knowledge, and he keeps himself in great condition. I don't do s--- when I'm not doing a movie. And I don't have my own boxing ring. But, s---, I do have a lot of heart. (Laughs.) Mentally, I don't want anyone to put me down.
MW: Oh, man ... Me, no doubt.
CB: Ha! See, I was trying to be the gentleman! F--- that. How about a friendly wager? (Laughs.) He knows he's wrong. But it'd be a good match.
Sam Alipour is a contributing writer for ESPN The Magazine. His Media Blitz column appears in ESPN The Magazine and occasionally on Page 2. You can reach him at sam.alipour@gmail.com.