Commentary
Joe Maddon cooks 'Thanks-mas' meals
Updated:
December 19, 2010, 10:07 AM ET
By
Joel Poiley
| Special to Page 2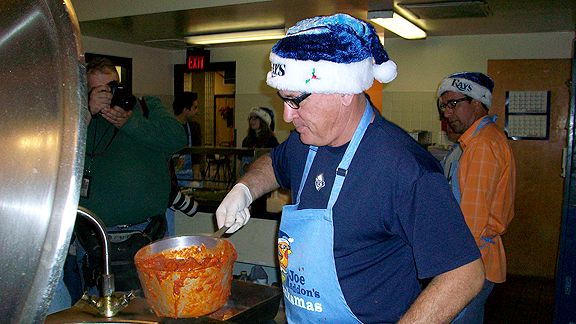 Joel PoileyTampa Bay Rays manager Joe Maddon serves up his spaghetti for the homeless in the Tampa area.
TAMPA -- You wouldn't expect Tampa Bay Rays manager Joe Maddon, he of the different lineup every game, to cook his annual Italian/Polish dinner for the homeless using a precise recipe.
Maddon cooks like he manages -- a dash of this, a pinch of that, his own intuition and plenty of holiday spirit.
In Maddon's kitchen you won't find a measuring cup or spoon.
"It's all feel and taste," Maddon said, smiling. "You put it all together and take a spoonful and if it's right, it's right. You can't subtract, so you have to be careful what you put in."
For the last five years, Maddon has been cooking a giant holiday dinner, coined "Thanks-mas" for the homeless at Salvation Army locations from Tampa to Fort Meyers.
Maddon's ingredients for his most recent meal included much of his own money and time to create a traditional feast of Italian sausage and meatballs, pierogies with melted butter and onions, tossed salad and slices of cake.
Maddon does all the shopping, which this year included 720 sausages (sweet and hot); 180 pounds each of ground beef and spaghetti; 135 pounds of salad; 60 pounds of pork; 60 cans of tomato sauces, purees, whole and crushed tomato; 30 pounds of cucumbers; 24 pounds of fresh tomatoes; 20 pounds of onions; 18 pounds of Parmesan cheese; 15 pounds of bread crumbs, 13 dozen eggs; 10 gallons of Italian dressing; seven pounds each of granulated garlic and minced garlic; and six pounds of Italian spices.
Try fitting that into the trunk of your car.
It's a reflection of Maddon's Italian/Polish heritage, and his way of letting the homeless know someone cares during the holidays.
The affable Maddon won't divulge the recipes, though he allows they came from his mother, Beanie Maddon, and his aunties Flo and Fray.
This is the fifth consecutive year Maddon hosted the event, which he estimates has fed about 4,000 homeless through the years. This holiday season he and his merry band of helpers, everyone from Rays coaches to broadcasters to community relations personnel, prepared and served food at four Salvation Army locations from Tampa to Fort Myers, more than two hours away.
Maddon also presented 700 Rays "Thanks-mas" hooded sweatshirts to many who ate at the shelters.
"Thanks-mas, that's for any day between Thanksgiving and Christmas," Maddon said. "The point there is these folks need our help any day, not just on holidays."
A reflective sort who finds peace in long bike rides each day, the 56-year-old Maddon was struck by the many homeless he encountered as he rode along the strip from Sunset Beach to Huntington Beach in California when he was the bench coach with the Los Angeles Angels.
"People's whole lives were in a shopping cart," he said. "You could just see the look of hopelessness. Sometimes I'd stop and talk to them or give them certain things, But I told myself if I ever had a better opportunity I'm going to do something more.
"You look around at the unemployment in the nation and this area (Florida and Tampa Bay). People who used to donate to causes like this are now coming in here. You see more kids in here with single moms. It's just not easy.
"People look forward to this now, and it's good for people in the community to see that the Rays get it."
Maybe they even gained some new fans in the process.
"It's a fine act on the part of Joe Maddon for individuals that might be going through a hard crisis," said Leonard Arthur, 41, one of the men eating Maddon's creations. "It shows true care and concern past the fan base.
"If nothing else, it could help someone who isn't into baseball to get into it and become a fan because they get to meet these people. I'm getting Joe's famous spaghetti recipe. It's great."
Rob Daniels is a freelance writer for Sports Media Exchange, a national freelance writing network.