Commentary
Ryan Leaf, author? Has a nice ring to it
Updated:
December 26, 2010, 10:10 AM ET
By
Jerry Greene
| Special to Page 2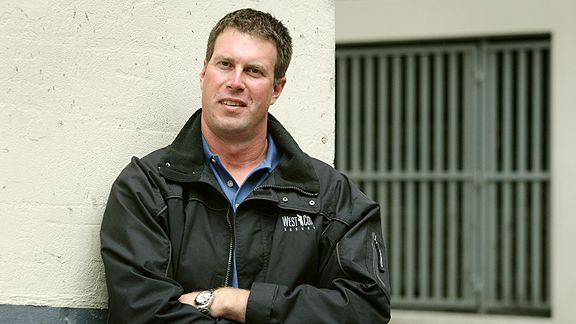 AP Photo/The Canadian Press, Darryl DyckRyan Leaf has been asked to write three books. His 15 minutes of fame are about to begin again.
Christmas is past, and the year is almost at an end, but there's always time for one more startling thing. And while it may have escaped your attention last week, a truly startling thing happened in the world of sports and literature. Someone is paying Ryan Leaf to write a book.
Scratch that. Crimson Oak Publishing out of Pullman "Sports Literature Capitol Of The World" Washington has contracted the infamous NFL bust quarterback to write three books about himself. The first will focus on his successful career at Washington State, the second will discuss his spilled cup of coffee in the pros and the third will be about his former addiction to prescription painkillers.
Potential working title for the trilogy: "The Good, The Bad and The Ugly."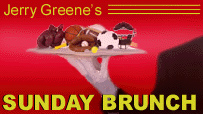 Time to turn to a few brief bits of tid before we reach the main courses of this Brunch, prepared by some of the best writers in the biz. But first, a few thoughts from me:
• Hey, before you're too harsh about New York Jets coach Rex Ryan, try walking a mile in his shoes. I'm just sayin'.
• Who would have thought Shaquille O'Neal would spend more time conducting the Boston Pops last Monday than he would spend on the court Christmas Day guarding Dwight Howard? (Twelve minutes, 39 seconds -- 6 fouls.)
• Toronto Maple Leafs fan gets in trouble for throwing waffles onto the ice. Are octopi out of season?
• After speaking to Brett Favre after the Vikings' loss to the Bears, Chicago QB Jay Cutler said: "I think he was still out of it a little bit. I think he had a concussion." When Jay Cutler thinks you're out of it, you are definitely out of it.
• The "Jeopardy" Final Answer is: Phil Jackson and Santa Claus. And the Final Question is: Who are two mythical figures that must work on Christmas Day?
OK, let's get to the meat of the Brunch. We've got positive and we've got negative but all are well written for your post-Christmas enjoyment.
• We'll start with the lump of coal provided by Frank DeFord, writing for National Public Radio and making a compelling case that 2010 has been terrible for U.S. sports -- and 2011 looks worse. Bah. Humbug, Frank.
• Let's cleanse ourselves of that sour taste by turning to two of America's beloved sports figures -- Tim Tebow and Woody Paige. We've got Paige telling us that Tebow is more than a one-man band for the Broncos. Tim's a one-man Band-aid.
[+] Enlarge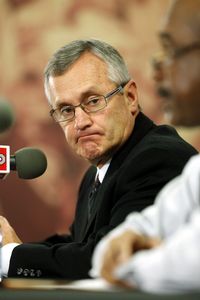 AP Photo/Terry GilliamOhio State coach Jim Tressel looks on as Gene Smith, Ohio State associate vice president and director of athletics addresses the media.
• Moving to the world of Big-Time College Football, Bob Hunter of the Columbus Dispatch looks at that Ohio State press conference about suspending five players for five games each next year because they sold some stuff to make some cash. What Bob sees is a world rife with hypocrisy, so we're getting kind of glum again.
• Doubt if anyone has ever blamed Rex Ryan of hypocrisy. Kevin Kernan of the New York Post looks at Ryan's week (without cracking a joke) and wonders whether a little humbling may prove to be the best thing for him and his Jets if it forces him to remember why he's leading a wonderful life.
• And we turn to Charles P. Pierce of the Boston Globe for a final cup of Christmas cheer even if we're now thinking of Christmas Past. Pierce reminds us of a famous nephew that provided some inspiration we should carry in our hearts every day of the year.
• And then there's fantasy football. I'm playing for my league title using Jon Kitna as my quarterback while my opponent has Mike Vick. So I kind of hoped for Vick to have just a minor ankle sprain in my NFL predictions column. Did I curse Kitna, causing him to leave the field with a hip injury Christmas night? Don't tell him or Jerry Jones, please, but you can read about it -- along with those priceless predictions -- here.
And now we head toward a happy new year!
Fingers crossed.