Commentary
Jamie Kennedy: Eagles to beat Packers
Updated:
January 7, 2011, 1:31 PM ET
By
Jamie Kennedy
| Special to Page 2
Here's 10 reasons why my Philadelphia Eagles will beat the Green Bay Packers on Sunday:
1. The Packers just have cheese. The Eagles have cheesesteak. That added protein makes it a meal for men. Not just rats.
2. The real McCoy. Everyone is talking Michael Vick. But the true linchpin to victory is LeSean McCoy. He's got to pick up the blitzes and also run the classic Eagles screen play that former running back Brian Westbrook did so well. Then he needs to pound the ball in the fourth quarter, which he's done a great job at this season. This will take pressure off Vick and the offensive line, opening up the passing lanes and setting up the long ball.
3. Eagles helmets are badass. They have the kind of helmets a daredevil can wear jumping 150 buses full of Cheeseheads. The Packers' helmet is just bad: a day-glow yellow helmet. The kind a kid wears when his class goes on a field trip so the teacher doesn't lose him at the zoo.
4. Vick must get the ball out of his hands quickly. He needs to eliminate the Packers' blitz. He needs to neutralize Clay Matthews. The Eagles will accomplish this by keeping in max protection with McCoy and tight end Brent Celek. Vick needs to hit his hot routes (to McCoy). He should run a few quarterback draws (since he's been driven out of the pocket anyway). He might as well own his own destiny.
5. Mush Rush 2.0. That's right. You heard it here. Green Bay quarterback Aaron Rodgers has a better completion percentage against the blitz than he has against a straight up four-man rush. But the Eagles haven't been effective at getting at the quarterback. So playing a soft-zone coverage with some delayed stutter blitz could be the ticket. I'm coining it right now. Mush Rush 2.0, and 10 cents goes to former Eagles Mike Mamula's pocket for the trademark.
[+] Enlarge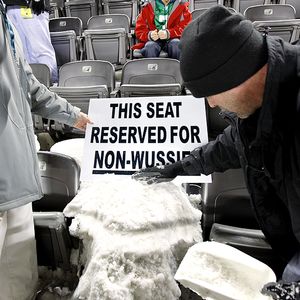 AP Photo/Brian GarfinkelThe governor is wrong. Philadelphia is a passionate, hard-nose city.
6. Philadelphia ain't no wussies. No matter what Gov. Ed Rendell says. Some knuckleheaded Philly fanatic cracked the Liberty Bell in 1776 when we beat the British. That's the truth. Forget what the history books told you. And I'm a believer. The City of Brotherly Love will be out in full force at the Stinkin' Lincoln for the game. So get your snowballs ready!
7. The Minister of Defense. The Eagles had Reggie White before. It's time to summon his spirit to shut down the Green Bay offense. The Eagles have had the worst red-zone percentage since 1988. Hello! You play to win the game (Herm Edwards). You win the game by scoring more points than you allow (Bill Nye, the Science Guy). It's simple math.
8. E-A-G-L-E-S!! E-A-G-L-E-S!! I'll be chanting that with a bottle of Yuengling beer in my hand down at the Sports Harbor in Marina Del Rey, Calif. What are they doing in Green Bay? Lambeau Leap on a foosball table? Bottom line: Fly, Eagles, fly.
9. The Hollywood ending. I know a little about this. Vick winning the Super Bowl would be the story of the year, a slam dunk at the ESPYS. So it's going to happen. I'm sure of that.
10. It may come down to the fact that Andy Reid is a better coach than Mike McCarthy. Even if Reid flubs a late-game challenge, blows timeouts too often and constantly calls a pass play on third-and-1. There's something about him that edges out McCarthy. And I'm thinking it's his stomach.
So Sunday's game will be Eagles 28, Packers 17.
Comedic actor Jamie Kennedy is a Philadelphia native and is writing an occasional column for ESPN.com. His DVD, "Jamie Kennedy Uncomfortable" is available on amazon.com and iTunes.