Commentary
Q&A: Hosea Chanchez of 'The Game'
Originally Published:
January 13, 2011
By
Kelley Carter
| Special to Page 2
Somewhere among the 7.7 million people who tuned in to watch BET's premiere of "The Game" on Tuesday night were some big-money athletes sweating bullets.
The comedy-drama mix was given the boot by CW nearly two years ago, but was given new life after BET began airing reruns of the series and fans campaigned for it to come back on the air. All of the original actors came back to reprise their roles.
[+] Enlarge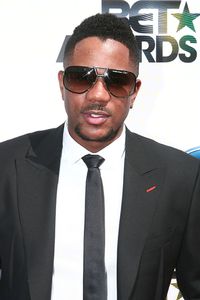 Leon Bennett/Getty ImagesHosea Chanchez plays quarterback Malik Wright on BET's "The Game."
The revamped series, which airs Tuesdays at 10 p.m. ET on BET, follows a fictional professional football team and the off-the-field drama for its superstar athletes and the women who stand beside them. The cult-like following has grown into a mainstream success. The premiere's numbers were incredible -- it grabbed the highest ratings of any advertising-supported sitcom ever on cable. If those numbers keep up, surely a new season will be ordered.
Perhaps a large reason for the new season's early success is our pop culture-like obsession with the world of pro football, and the big personalities that come with it, of course.
One of the show's stars, Hosea Chanchez, who plays ego-tripping quarterback Malik Wright, jokes that sometimes the show does hit too close to home for athletes. He's gotten tapped by a few fellas on the gridiron who told him they love the show, and could see themselves in his character, which entertained them and made them nervous all at the same time.
Everyone involved in the production is being tight-lipped with what's to come, but Page 2 hung out on set recently and got a heads up on what's to come of the San Diego Sabers, their loves and their lives. The short of it? It's gooooood.
Here's what else Chanchez tells us:
Your fanbase is diverse. It's not just women; athletes love this show. Does that shock you?
No, it's not a shock to me because … athletes are so egotistical. They are very narcissistic, they're egotistical and I knew that eventually, if not right off the bat, that they'd come around and want to see more! I knew it definitely would be a big success with sports guys.
What have you heard from other football players, quarterbacks or big-money guys? I've got to imagine that they have come up to you and say, "Ooh. That one scene was real close to home."
Well first of all, the first thing they say is, "How can I get on the show?!" But, they're really into these characters, and honestly at first, a lot of guys would go, "Oh yeah, man, my girlfriend watches that show." Then slowly, they'd become comfortable with saying "You know, that show's the s---!" But moreso, they're appreciative of the light that they're being seen in, and I think it's not necessarily that we paint them in such a bright light, but we paint them in more of a real light. It all stems from just relationships, versus being about an athlete. I don't necessarily think an athlete drives anything on our show, what drives these individuals is that they're being placed in realistic situations. So, what would you do if you overnight become a celebrity? What would you do if overnight you got an $80 million contract? What would you do? It's the reality of placing these real people in extraordinary situations.
So who did you draw from for Malik Wright? Which real-life athletes?
When I started out, it was three athletes who shaped Malik Wright. For sure Terrell Owens and Deion Sanders, who is one of the greats. There's also one other gentleman, who actually came up to me and asked me never to tell anybody again that he was a part of my inspiration, so I won't even say his name!
Seriously?
Yeah. He was like, "But yeah man, my wife said she saw you doing an interview and you said that I was one of the draws for your character" and he was like, "Yeah, please do me a favor, just don't tell anyone else that!" And he kind of laughed, but he was serious, and I was like, "Well, I'll leave you off my roster then."
That is hilarious!
I know, right?! Those three guys, I've read their autobiographies and I read books that were done about them. Then, I went back and looked at interviews and I kind of pulled from their lives and shaped my character off of them.
In seasons past, you guys have had some really great athletes that have guest-starred on the show like Chad Ochocinco, Kellen Winslow II and Ephraim Salaam. I know that so far Chris Webber and Magic Johnson are going to be on this season. Tell me about a memorable moment with an athlete guest-star.
You know what? A memorable moment would be a buddy of mine, Danny Clark, when he was on the show. He was doing the worst improv ever. And we actually formed our friendship off of that moment. He was trying to get some advice, and I tried to give him a little advice, but he did his own thing anyway. Like, as soon as we said, "Action!" he just did his own damn thing and I was like, "OK." It was really a standout moment because he was nervous and athletes get really freaking nervous on this show. So you get to see all their hard exterior being shot down by the reality of -- oh, OK, they're not as tough and as big and as burly and, you know, confident as they look in every area of their lives.
And as for Malik? What's going on with his character this season? He's being a bad boy, sleeping with the wife of one of the team's owners, for starters.
Malik is going to go to a really, um, I'd say, dark place this season. That's the best way I can describe it. I can guarantee that the fans will not be disappointed in where he goes this season. That's pretty much all I can give you without going too, too, too in detail.