Commentary
Miami Heat stars turn out for charity
Originally Published:
January 22, 2011
By
Andy Kent
| Special to Page 2
CORAL GABLES, Fla. -- First, in order to be able to host a lavish charity fundraiser at your home you need one big enough to accommodate all of the guests -- and the media.
Check.
Second, you better have a few big names attached to the invitation, and a proven track record of success wouldn't hurt either.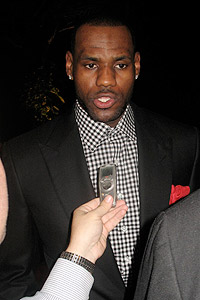 Courtesy of David BergsteinLeBron James attends the Miami Heat Charitable Fund's gala at team president Pat Riley's house.
Check and check.
Thursday night's gala benefiting the Miami Heat Charitable Fund held at the waterfront estate of Pat and Chris Riley brought out the stars for a good cause. Of course, for high-profile members of the Heat like LeBron James, Dwyane Wade and Chris Bosh, when the boss asks you to his home to support a function, there really is no alternative answer to "yes, sir."
"If they don't come, then we set them out on the barge with the fireworks tonight. That's what happens," Riley joked.
But the Hall-of-Fame former coach of the Heat and the Los Angeles Lakers and current Heat team president commands that kind of respect. As he and his wife of 40 years, Chris, greeted each guest on the red carpet leading to the entrance to their mansion, that level of respect was clearly evident.
New York Yankees third baseman Alex Rodriguez, former Heat center Alonzo Mourning and recording artist Michael McDonald were among the other celebrities in attendance. Later in the evening, McDonald, who volunteered his services, put on a backyard concert for the those that paid $20,000 per couple. The last time Riley hosted the event at his home in 2006, McDonald also performed, and three months later the Heat brought home an NBA championship.
"I would only like to think that I could bring the same luck, but probably not," McDonald said. "These guys are so talented and there's still a whole half a season to go, so we're keeping our fingers crossed."
The Rileys hoped to raise over $1 million on the night and went all out decorating the inside and outside of their home. Smith & and Wollensky Steakhouse of Miami Beach catered the food gratis, which is something Chris Riley said they've never done before. All of the people on hand to park the cars and wait on the guests, etc., were volunteers and Chris Riley worked the red carpet like a pro.
As expected, the last to arrive were James and Bosh, with James, like Wade, showing up solo. Wade was asked where Gabrielle Union was and he smiled as he explained that she had to work. But the overriding message of the evening is what struck a chord for James, especially knowing how much of the money was going to help kids.
"I'm a huge believer in kids, uplifting kids and making them feel like they have a future," he said. "If it's not basketball, whatever the case may be, if they find what their passion is in life then they go get it. For me growing up in an inner city and growing up around kids who didn't know if they had a future, for me to make it out of what I made it out of, I like to try to pass that word back down them and let them understand the importance of believing and then going on to achieve."
Andy Kent is a freelance writer for and co-owner of Sports Media Exchange, a national freelance writing network.