Commentary
Q&A: Carlos Arroyo on being unique
Originally Published:
February 3, 2011
By
Mario Sarmento
| Special to Page 2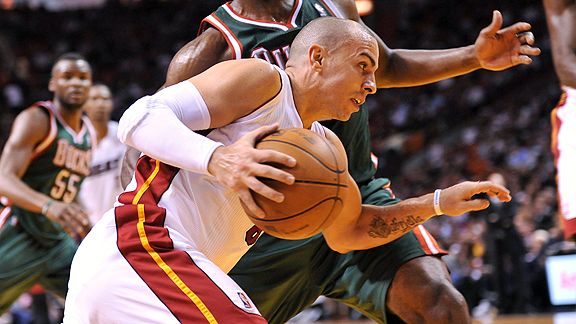 James Riley/NBAE via Getty ImagesVeteran point guard Carlos Arroyo played college basketball at Florida Atlantic in Miami.
With the firepower the Heat possess in the Big Three, someone needs to get the stars the ball. Carlos Arroyo, an eight-year pro who is in his second season with the Heat, is one of those players, having started at point guard for part of his Heat tenure. Arroyo is a local product from Florida International.
Page 2 had the chance to talk with Arroyo about his likes and dislikes:
What song are you playing on your iPod right now?
Omega [El Fuerte, a Dominican merengue singer]; I play a little bit of everything. I like a little bit of everything.
What's the last concert you attended?
A group named Camila from Mexico. They had a concert in Puerto Rico this summer ... it was good, they were amazing.
What was the first car you owned?
Escalade, as soon as I got in the league, 2001 maybe ... it was the perfect car.
What's your most prized possession?
My daughters, one [was born in November], and the other is 5 years old, Gabriella and Daniela.
What movie can't you see enough?
Probably "Wedding Crashers," "Meet the Parents," I'm a comedy guy. I like the whole vibe of it, it's funny. It's what we all go through with our families.
What person's cell phone number would you most like to have?
I think I've got pretty much everybody I need.
If you had one week to escape to anywhere, where would you go?
Probably Bora Bora. Never been, but I'm dying to go. [I've heard] it's beautiful, a place of peace.
Who did you want to be like growing up?
I wanted to be unique, I wanted to be one of the only ones from my country to make it to the NBA. I wanted to make a name for myself.
Mario Sarmento is a freelance writer for Sports Media Exchange, a national freelance writing network.