Commentary
It must be spring: Canseco writes book
Updated:
February 13, 2011, 11:31 AM ET
By
Jerry Greene
| Special to Page 2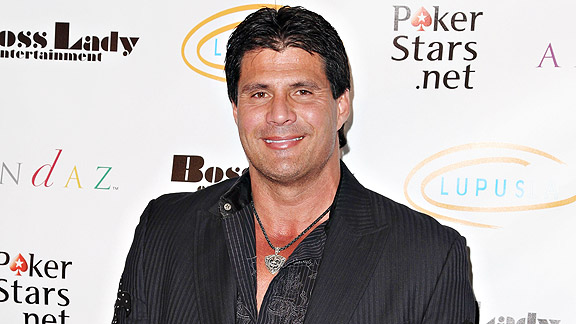 Angela Weiss/Getty ImagesJose Canseco is back with a new book. Operators are standing by.
Spring is almost here, and baseball players are cleaning their cleats and cleaning out their bathroom cabinets so it can only mean one thing: Jose Canseco has written another book.
The former Bash Brother says the new book may be titled "The Truth Hurts" but that it will not be about steroids in the manner that his first two books -- "Juiced" and "Vindicated" -- were about his steroid use and, more importantly, the use of many others.
Uh, so what will his new book be about? His current power playing softball? He may find out that the truth really will hurt because who will want to read a Canseco book that's just about him?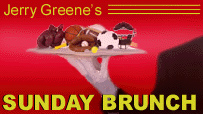 And before we get to the main courses in today's Brunch, a few more observations from the previous week in the sporting world:
• Calvin Borel, who won three of the past four Kentucky Derbies, will represent the U.S.A. in the Meydan Masters jockey competition in Dubai on Thursday and Friday. Of course it's been tough financially in Dubai recently so has anyone told Borel that they'll be riding camels?
• The Buffalo Bills say they'll be in new uniforms this season. Right -- the Los Angeles Bills.
• Someone defaced the statue of Harry Caray that stands outside Wrigley Field by spray painting "Sox" on it. Even worse, they left a recording of Christina Aguilera singing "Take Me Out To The Ball Game."
• Meanwhile Kazakhstan is taking the first step toward hosting the Olympic Winter Games in 2122 -- which is proving Kazakhstan actually exists.
And now the main courses in today's Brunch from some of our finest sports writers. Are you ready?
• Certainly one of the best known sports writers working today is Mitch Albom of the Detroit Free Press, who writes about the best known star to emerge victorious from the Super Bowl, Green Bay quarterback Aaron Rogers. Oh, Albom also mentions a former Packer quarterback who seems to have finally faded from the scene. Guess who.
• The TV rating rise and fall in the NBA because of LeBron James is analyzed by John Ourand of the Sports Business Journal. It's significant but do not assume the Miami Heat are No. 1 or that the Cleveland Cavs are dead last as neither is true.
• Ten years since the death of Dale Earnhardt but his presence still hovers over all of NASCAR reports George Diaz of the Orlando Sentinel and Tribune Co. as Diaz writes that the memory of Earnhardt lives on because nobody wants to let go.
• Wrestlemania will be going to South Florida in 2012. Greg Cote in the lead to one of his excellent notes columns, uh, notes that Wrestlemania often is called "the Super Bowl of wrestling." He thinks that the remark is insulting -- to wrestling.
• Just in case you have not read about the Wake Forest baseball coach who gave a kidney to a player simply because the young man needed it, Mike Tierney of the New York Times has the amazing but true story for your enjoyment and, perhaps, inspiration.
That's it for the Brunch as we are one week closer to the next football season. Baby steps.