Commentary
Storrs literally put UConn on the map
Updated:
April 4, 2011, 12:00 AM ET
By
Lynn Hoppes
| Page 2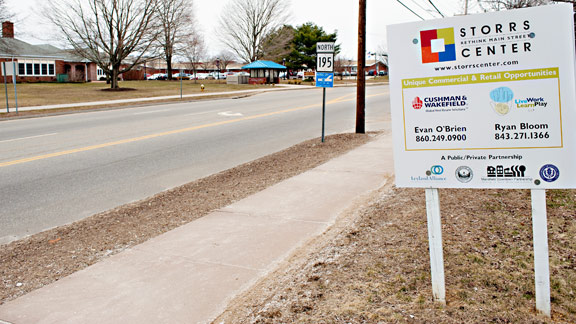 Tony Spinelli/ESPN.comStorrs is one of 20 villages in the town of Mansfield, Conn., and is finally building a town center.
STORRS, Conn. -- It's not likely brothers Charles and Augustus Storrs -- who, in late 1880, offered the state of Connecticut a former Civil War orphanage, 170 acres of farmland and a few barns to establish an agricultural school for boys that later would become the University of Connecticut -- would ever have imagined the village of 12,000 people in the northeast portion of the state would be the center of the college sports world.
UConn's men's basketball team advanced to the championship game Monday night against Butler, while the women's team lost in the Final Four Sunday night to Notre Dame.
And both teams live and train and mostly play in the village of Storrs, which is actually not even a city.
It's not even a town.
In fact, it's really just a zip code: 06269.
It's one of 20 villages in the town of Mansfield, Conn., which is about 25 miles east of the state capital of Hartford. The university, which has about 25,000 students, is pretty much all there is in Storrs. With rolling hills and farms, UConn is the largest rural university in the United States.
And it all began when the Storrs family thought there needed to be a school to train boys in farming.
Augustus and his brother Charles were of farm stock themselves. They were sixth-generation descendants of Samuel Storrs of Nottinghamshire, England, who emigrated to Barnstable, Mass., in 1663. In 1698, Samuel Storrs moved to Mansfield and established the family farm on land where much of UConn's main campus is now located. And so it began.
The Storrs family still is a major part of the community. The main road is named Storrs. And there are churches that include Storrs in their names.
In fact, descendant Francis Storrs -- the latest of 13 generations -- still lives in the area and owns a successful landscaping business. He is proud of what his family began.
"This is my home. This is my wife's home. I went to school here. Our son went to school here. There is no other place I'd want to live," said the 62-year-old Storrs, a 1968 graduate of UConn's Ratcliffe Hicks School of Agriculture. "When I moved away for a job on the Connecticut shoreline, I moved back because I missed it here so much."
And that seems to be the sentiment of those who are loyal to Storrs and the university.
Paul McCarthy, senior associate director of athletics, arrived in the area at the age of 2 and only left for a few years for a job in Boston before returning back to UConn and Storrs. Same for his wife.
"This is a terrific community of people passionate about their university," said McCarthy, who said his children actually go to the same elementary school he did. "This is a very special place. We're a close-knit group around here. It's a great place to live, work and raise a family. I don't see myself in any other location."
And the school is on an unbelievable run in sports.
[+] Enlarge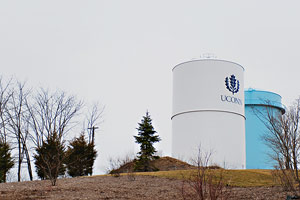 Tony Spinelli/ESPN.comIn 2004, UConn became the only Division I school to win national championships in both men's and women's basketball. Is this another year?
In the early years of the school, UConn was known for soccer (national championships in 1948, 1981 and 2000) and field hockey (national championships in 1981 and 1985). But football moved up to Division I-A in 2002 and joined the Big East in 2004 and reached its first BCS bowl this past season. And basketball has lifted the school to a level unmatched.
The men's team, coached by Jim Calhoun, won NCAA Division I titles in 1999 and 2004, and the women, coached by Geno Auriemma, have won in 1995, 2000, 2002, 2003, 2004, 2009 and 2010.
In 2004, UConn became the only Division I school to win national championships in both men's and women's basketball during the same year. The men's team is the favorite to win the title Monday, while the women's team are heading home.
"The sports teams and the school has really transformed a lot in the past 10 to 15 years," said Matt Hart, Mansfield's town manager. "I think the university and the larger community are growing together. The success of some of the athletic programs has built support for people to invest in the university in academics and now into the town. Everything has gone hand in hand."
And that collaboration will actually start to create a new downtown for Storrs and Mansfield.
In two months, Storrs will break ground on a $220 million project that will create a downtown for retail, commercial and rental apartments. It'll be located right next to the school in one of the few stoplight intersections in town.
"We're ready to build a better downtown. In fact, we're ready to build a downtown," Hart said. "Everyone will benefit: students, community members. Everyone is willing to do their part."
In the late 1990s, former mayor Mike Schor started the conversation about a town center. In 2001, the Mansfield Downtown Partnership was formed as a nonprofit organization, funded by the town and the university as well as by individual members of the community. Since then, key state and federal permits and licenses have been received, and state and federal funding has been secured.
"Yes, we've been talking about this for the past 10 to 12 years, but we now have the funding to start," said Mansfield mayor Betsy Paterson, who has worked at the university for 40 years. "This has been a long time coming. This partnership will help the growth of this area. We already have championship basketball teams, great arts and cultural events and great education. Now, it's time to create a downtown."
And for the Storrs family, it's really important for the future.
Maybe Storrs could eventually grow to be a city of its own?
And maybe being a Storrs family member could get free admission to the university?
"You don't think I checked?" said Francis Storrs, who will be following both basketball teams this weekend on television. "One day we had invited the president of the school over, and my wife asked him whether being related to the original Storrs got our son into the school for free. He said it wasn't in the statute."
Maybe it should be.
Lynn Hoppes is senior director for Page 2 and commentary for ESPN.com. He can be reached at lynn.hoppes@espn.com