Commentary
Why no buzz over Barry Bonds' trial?
Updated:
April 3, 2011, 11:13 AM ET
By
Jerry Greene
| Special to Page 2
You confuse me.
Why aren't you going bananas over the Barry Bonds' trial? It is so sleazy. Don't you love sleaze? Trust me, "Law & Order: Los Angeles" would kill for this kind of stuff.
And the sleaze peaked this past week with former Bonds' girlfriend Kimberly Bell's testimony. Kimberly attacked Bonds' stature as a man, speaking of his back acne, his scalp hair falling out, his chest hair turning gray and his shrinking testicles.
Come on, guys, can you say "Ouch?" Could you handle that Final Four of Manliness Failure being made public in court? That's far worse than those beer commercials where the female bartender makes fun of your dragon.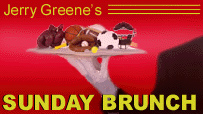 And which of the four is the worse? Surprisingly, my vote goes to back acne. At my age, the other three are no longer relevant.
While you divide into small groups to debate this, here are a few more tidbits before we get to the main courses of the Brunch provided by some of our best journalistic chefs:
• Sadly, the Cleveland Indians have been mathematically eliminated. Seriously, you do the math -- they gave up 23 runs in their first two games and attendance fell from 41,721 in the opener to 9,853 in Game 2. Cleveland knows "pathetic" when it sees it.
• Cincinnati Bengals linebacker Dhani Jones wants to be the voice of Aflac's spokesduck. Why not? As a Bengal he already has played a lame duck.
• Speaking of strange "spokescreatures," the Maryland Jockey Club is promoting the Preakness with Kegasus, described as a centaur with a beer gut and a nipple ring. One question: If Kegasus runs in the Preakness, does he have to have a jockey?
• Jay Leno: "Soccer fans in Colombia took a coffin containing a corpse to a soccer game. You know how the guy died? Got bored to death watching a soccer game."
• Dave Letterman had a list we would have liked: "Top Ten Rejected Major League Baseball Slogans." Our favorite was actually No. 10: "The Fastest Four Hours In Sports."
• Speaking of slow-moving baseball, MLB has opened its Fan Cave in New York City where two guys are being asked to watch all 2,430 MLB games this season. Somewhere Dante is thinking: "At last, now I have my tenth circle of Hell."
Enough. Let's get to the meat of the Brunch. Remember to chew slowly:
Today's menu:
• Meet Javiar Hernandez (AKA "Chicharito," the Little Pea), Mexico's 22-year-old soccer sensation. Mark Ziegler of The San Diego Union-Tribune paints a picture of this "Justin Bieber in cleats."
• Did you know they wanted to shoot "The Natural" at Ebbets Field? It must be true 'cause Robert Redford said so after throwing out the first pitch for the Cubs' opener, according to Fred Mitchell and David Kaplan of the Chicago Tribune. Find out if the Cubs told the film's producers that they would have to wait until next year.
• Are labor disputes in sports unimportant compared to other collective bargaining arguments in this country? Sid Dorfman of The New Jersey Star-Ledger says it's so, which probably means he has never had a Fantasy team.
• Mark Purdy of the Bay Area's Mercury News doesn't thank Barry Bonds for the sleaze of his trial as much as for revealing the corruption that had been swept under MLB's rug. Purdy thinks that a decade ago we were cheering "a giant rave with partyers swallowing whatever drugs were being handed out in the parking lot before the performance." He's not pleased.
• Finally, a report about baseball's near future that may be far more alarming than anything that comes from the Bonds' trial about baseball's recent past. Matthew Futterman of the Wall Street Journal presents stats that indicate America's youth are turning away from baseball to pursue faster, less boring sports.
There you have it. Oh, if you didn't hear it elsewhere, Connecticut will play Butler in the finals of some basketball tournament on Monday. Enjoy.