Commentary
Q&A: Travis Pastrana on 'Nitro Circus'
Originally Published:
April 12, 2011
By
Kelley Carter
| Special to Page 2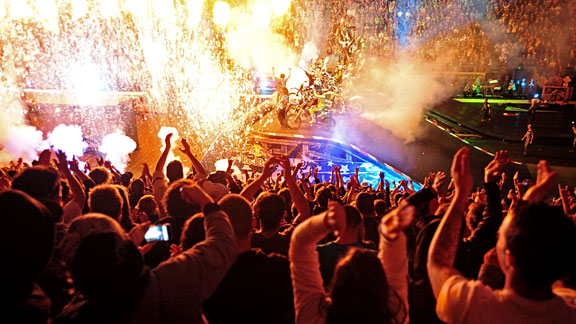 Nitro Circus Live Nitro Circus Live has done tours in Australia and New Zealand and now is ready to play the U.S.
Action sports are heading back to Sin City.
X Games legend Travis Pastrana is bringing the North American debut of "Nitro Circus Live" to the MGM Grand in Las Vegas on June 4. The event, a touring version of the MTV show "Nitro Circus," is filled with daring stunts and tricks that Pastrana and his team have created.
Pastrana, a 17-time X Games medalist, talks with Page 2 about the live show, the movie he's making about it and just how far these stunts will go:
Where did the idea to do a live show in Vegas come from?
We've done two tours in Australia and one in New Zealand -- it was kind of just for fun, and we figured we could go there and generally the crowds are more accessible to whatever kind of show you're putting on. In the States you have to be really, really on your game. We have so much media and sports and entertainment that you have to really impress; you have to do something that's never been done before. We never really thought about coming to the States until we just kept selling out stadium after stadium. We're like, all right, this is something that people want to see and we'd love to do it here in the U.S.
The X Games lend themselves naturally to a show like this ...
What we try to do is make an environment where we can do everything that they do at X Games in a safer mentality. Like we have really thin pads, but enough where it'll hopefully cut down on the injuries and allow these guys to try stuff they wouldn't normally be able to try. We can build ramps and all kinds of different stuff that you can't adjust at X Games, but if someone wants to try something bigger or better or do something that's never been done before, we'll add a few feet to the ramp or we'll add whatever they need. We can put contraptions on, like we can put foot pegs for extra people. It's basically taking all the top guys, allowing them to push themselves further than they ever would without a live event or something like that and giving them the opportunity to build whatever ramps or whatever they need to progress their sport.
[+] Enlarge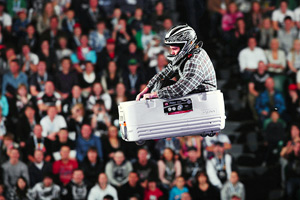 Nitro Circus Live Andrew Broussard tries to land in a cooler with wheels. "These things aren't proven, they're not, we haven't landed them every single time," Travis Pastrana said.
This is kind of like Cirque du Soleil but for action sports fans, right?
The first half of the show you could consider like Cirque du Soleil, the second half of the show, especially the Las Vegas show, we're bringing in everybody -- guys from every different thing that we could think of and even sports that aren't sports. Some of our top athletes in the show, like Aaron Fotheringham, do front flips and back flips on a wheelchair, even though he has [Spina Bifida]. There are guys that go down on boogie boards with wheels and all kinds of other stuff, but these things aren't proven, they're not, we haven't landed them every single time.
So do you choreograph these shows?
Whoever goes in front of you, you have to do a bigger trick than they do. So if the first guy throws a double back flip, kind of impromptu, the next guy's got to try to figure out how to step that up and how to do better. You're always trying to do something the guy behind you isn't going to be able to one-up and the guy behind you is consistently trying to ... you always want to be that slugger, that guy that's going to hit when the bases are loaded.
And this upcoming show, you're going to use for feature film footage?
There will be certain parts of the show that are going to be in the feature film. There's a lot of stuff that we want to try and we've wanted to try that will probably not work or at least will not be even close to consistent enough to do if we're doing live shows week in and week out. There's definitely a much higher chance of injury. So these contraptions, builds and some of the ramps and stuff that we're gonna do, we won't have.
How soon will we see Nitro Circus the film coming to theaters?
I couldn't be more excited. It's been really a learning experience for us, as far as the business end and working with the 3-D cameras. We're having a lot of fun filming it, but we're thinking February. We still have a ways to go.
Kelley L. Carter is a Los Angeles-based entertainment freelancer.