Commentary
Tough times for Kevin Na, Rory McIlroy
Updated:
April 17, 2011, 3:34 PM ET
By
Jerry Greene
| Special to Page 2
Hey, Kevin Na, mind if we play through?
Hey, Kevin Na, we're going to watch "Tin Cup." You in?
Hey, Kevin Na, how do you spell "duodecuple bogey?"
Actually, that is how you spell it and it is the correct term when you shoot a 16 on a par-four hole as Na did Thursday in the first round of the Valero Texas Open. To his credit, he managed an 80 on the round and a 77 Friday with no score worse than a double-bogey 6.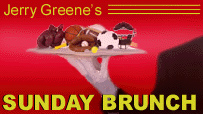 Of course he was free to go home after that.
Just in case Na (or you) should need to know, a sexdecuple bogey just means you were 16 over par although it sounds a lot better than that.
How about 96 over par? That's a sexnonaguple. I'll drink to that.
How about some love for Rory McIlroy? After his fourth-round 80 in the Masters, he flew across the world for the Malaysian Open only to discover that his clubs didn't arrive with him. He did finish third in that tournament, though.
And let's hear it for golfer Jeff Klauk. He has a deal with Golden Coral that kids eat free on any Monday after Kevin finishes in the Top 10. Right now he has three top 10 finishes in 34 career starts.
The kids may be really hungry before they get that free meal.
Speaking of hunger, a few more appetizers before we get to the main courses of today's Brunch:
• Tweet of the Week from ESPN's own Colin Cowherd: "After watching Tom Brady special, occurs to me if NFL season is axed, I'm giving ESPN my 2 week notice. Becoming pharmacist. Love this game." -- Good career choice, Colin. If you are a pharmacist, you can continue to work with some of your favorite athletes.
• Michigan State and North Carolina are going to play a basketball game aboard an aircraft carrier. Uh, what happens if somebody needs to land?
• The NFL and NFLPA (or whatever it calls itself) started talking again because a judge ordered them to talk. Yeah, that should work.
• Speaking of the law at work, there's a good chance Barry Bonds' eventual punishment will be confinement in his Beverly Hills home that has a tennis court, pool with a cabana, gym, six bedrooms, 10 bathrooms and totals 11,448 square feet. -- That'll teach him.
• Hey, Coco Crisp, we think we found your lost chia pet. It's on your head.
Enough. Let's get to the main courses of the Brunch, provided by some of our best sports-writing literary chefs. Enjoy.
• Oddly enough, we start with the New York Times for a story about the boom by Little League in the San Francisco area after the Giants won the World Series. Dan Fost tells us about kids wanting to be the next Cody Ross or Tim Lincecum although there was no mention of anyone wanting to be the next Barry Bonds.
• Speaking of Bonds, who did win that trial? Mark Purdy of the Mercury News has an answer for us -- nobody won. You can hear the sadness in his explanation.
• Moving a little South to the Los Angeles Times, Nathaniel Popper and Tiffany Hsu give us details of a legal story you may have missed -- the government's crackdown on Internet poker play. You might say the Feds have gone all-in.
• The NBA playoffs have (finally!) begun and Terry Pluto of the Cleveland Plain-Dealer tells us about one coach that really is excited about his team. That's right -- Byron Scott of the Cleveland Cavs. Really.
• And we'll call in Greg Cote of the Miami Herald as our ace closer with his seemingly never-ending streams of consciousness blogging that runs the course from the Heat to discrimination on "American Idol." Made you look.
And have a great Day 2 of the NBA Playoffs. (Not you, Orlando. Day One was bad enough.)