Commentary
Being Mother's Day, we look at NFL draft
Updated:
May 8, 2011, 12:29 PM ET
By
Jerry Greene
| Special to Page 2
Don't know about you, but I'm treating the week-old NFL draft like beef jerky, meaning that I just keep chewing and chewing in an attempt to make it last. After all, living in Orlando, Fla., I no longer have any rooting interest in the NBA while we don't really care about baseball and have never heard of hockey.
So how about that NFL draft? Here's a few more NFL-related thoughts to ponder:
• If we call the last guy picked in the NFL draft "Mr. Irrelevant," what do we call the last guy picked (on Twitter) in the UFL draft? Actually, that guy has his own song from the musical "Chicago." It's called "Mr. Cellophane."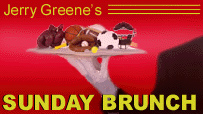 • Miami Dolphins GM Jeff Ireland says his team is "not desperate" to get a quarterback after not drafting one. Right, just like the passengers on the Titantic were not desperate for a lifeboat.
• Meanwhile, the Tennessee Titans drafted a janitor in the seventh round. Sounds about right.
• Breaking news: Nobody stabbed Brandon Marshall this past week.
And as we reluctantly segue from the NFL to other things, we've got to admit that injured NBA guys in suits look a lot better than out-of-work NFL guys in suits. The only time we see a baseball guy in a suit is at his trial. Hockey players don't have suits.
A few more bits of tid before we chow down on the main courses in this Mothers' Day Brunch:
• My apologies because I lost track. Has Shaq been sidelined because of a calf injury or because he ate a bad calf?
• The amazing thing about Justin Verlander's no-hitter is that it wasn't against the White Sox.
• Apparently the state of Hawaii is considering joining forces with the state of Utah in a planned lawsuit against the BCS. Yep, Hawaii vs. Brigham Young -- that's the national title game I want to see.
• Tweet of the Week: Actually, we don't know what it should be other than it won't be from Rashard Mendenhall. I know, let's give it to the UFL draft.
• We do have a Tweet from soccer player Freddy Adu: "The Associated Press in Turkey is coming to film my training sessions and follow me for 3 days. I might push for my own TV show." -- Great idea, Freddy. You could call it "Much Adu About Nothing."
• And if the NHL finals are Tampa Bay and San Jose, we've got two words: Disappointment television.
Enough. Let's turn to some of our best chefs to prepare something special for Mom and the rest of us, too: Mother's Day Brunch.
• The Kentucky Derby is over and most of us will quickly forget the ponies. Amy Wilson and Janet Patton of McClatchy Newspapers tell us about the thoroughbreds who are forgotten by everyone and end up auctioned to a slaughter house. They also tell us about the people who are fighting to save those equine lives.
• One man fighting for redemption if not survival is former Giants RB Tiki Barber, who is training hard to make an NFL comeback at age 36. Paul Schwartz of the New York Post shows us how Barber's story is more complex than we might expect.
• It's Mothers' Day and nobody needs their moms more than the Los Angeles Lakers, who face elimination in what may be coach Phil Jackson's final game. Mike Bresnahan of the Los Angeles Times looks at the Lakers' situation and finds little hope for this series or the years to come.
• OK, this is a first for the Sunday Brunch. We have a report from AP science writer Randolph E. Schmid, not one of our usual gang. Mr. Schmid tells us about an extensive study that seems to prove that cloudy days benefit the hitters in baseball. Who knew?
• We can't have a Mothers' Day Brunch without a Mothers' Day story. Stefan Bondy of the New York Daily News gives us a good one about how the Mets are helping one fan give his mom an unforgettable gift.
And with that, Happy Mom's day to one and all.