Commentary
Readers rank worst sports movies
Originally Published:
May 26, 2011
By
Jerry Greene
| Special to Page 2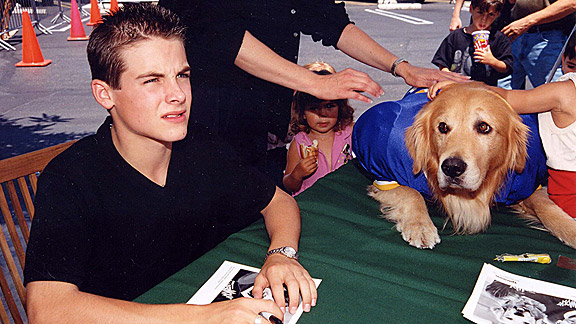 Jeff Kravitz/FilmMagic/Getty ImagesActor Kevin Zegers and Air Bud hang out for the premiere in 1998. Page 2 readers weren't fans.
You really do not like bad sports movies. In many instances, you don't even like the good sports movies, few as there are. But the really bad ones -- they're special.
We asked you to name the real stinkers to create this week's reader-generated list: "Top 10 Worst Sports Movies Ever." Hundreds of replies cast votes for 138 flicks, so the range of your dislike is wide.
(And a special salute to David Spade. Apparently you hate every movie he's ever been in although that begs the question as to why anyone pays to see them. Shouldn't his name be an adequate warning?)
We have additional comments to make but shouldn't be a tease. So let's get to the list -- and pay special attention to No. 8 because I could not be happier.
Top 10 Worst Sports Movies Ever
10. "The Replacements" -- "Keanu Reeves leading a football team is as credible as Plaxico Burress teaching a gun safety class," said Steeve -- yes, with 2 e's -- P. of Ashford, Conn.
9. "Over the Top" -- "Sly Stallone. Really? Arm wrestling? Really? Need I say more?" said Lee C. of Westhampton, Mass.
8. "Rudy" -- "Thank you, Mr. Greene, for exposing this movie to be the worst of sentimental sap," said Jonathan H. of Washington, D.C. (Yes! Thank you for everyone who voted. Our work here is done.)
7. "Major League III: Back to the Minors" -- "Good thing Dennis Haysbert found work in '24' or they might have made another one," said Chris T. of Marblehead, Mass. (The working title might have been "Major League IV: Back to the Womb.")
6. All "Mighty Ducks" sequels -- "There's only one word to describe the sequels -- lame," said Susan M. of Phoenix.
5. "Rocky V" -- "I would rather go a round in the ring with Rocky than watch that movie again," said Jerrod N. of Minneapolis. (Stallone will be 65 in July, Jerrod, so you might be able to take him.)
[+] Enlarge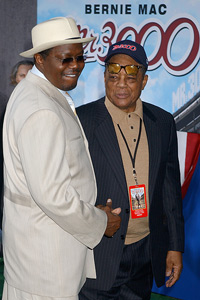 Gregg DeGuire/Getty ImagesBernie Mac and Willie Mays hang out for the premiere of "Mr. 3000".
4. "Jawanna Mann" -- "Not just a bad movie but a bad movie about a terrible sport," said Ben M. of Peoria, Ill. (Ben's comment was the only one not too mean to use. Why do so many guys despise women's basketball? Do your wives or girlfriends make you watch it?)
3. "Mr. 3000" -- "Bernie Mac seemed like a nice guy, except for this stinkeroo where he essentially pretended he was Barry Bonds making a comeback," said Richard G. of Grand Rapids, Mich.
2. All "Air Bud" movies -- "A bad movie with worse sequels. Like eating a bad burrito that stays with you for years," said Janice H. of Palo Alto, Calif.
1. "Caddyshack II" -- "It took them eight years to turn comedy gold into a film that violates the Geneva Convention," said Casey M. of Columbia, S.C.
Another voter said re-watching "Caddyshack II" makes him want to punch kittens. The film got about 20 percent of the total votes, making it an easy winner/loser.
Other films that just missed include "Eddie," "A League of Their Own," "The Rookie," "Blue Chips," "Glory Road," "Angels in the Outfield," "The Babe," "Little Big League," "Fever Pitch," and in a surprisingly poor performance, the "Slapshot" sequels.
A shoutout to Hartley A. of Richmond Hill, Ontario, Canada, for nominating "The Fan" because it was too dark to see in a drive-in. We really miss drive-ins, which were great places for bad sports flicks because you could always be doing something else like, uh, talking batting averages with your date.
Speaking of dates, Mark M. of Apopka, Fla., saw "Field of Dreams" on a first date because the girl suggested it. "The movie was so terrible," Mark said, "that I never called her again."
Should have seen it at a drive-in.
Closing salute to Erik D. of Elmhurst, N.Y., for being the only person to vote for "The Blood of Heroes," a 1989 Australian film starring Rutger Hauer. It's about the sport of "Jugging," in which you score by placing a dog's skull on your opponent's stake. (Delete Philadelphia Eagles quarterback joke here.)
Netflix, are you listening? We want this.