Commentary
French Open balls are juiced? C'mon!
Updated:
May 29, 2011, 2:16 PM ET
By
Jerry Greene
| Special to Page 2
Sometimes the really big stories just get overlooked. That happened this past week, when the world ignored the biggest sports scandal of modern times: the balls may be juiced at the French Open!
Oh, the shame.
Player Novak Djokovic said the balls "are very, very fast, so it's really difficult to control."
The balls used to be from Dunlop, but this year they are from a different company, Babolat. Officials say the balls are the same, but one official admitted that Dunlop claims its balls have "14 special ingredients."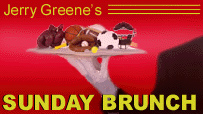 Makes you wonder how many special ingredients are in Babolat balls.
I'm just sayin'.
Enough with the scandal. Let's examine a few other bon mots from the week before we get to the main dishes in this Memorial Weekend Sunday Brunch:
• We can neither confirm nor deny that NFL ownership has contacted Barcelona about playing in the first Replacement Super Bowl against the Plaxico Burress Prison All-Stars.
• As we all know, the Rapture was postponed. Most interesting follow-up story was that Los Angeles Clippers center Chris Kaman said he had bought "a few more guns" in case it happened. Uh, Chris, were you planning on taking them with you?
• FIFA may call for a revote if it decides two of its executives were bribed for $1.5 million to vote for Qatar as host of the 2022 World Cup. If that's the going price the first time, how much will a revote vote be worth?
• No Triple Crown winner again but the same music by Meat Loaf can be heard from the stalls of Animal Planet and Shackleford: "Two Out of Three Ain't Bad."
• Jay Leno: "Did you see Ray Lewis? He said the lockout will lead to a higher crime rate, not to mention a substantial drop in stripper income. It's hard to make it rain with food stamps."
• Maryland Jockey Club president Tom Chuckas had high praise for the centaur mascot of the Preakness after infield attendance increased 25 percent, saying: "If you look at the numbers and the event we had out there, Kegasus did a fantastic job." Sure, but where does he get work now?
• And this from Mets GM Sandy Anderson about the team's money problems: "I was thinking, 'If the world had ended on Saturday the way it was supposed to, we wouldn't have to deal with these issues.'" The Mets just can't catch a break.
Now let's get to some special story-telling by some of our best:
• Believe it or not, the NBA Finals actually begin Tuesday. One fascinating question is whether or not Dirk Nowitzki can bring down the Evil Empire that is the Miami Heat. Jason Gay of The Wall Street Journal tells us about "Dirk-ness," including this lovely description: "When he dribbles, you can practically hear him counting the bounces -- 1, 2, 3. He doesn't so much drive the lane as lunge through it, and when he jerks backward for his patented fade-away one-leg jumper, he resembles a camp counselor teetering off a canoe." Check out the rest.
• Speaking of the Evil Empire, Greg Cote of the Miami Herald has one parting shot for the Chicago Bulls and everyone who voted for Derrick Rose as MVP over LeBron James. Cote describes Rose as "a child dwarfed in the shadow of a full-grown man." As they say, ouch.
• And now for something completely different: cheerleaders. Is what they do actually a sport? They think so and are trying to convince the rest of us. Katie Thomas has the story for The New York Times.
• You like quirky? Cynthia Vukets of The Toronto Star gives us tips on where to find odd web sites for sports stars. Be sure to notice the site for the beard of San Francisco pitcher Brian Wilson. Can you spot the yeti hidden in his whiskers?
• We close our Memorial Day Brunch with a terrifying but heartwarming story of two Alabama baseball players who survived the total destruction of their home, perhaps with the protection of a Biblical verse pasted on their bathroom mirror. Mike Bianchi of the Orlando Sentinel
has the story
.
You have a great Memorial Day weekend -- and please remember the men and women who made this holiday weekend possible along with all the other weekends.