Commentary
Tim Tebow talks about his new book
Updated:
June 21, 2011, 2:45 PM ET
By
Patrick Dorsey
| Special to Page 2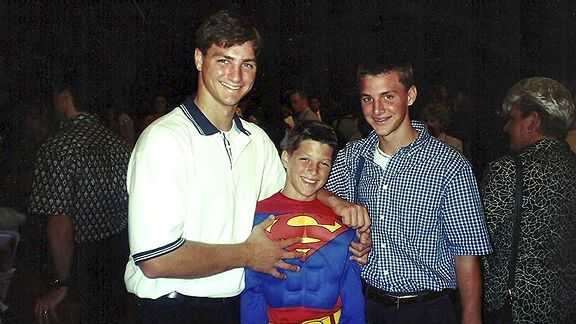 Courtesy of HarperCollins That's brothers Robby, left, and Peter, right, surrounding Super Tebow, the young Tim Tebow.
CORAL GABLES, Fla. -- Sure, Tim Tebow's rookie campaign excited him.
But a lot about it wore him out.
You know, all that fact checking, organizing, cutting and editing ...
[+] Enlarge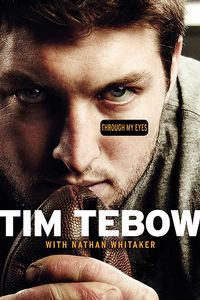 Harper CollinsTim Tebow's book is a 250-plus-page memoir titled "Through My Eyes."
"It's harder than most people would think," Tebow said.
Tebow, of course, is talking about his first go as an author, which resulted in a 250-plus-page memoir titled "Through My Eyes," co-written with Nathan Whitaker (who also co-wrote "Quiet Strength" with Tony Dungy).
The book -- which he and Whitaker started writing last fall and finished after the last NFL season -- features stories from the 23-year-old's life, from his birth in the Philippines to his upbringing in Jacksonville, Fla., to his legend-making college days at the University of Florida to his first NFL season in Denver.
The themes are classic Tebow: Football, family and faith and his immense dedication to all three.
The result? Predictably strong for the eminently popular Heisman Trophy winner. Released May 31 by HarperCollins, the book jumped onto the New York Times Best-seller List on June 19, at No. 6 for hardcover nonfiction. This week it moved up to No. 5, one spot ahead of Tina Fey's "Bossypants."
Tebow also has seen the support in person, holding six book signings -- four in Florida, two in Colorado -- which have been flooded with fans of his football, his message or both.
And so, with a large crowd gathered Monday night outside Books & Books in Coral Gables -- not far from the campus of rival University of Miami -- Tebow sat down with Page 2 to talk writing, reminiscing, meeting his fans and more.
What's it like having this book out there?
"That's something that's a lot of fun. Because a lot of [the] stories people don't know. But also the stories they do know -- maybe it was a little different than they thought, or how the media portrays it. ... So that was kind of exciting for me to be able to [tell]."
[+] Enlarge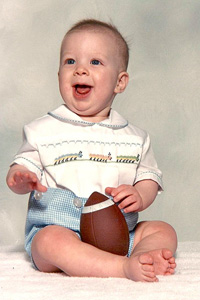 Courtesy of HarperCollins Yep, that's Tim Tebow as a baby. Awwww.
How was the writing process?
"It was fun. It was fun reminiscing on old times, thinking and talking and trying to decide what I wanted to put in there. ... Because you can't put everything, so you've got to pick and choose. I would've loved to have written four chapters just on high school but you can't, you know? ... [But] to let people get the best glimpse of what I really am like was fun.
"It was definitely a fun process and hard process as far as [putting] time and effort into it. But very rewarding, more than anything, is to be able to read or see the comments ... and to see how it impacted someone. Because that's the coolest thing. To realize that all the work paid off for good, even if it's just for one person, it's worth it."
Has any part of your book resonated especially with people?
"The story of Otis, my dog. I've gotten who knows how many responses or letters or tweets or whatever saying that they love that part. [But] there's a lot of different stories that I think a lot of different types of people can relate to."
Best part about the book tour?
"To be able to do the book signings and be able to meet people, shaking hands, put a smile on their face, that's exciting for me. ... You can really see what you mean to people ... and that means a lot to me."
How does a book tour compare to a football season?
"This a lot easier than that. ... The publicity [makes it seem] like it's overwhelming, but for me it's still just a usual day. I've been training all day and just go for a few hours and do this, and that's kind of cool."
We know the lockout will dictate your football life. But what's next for you off the field?
"That's a good question. I'm not necessarily sure, because I'm not really sure what on the field holds for me right now. ... I'm just preparing and working, and hopefully there's a resolution soon with this lockout and we're allowed to go back and start OTAs [organized team activities] and training. ... We don't have any more signings planned, because we don't know what's going to happen with the lockout. We're hearing things are getting closer, so whenever we hear what the NFL's going to do, then I'll be able to set my schedule a little bit too."
And could you see another book in your future?
"We'll see how the next 23 years go, but I definitely enjoyed the process. It was probably harder than I thought at first, to be honest with you. But it was also very rewarding and a lot of fun, and so it's something that I definitely won't shy away from if I feel like it's the right time."