Commentary
Ozzie Guillen says this too shall pass
Updated:
June 26, 2011, 11:16 AM ET
By
Jerry Greene
| Special to Page 2
You think you're tough? Bow down to Chicago White Sox Manager Ozzie Guillen. He is the very definition of tough.
Guillen recently passed a kidney stone and still managed the Sox on the same day. Anyone who has ever dropped a stone will tell you that you do not feel like managing anything other than dictating your last will and testament. No, what you want to do is curl up into the fetal position and cry for your mama.
Unfortunately, sources indicate Ozzie's problems with the English language may have led to mental suggestion creating the stone. Apparently someone said to him that "managing the White Sox must be as bad as passing a kidney stone" -- and he didn't realize it was a metaphor.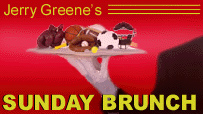 Meanwhile, Chicago Cubs Manager Mike Quade must be wondering what the metaphor is for running the Cubbies -- passing a billy goat?
Let's review a few more moments from the week that was before advancing to the main courses in our Brunch that will be prepared by some of our leading sportswriting chefs.
• Former President George W. Bush decided it was hip to help the Rangers set a Guinness Book of World Records mark for most people wearing sunglasses in the dark during a game against the Astros. Again, President Bush decided to do this. That explains a lot.
• Tweet of the Week from SB Nation's Holly Anderson about tennis star Venus Williams: "OK, everybody stop calling Venus' outfit 'UNIQUE' like it's acceptable for a grown woman to wear a ROMPER on television." Ouch.
• You got to love this. Eight is the number of German octopuses that will be used to predict scores in the FIFA Women's World Cup. Best octopus becomes the official replacement for Paul -- the octopus wizard that correctly nailed all of Germany's games in the last World Cup before tragically passing on. Got to be an octopuses' dream (the predicting, not the passing on).
• Hey, Oregon, I got some hot tips on Florida's best high school football players from 2009. Call me.
• Jason Hunter, defensive end for the Denver Broncos, was struck in the chest by a kitchen knife allegedly thrown by his girlfriend. He'll be OK but we can neither confirm nor deny that the Broncos would like his girlfriend to drop by for a workout.
• Reports indicated the Cleveland Browns my make a bid for former Ohio State quarterback Terrelle Pryor in the supplemental draft. Oh, come on, he may have done some bad things but hasn't he suffered enough?
• Quote of the Week and probably the Month comes from driver Danica Patrick about going full speed on the bumpy turns at Iowa Speedway: "That took some ovaries to do because I wasn't really excited to do it but I did it."
• Lakers forward Ron Artest has filed paperwork to be legally known as Metta World Peace. I think we all are thinking the same thing: How did he ever come up with such a strange name as Metta?
And now we move to the main dishes in this last Brunch for June with a strong emphasis on what once was our national pastime. Yes, we're talking baseball. Enjoy.
• At the top we mentioned Cubs Manager Mike Quade, the latest in a long line of Cubbie managers just waiting to be fired. But Dan McGrath of The New York Times tells us that at least Quade continues to manage with a smile on his face and a song of baseball in his heart.
• The debate continues on whether hiring Jack McKeon, 80, to manage the Marlins once again was a brilliant move or mere publicity stunt. Either way McKeon is doing things his way just as he did in 2003 when the club won the World Series as Clark Spencer explains for The Miami Herald. Pay particular attention to his use of "poo-poo and pee-pee passes" when a player wants to be excused from the dugout.
• But if the Cubs and Marlins think they have troubles, read about what a day at a Dodgers' game is like for Bill Plaschke of the Los Angeles Times. The day started with getting a prime ticket for $2.55 on the Internet and got cheaper and cheesier from there.
• Speaking of troubles, Manager Jim Riggleman told the Washington Nationals that he either got a new contract or he was out the door. In effect, the Nationals said don't let the door slap your rear side on the way out. Mike Vaccaro of the New York Post is not impressed with Riggleman's bluff or his managing career.
• OK, our Brunch menu can't be all baseball, so we turn to Frank DeFord writing for NPR about goats. Actually G.O.A.T. as in "Greatest of All Time." Frank says we are watching the tennis GOAT right now -- we just don't know who he is.
That's it. Go forth and be a GOAT -- just not a scapegoat.