Commentary
Page 2 predicts 2011 ESPYs winners
Updated:
July 13, 2011, 12:49 PM ET
By
Patrick Dorsey
| Special to Page 2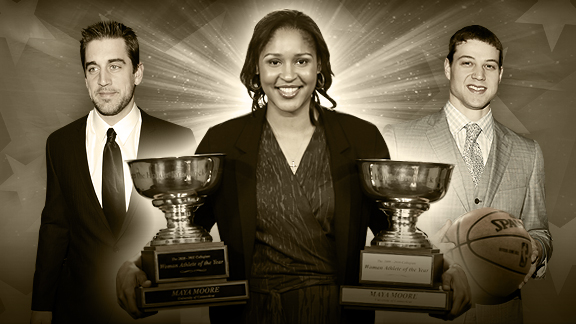 ESPN.com Illustration
We know who won the leagues' awards.
But what about the real awards?
That's what we'll find out Wednesday, as the year's best athletes claim their ESPYs live on ESPN (9 p.m. ET).
Still, we know some of you can't wait for the show. Neither can we. So Page 2 has tracked the precursor awards, talked with industry insiders and used our considerable Oscars expertise (yep, we had "The King's Speech" taking Best Picture) to bring you the official 2011 ESPYs predictions.
Just be sure to thank us when you win your pool.
Best Male Athlete
Jimmie Johnson, NASCAR
Rafael Nadal, Tennis
Dirk Nowitzki, NBA
Aaron Rodgers, NFL
Page 2 prediction: Arguably the top prize has arguably no front-runner; you could make a case for any of these four. The dominant driver? The Grand Master of the Grand Slam? The genial (and Heat-killing) German? All have a shot. But the NFL is king, the Packers rolled to a Super Bowl title and game MVP Rodgers stormed his way onto the exclusive QB A-list. He's the pick.
Best Female Athlete
Kelly Clark, Snowboarding
Lauren Jackson, WNBA
Maya Moore, NCAA basketball
Lindsey Vonn, Skiing
Page 2 prediction: Vonn won a year ago, but that was aided by the Olympic spotlight. And although Clark and Jackson also dominated, no female athlete was more recognizable this past year than Moore -- who helped UConn break a big record (see below), got drafted No. 1 in the WNBA and even became the first female basketball player picked up by the Air Jordan brand.
Best Championship Performance
Tim Lincecum, 2010 MLB postseason
Tim Thomas, Stanley Cup finals
Kemba Walker, Big East tournament and NCAA tournament
Serena Williams, 2010 Wimbledon
Page 2 prediction: Whoa. Talk about difficult. A tennis player who doesn't lose a set? A college baller who doesn't lose a tournament game? A guy who embodied the term "hot goalie" (eight goals allowed in seven Stanley Cup finals games)? How do you vote against those? We're not sure, but something just tells us Giants diminutive dealer Lincecum will steal this one.
Best Breakthrough Athlete
Jose Bautista, Toronto Blue Jays
Arian Foster, Houston Texans
Blake Griffin, Los Angeles Clippers
Li Na, Tennis
Cam Newton, Auburn Tigers
Page 2 prediction: This isn't fair. All of these guys (and girl) broke through in a big way. But you just can't beat The Blake Show. You just can't.
Best Record-Breaking Performance
Ray Allen, NBA 3-point record
Rory McIlroy, U.S. Open
Derrick Rose, youngest player to win NBA MVP
UConn women's basketball, longest win streak
Page 2 prediction: Only Allen would surprise, as his Reggie Miller-beating record didn't make waves the way the other three contestants did. But here's betting the UConn women's outlasting of the UCLA men barely holds off the momentum of McIlroy.
Best Upset
Blame over Zenyatta, Breeder's Cup
Fabricio Werdum stuns Fedor Emelianenko, MMA
Seahawks upset Saints, NFL wild-card playoffs
VCU, NCAA men's basketball tournament
Page 2 prediction: All respect to Blame and Werdum, but this seems to be a two-team race. So who takes it: the group that went from "Last Four Out" to "Last Four, Period," or the losing playoff team that suddenly found itself beating the defending Super Bowl champs? It's a toss-up, but our coin just landed on Final Four-crashing VCU.
Best Game
Auburn beats Alabama, Iron Bowl
Butler upsets Pittsburgh, NCAA men's basketball tournament
Eagles rally to beat the Giants, NFL
Oklahoma City edges Memphis in triple-OT, NBA playoffs
Page 2 prediction: OKC-Memphis was incredible, but was mostly a for-NBA-nerds-only moment. Butler (late free throws) and the Eagles (DeSean Jackson's last-play punt return) had crazy endings. But Auburn's rally from a 24-0 deficit preserved its shot at a BCS title -- and came in one of the nation's biggest rivalries.
Best Moment
Fennville HS basketball team, high school basketball tournament run
Roy Halladay postseason no-hitter, MLB
Trevor Bayne at Daytona 500, NASCAR
Page 2 prediction: More coin tossing, but this one seems to have three sides. A Cinderella winning his sport's biggest race could grab the ESPY. A postseason no-hitter is especially hard to beat. But Fennville overcame the shocking on-court death of star Wes Leonard to win three playoff games. That earns the edge.
Best Team
Auburn football
Boston Bruins
Dallas Mavericks
Green Bay Packers
San Francisco Giants
Texas A&M women's basketball
Page 2 prediction: Since 2001, this award has gone to three baseball teams, three NFL ones, one from college football -- and four NBA teams. Here's guessing that becomes five, as the Mavs top a strong field thanks to their out-of-nowhere title run.
Castrol Edge Performance Under Pressure Award
Arian Foster, Houston
DeAngelo Hall, Washington
Leon Washington, Seattle
Page 2 prediction: Foster's here for a 231-yard game against the Colts, Hall four his record-tying four interceptions (including one returned for a touchdown) versus the Bears and Washington for his pair of kickoff-return TDs against the Chargers. We'll select Hall on this one, primarily because of this awesome quote in the aftermath of that game: "If I had to play Jay Cutler every single week, man, I'd be in the Hall of Fame."
Best Sports Movie
"The Fighter"
"Secretariat"
"Soul Surfer"
"Win Win"
Page 2 prediction: Apologies for the obvious wordplay, but this should be a first-round knockout. The other three had their fans (and Tom McCarthy's "Win Win" was an understated gem), but nothing this year can touch the seven-times-nominated, two-times-Oscar-winning "The Fighter."
Best Coach/Manager
Jim Calhoun, Connecticut men's basketball
Rick Carlisle, Dallas Mavericks
Gene Chizik, Auburn football
Mike McCarthy, Green Bay Packers
Dom Starsia, Virginia men's lacrosse
Page 2 prediction: Not to downplay what Calhoun (improbable NCAA title), McCarthy (Super Bowl), Chizik (BCS title) or Starsia (NCAA title and a wins record) did, but when even the stats community gives a coach credit the way many did Carlisle, that's a big deal.
[+] Enlarge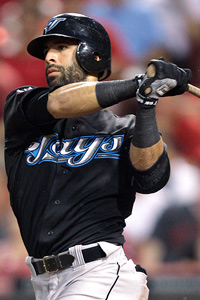 AP Photo/Al BehrmanJose Bautista has emerged as a force for the Toronto Blue Jays
and is up for multiple ESPYs.
Best NFL Player
Tom Brady, New England
Arian Foster, Houston
Clay Matthews Jr., Green Bay
Troy Polamalu, Pittsburgh
Aaron Rodgers, Green Bay
Page 2 prediction: If this were for "Best NFL Hair," you'd have a three-way scrap between Brady, Matthews and Polamalu. But as it stands, it's hard to beat a Super Bowl champion QB with explosive stats. Rodgers it is.
Best MLB Player
Jose Bautista, Toronto
Roy Halladay, Philadelphia
Josh Hamilton, Texas
Felix Hernandez, Seattle
Joey Votto, Cincinnati
Page 2 prediction: Chicks might dig the long ball (Bautista) and the adversity-soaked comeback story (Hamilton). But Halladay threw a regular-season perfect game, then no-hit the Reds in the playoffs. Oh, and he won the NL Cy Young. Unanimously.
Best NHL Player
Corey Perry, Anaheim
Daniel Sedin, Vancouver
Martin St. Louis, Tampa Bay
Tim Thomas, Boston
Page 2 prediction: The three skaters all had great seasons. But netminder Thomas posted a record save percentage, led the NHL in GAA and stopped all but eight shots in the Bruins' Stanley Cup finals triumph.
Best Driver
Greg Anderson
John Force
Dario Franchitti
Jimmie Johnson
Page 2 prediction: Now a winner of five straight, Johnson just can't be beaten in the Chase -- even when he trails going into the final race (like in 2010). He won't be beaten here, either.
Best NBA Player
Kobe Bryant, Los Angeles Lakers
Kevin Durant, Oklahoma City
LeBron James, Miami
Dirk Nowitzki, Dallas
Derrick Rose, Chicago
Page 2 prediction: Kobe had his day, Rose and Durant will get theirs, so the winner is … LeBron. (Kidding!) But seriously, after those playoffs, is there any question who takes this award? (Especially if the voters, like us, want to hear Dirk belt out one more off-key rendition of "We Are the Champions.")
Best WNBA Player
Tamika Catchings, Indiana
Lauren Jackson, Seattle
Cappie Pondexter, New York
Diana Taurasi, Phoenix
Page 2 prediction: Jackson won the league MVP award, but this award might just be bigger; with a win here, she'd break a three-way tie (with Cynthia Cooper and Lisa Leslie) for most WNBA ESPYs (currently three).
Best Fighter
Bernard Hopkins
Jon "Bones" Jones
Sergio Martinez
Manny Pacquiao
Georges St. Pierre
Page 2 prediction: Fun fact: In the four-year history of this award, nobody has won except Pacquiao or Floyd Mayweather Jr. Which shows that the ESPYs, like everyone else, wants that matchup to happen. It'll get more encouragement this year, when Pacquiao wins.
Best Male Golfer
Luke Donald
Jim Furyk
Graeme McDowell
Rory McIlroy
Charl Schwartzel
Page 2 prediction: Tiger! (Sorry, had to.) But in the absence of the dominant multi-winner, and in the absence of a dominant season from any one male golfer, we go with the guy who put up perhaps the most explosive golf performance since Eldrick Woods became a big name: Step on up, Rory.
Best Female Golfer
Na Yeon Choi
Cristie Kerr
Jiyai Shin
Yani Tseng
Page 2 prediction: The LPGA has seen its share of struggles in recent years, but not for Tseng's lack of trying. She's outgoing, dominant (winning three of six majors before this week) and should find her way to the stage Wednesday.
Best Male Tennis Player
Novak Djokovic
Roger Federer
Rafael Nadal
Page 2 prediction: Roger who? This is down to Nadal (four of past six Slams) and Djokovic (the other two, both in 2011, plus a 43-match winning streak). Here's betting, after a tough fifth set, Nadal emerges with the ESPY.
Best Female Tennis Player
Kim Clijsters
Li Na
Serena Williams
Caroline Wozniacki
Page 2 prediction: Wozniacki ended 2010 at No. 1, Na became the first Asian to win a Grand Slam singles title and Clijsters won back-to-back Slams. But Serena has won this twice in a row, and had that Wimbledon run in which she didn't lose a set. She's the pick -- but barely (over Clijsters).
Best Male College Athlete
Jimmer Fredette, BYU basketball
Andy Miele, Miami-Ohio hockey
Cam Newton, Auburn football
Rob Pannell, Cornell lacrosse
Kemba Walker, Connecticut basketball
Page 2 prediction: Congrats to Miele and Pannell for making their way onto this difficult-to-crack list. But this one will go to a marquee sport, which leaves us Jimmer, Kemba and Cam. One might bet on a basketball vote-split, but there could be concerns about Newton's eligibility for this award (does he have to give it back if violations emerge years from now?). And although Walker had a great tourney run, you just can't match Jimmer-mania.
Best Female College Athlete
Blair Brown, Penn State volleyball
Dallas Escobedo, Arizona State softball
Melissa Henderson, Notre Dame soccer
Katinka Hosszu, USC swimming
Maya Moore, Connecticut basketball
Page 2 prediction: Another one where people seem to be playing for second. Brown, Escobedo, Henderson (Henderson!) and Hosszu all were great champions. But Moore was transcendent.
[+] Enlarge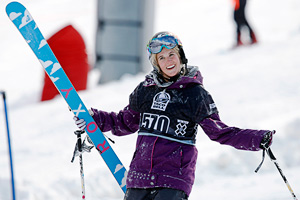 AP Photo/David ZalubowskiSkier Sarah Burke is vying for an ESPY award.
Best Male Action Sport Athlete
Tucker Hibbert, Snowmobiling
Travis Pastrana, Motocross
Kevin Rolland, Freestyle skiing
Kelly Slater, Surfing
Shaun White, Snowboarding
Page 2 prediction: Pastrana won this in 2007, but White has claimed four of the past five. The iconic redhead also kept up the winning in both snowboarding and skateboarding. Why pick against a dynasty?
Best Female Action Sport Athlete
Sarah Burke, Freestyle skiing
Kelly Clark, Snowboarding
Ashley Fiolek, Motocross
Stephanie Gilmore, Surfing
Page 2 prediction: Wins at Winter X (Burke), Regular X (Fiolek) and all over the ASP World Tour (Gilmore) can't take down Clark, who also won Winter X gold and became the first female snowboarder to land a 1080 in competition.
Best Jockey
Ramon Dominguez
Garrett Gomez
John Velazquez
Page 2 prediction: Dominguez deserves mention for riding winners of 369 races across North America, while Gomez gets a shoutout for guiding Blame to its win over Zenyatta. But Velazquez won the Kentucky Derby with Animal Kingdom, and you just don't beat a Derby winner.
Best Male Athlete with a Disability
Chris Devlin-Young
Anthony Robles
Aaron Scheidies
Jerome Singleton
Steve Wampler
Page 2 prediction: This is where you find some real sports heroes, and Devlin-Young (skiing), Scheidies (triathlon), Singleton (sprinting) and Wampler (the first person with cerebral palsy to ascend Yosemite's El Capitan) certainly qualify. But Robles, the one-legged wrestler from Arizona State, became an out-and-out superstar this year.
Best Female Athlete with a Disability
Allison Jones
Tatyana McFadden
Alana Nichols
Melissa Stockwell
Mallory Weggemann
Page 2 prediction: What goes for the men goes for the women, only this category is tougher. How to choose between one-legged cyclist Jones, wheelchair racer McFadden, skier/wheelchair basketball player Nichols, triathlete Stockwell or swimmer Weggemann? It's tough, but Weggemann's dominance (nine world records, eight golds at IPC Swimming World Championships) is hard to ignore.
Best Bowler
Chris Barnes
Jason Belmonte
Mika Koivuniemi
Bill O'Neill
Page 2 prediction: For the first time since 2000, the Best Bowler winner won't be Walter Ray Williams Jr., Norm Duke or Pete Weber. So who grabs the crown? Looks like a toss-up between Barnes and Koivuniemi, with the American (Barnes) edging the Finn because of his Triple Crown win.
Best MLS Player
Edson Buddle, Los Angeles
Landon Donovan, Los Angeles
David Ferreira, Dallas
Chris Wondolowski, San Jose
Page 2 prediction: On merit, this probably should go to league MVP Ferreira, who pushed FC Dallas to its first MLS Cup appearance. But Donovan has won this award four times -- and it's been awarded only five (David Beckham grabbed the other).
Best Track and Field Athlete
Allyson Felix
Tyson Gay
David Oliver
Page 2 prediction: Felix (100m) and Oliver (110m hurdles) both grabbed USA Outdoor titles, but only one of these three handed Usain Bolt his first 100m loss in two years: Tyson Gay, who wins here like he did against Bolt.
Patrick Dorsey is a writer based in South Florida and a regular contributor to Page 2. He can be reached at bypatrickdorsey@gmail.com.