Commentary
Texas Rangers: Not-so-splendid start
The Texas Rangers were born in 1961 as the Washington Senators, suffered 10 losing seasons in 11 years, left D.C. under a storm of controversy, moved into a renovated minor league stadium in a football-mad city, and had as their first manager a grouchy Hall of Famer whom the players intensely disliked. How was this not destined to work?
The Texas Rangers have rarely been excellent. At times, they've been bad. They're the only major league franchise never to win a playoff series. But one thing they've never failed to do is to quit being interesting. After all, this is the franchise that gave us the ballpark nacho.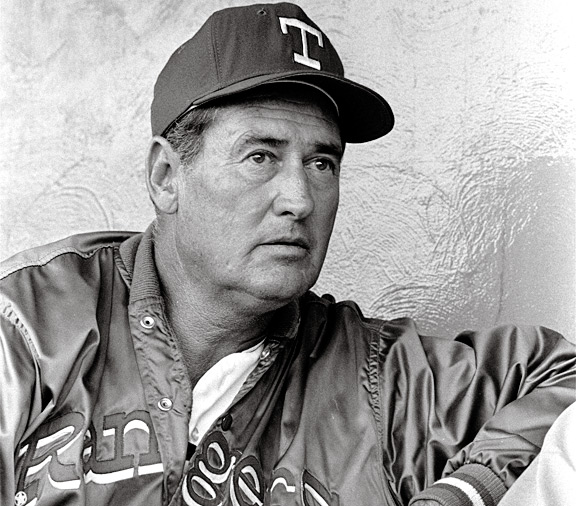 AP PhotoTed Williams had a .344 lifetime average, but the '72 Rangers hit .217.
The first Rangers team in 1972 was a disaster. Mike Shropshire would later write a book about the early days of the franchise and title it "Seasons in Hell." Ted Williams had managed the Senators to their only winning record in 1969, but the team had lost 96 games in 1971. Owner Bob Short, short on cash, had offered to sell the club but had no buyers, so he moved the team to the Metroplex. As owner of the Minneapolis Lakers, he had once succesfully moved the team to Los Angeles. He was hoping for a similar gold mine outside Dallas.
Instead, the Rangers hit .217 as a team. They had 56 home runs. They were shut out 27 times. They went 3-23 in September and lost their 100th game on the season's final day. Williams retired. He probably figured he'd have more fun fishing than watching these guys hit. At least Short saw his attendance improve: The club drew 7,000 more fans than the year before. ... That's total attendance, by the way, not per game average.
---
1 | 2 | 3 | 4 | 5 | 6 | 7 | 8 | 9 | 10 | 11 | 12 | 13 | 14 | 15 | 16 | 17 | 18 | 19 | 20 | 21 | NEXT IMAGE >>
ESPN Senior Writer
Senior writer of SweetSpot baseball blog
Former deputy editor of Page 2
Been with ESPN.com since 1995
MOST SENT STORIES ON ESPN.COM