Texas Rangers: Did you say playoffs?
Updated:
September 29, 2010, 11:03 AM ET
Page 2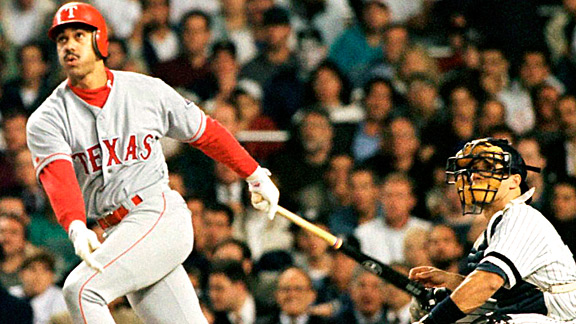 Stan Honda/AFP/Getty ImagesJuan Gonzalez led the Rangers to the first -- and only -- playoff victory in 1996.
After 25 seasons in Texas, the Rangers finally made their first playoff appearance in 1996. A powerful offense led by MVP Juan Gonzalez (.314, 47 home runs, 144 RBIs), Rusty Greer, Dean Palmer and Ivan Rodriguez scored 928 runs. Ken Hill and Bobby Witt each won 16 games. Roger Pavlik made the All-Star team (what, you forgot about that one?).
The Rangers opened their division series in New York. Gonzalez blasted a mammoth three-run home run off David Cone, John Burkett pitched a complete game and the Rangers won 6-2.
And they haven't won a playoff game since. They lost three straight in 1996 -- including a 12-inning heartbreaker in Game 2 and a ninth-inning defeat in Game 3. They lost three straight to the New York Yankees in 1998. They lost three straight to the Yankees in 1999.
Take that, Chicago Cubs!
---
1 | 2 | 3 | 4 | 5 | 6 | 7 | 8 | 9 | 10 | 11 | 12 | 13 | 14 | 15 | 16 | 17 | 18 | 19 | 20 | 21 | NEXT IMAGE >>
SPONSORED HEADLINES
ESPN TOP HEADLINES
MOST SENT STORIES ON ESPN.COM
Majestic Youth Replica Texas Rangers Prince Fielder #84 Alternate Red Jersey Shop »