Texas Rangers: Money ball
Updated:
September 29, 2010, 1:33 AM ET
Page 2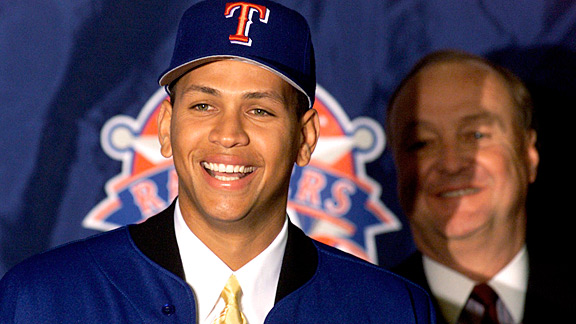 AP Photo/Donna McWilliamAlex Rodriguez looked quite happy with his new contract. Owner Tom Hicks? Not so much.
Three years after buying the franchise for $250 million, owner Tom Hicks signed Alex Rodriguez to a 10-year, $252 million contract. It was a happy day in the Scott Boras household.
Hicks at the news conference: "Alex is the player we believe will allow this franchise to fulfill its dream of continuing on its path to becoming a World Series champion."
Rangers GM Doug Melvin: "The Rangers are serious about winning. I know expectations will be high. We're ready for that challenge."
Sandy Alderson, MLB executive vice president: "Stupifying."
The Rangers went 73-89, 72-90 and 71-91 in A-Rod's three years with the team, despite his big numbers. He was traded to the Yankees, with the Rangers including $67 million of the $179 million left on Rodriguez's contract. In 2009, Hicks put the franchise up for sale after Hicks Sports Group defaulted on $525 million in loans.
---
1 | 2 | 3 | 4 | 5 | 6 | 7 | 8 | 9 | 10 | 11 | 12 | 13 | 14 | 15 | 16 | 17 | 18 | 19 | 20 | 21 | NEXT IMAGE >>
SPONSORED HEADLINES
ESPN TOP HEADLINES
MOST SENT STORIES ON ESPN.COM
Rawlings Texas Rangers Softee Triple Play 3-Ball Set Shop »