Texas Rangers: Billy ball
Updated:
September 29, 2010, 10:44 AM ET
Page 2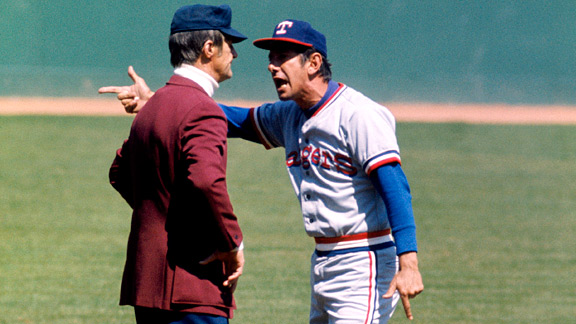 Getty ImagesBilly Martin managed the Rangers to their first winning season in 1974.
Near the end of that disastrous 1973 campaign -- the Rangers finished 57-105 -- the club hired the pugnacious Billy Martin as manager. "I'd fire my mother to hire Billy Martin," Short famously said.
Martin drank hard, fought hard and was fired by the Detroit Tigers after he told the media he ordered his pitchers to throw at the opposition. But Martin had also won division titles with the Tigers and Minnesota Twins. The Rangers had been a miserable failure their first two seasons. What did they have to lose?
Sure enough, Martin turned this unlovable bunch of losers into winners. Led by AL MVP Jeff Burroughs, shortstop Toby Harrah, rookie of the year Mike Hargrove and 25-game winner Fergie Jenkins (acquired from the Chicago Cubs for Bill Madlock), the Rangers finished 84-76, just five games behind the first-place Oakland A's. Their attendance increased 74 percent.
The next season, in late May, Martin again had the team hanging close to first place. He appeared on the cover of Sports Illustrated under the headline "Baseball's Fiery Genius." Frank Deford quoted Martin saying, "It's been a truthful relationship here with everybody. I have a real foundation here. I think I'll stay here for the rest of my career."
A few weeks later, new Rangers owner Brad Corbett fired him.
---
1 | 2 | 3 | 4 | 5 | 6 | 7 | 8 | 9 | 10 | 11 | 12 | 13 | 14 | 15 | 16 | 17 | 18 | 19 | 20 | 21 | NEXT IMAGE >>
MOST SENT STORIES ON ESPN.COM