Texas Rangers: Buddy ball
Updated:
September 29, 2010, 3:50 PM ET
Page 2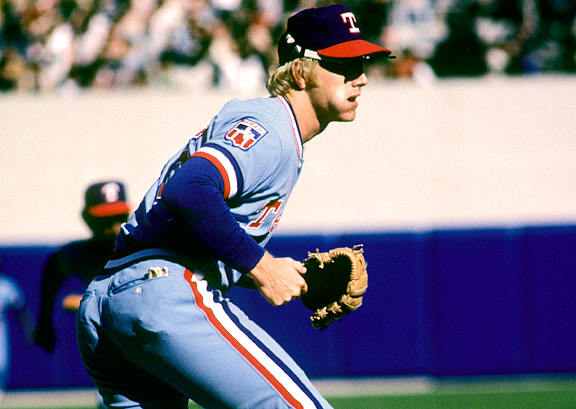 Getty ImagesOne of the best players in Rangers history, Buddy Bell joined the club in 1979.
Despite going through four managers in 1977 (Eddie Stanky would quit after one game, saying he was homesick), the Rangers won a franchise-record 94 games. They followed up with two more winning seasons, but by the mid-'80s were back at the bottom of the American League, finishing last in the West in '84 and '85. One of the few bright spots during this time was slick-fielding third baseman Buddy Bell, who won six straight Gold Gloves and made four All-Star teams with the Rangers.
Bell, however, remained essentially unknown outside Texas. As author Daniel Okrent wrote in "Nine Innings," Bell once told a reporter, "Frankly, I'm pretty dull."
And that pretty much summed up Rangers baseball in the early '80s.
(Oh, that and some bad trades: Dave Righetti to the Yankees for a washed-up Sparky Lyle; Ron Darling and Walt Terrell to the Mets for a washed-up Lee Mazzilli; Dave Stewart to the Phillies for Rich Surhoff; leaving Tom Henke unprotected in the free agent compensation pool.)
---
1 | 2 | 3 | 4 | 5 | 6 | 7 | 8 | 9 | 10 | 11 | 12 | 13 | 14 | 15 | 16 | 17 | 18 | 19 | 20 | 21 | NEXT IMAGE >>
SPONSORED HEADLINES
ESPN TOP HEADLINES
MOST SENT STORIES ON ESPN.COM
Franklin Texas Rangers Jumbo Foam Bat and Ball Set Shop »