Texas Rangers: At Witt's end
Updated:
September 29, 2010, 1:29 AM ET
Page 2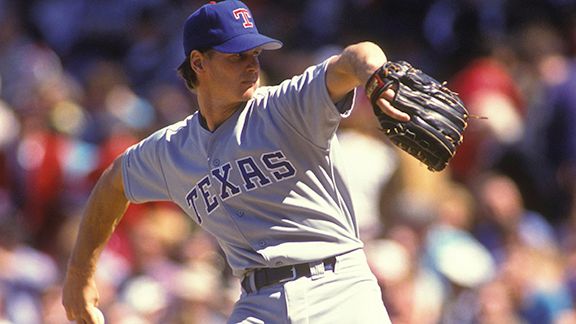 Getty ImagesAs a rookie, Bobby Witt struck out 174 batters in 157 innings -- but walked 143.
The Rangers had the third pick in the 1985 draft. Bobby Witt was the prized pitcher everybody wanted. Former Tampa Bay general manager Chuck LaMar once said, "The best fastball I ever saw was Bobby Witt's at Oklahoma." The Major League Baseball Scouting Bureau graded Witt's arm as a perfect 80. He was the guy to take -- who cares if Barry Larkin and Barry Bonds were still on the board.
Witt did have a terrific arm. But he was never able to tame his fastball, leading the league in walks three of his first four seasons with the Rangers. In the end, while he won 142 career games, he was viewed as a disappointment, another Texas first-round pick who didn't become a big star. (Albeit, Witt was better than Tommy Boggs, Jim Gideon, Billy Simpson, David Hibner, Jerry Don Gleaton, Tim Maki or Al Lachowicz. By the way, that was every Rangers first-round pick from 1974 to 1981.)
---
1 | 2 | 3 | 4 | 5 | 6 | 7 | 8 | 9 | 10 | 11 | 12 | 13 | 14 | 15 | 16 | 17 | 18 | 19 | 20 | 21 | NEXT IMAGE >>
SPONSORED HEADLINES
ESPN TOP HEADLINES
MOST SENT STORIES ON ESPN.COM
Majestic Triple Peak Men's Texas Rangers Elvis Andrus Red T-Shirt Shop »