Texas Rangers: Powerful Pete
Updated:
September 29, 2010, 9:57 PM ET
Page 2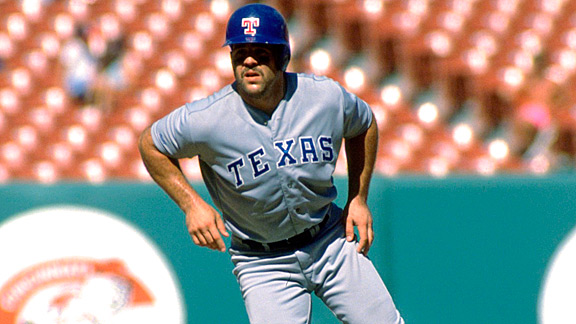 Scott Halleran/Getty ImagesPete Incaviglia hit 30 HRs as a rookie in 1986 as Texas finished 5 games out of first.
In 1986, the Rangers came out of nowhere to win 87 games. Big, burly rookie Pete Incaviglia, who had been acquired from the Montreal Expos without ever appearing in the minor leagues, hit 30 home runs, struck out at alarming rates, and became a folk hero with his monster blasts and blue-collar personality. Ruben Sierra, another rookie, looked like a future star. Second-year center fielder Oddibe McDowell was a switch-hitting leadoff hitter with power and speed. The pitching staff was young and erratic, but full of guys who threw laser beams -- Bobby Witt, Edwin Correa, Jose Guzman, Mitch Williams, plus Kevin Brown coming up through the minors.
Nothing could go wrong with all this talent, right?
Nothin' ...
Nothin' ...
Nothin' at all ...
---
1 | 2 | 3 | 4 | 5 | 6 | 7 | 8 | 9 | 10 | 11 | 12 | 13 | 14 | 15 | 16 | 17 | 18 | 19 | 20 | 21 | NEXT IMAGE >>
SPONSORED HEADLINES
ESPN TOP HEADLINES
MOST SENT STORIES ON ESPN.COM