1980s
One way to describe sports facilities in the 1980s is "multipurpose." Roughly half the stadiums were used for both baseball and football. Another word would be "roofed" -- there were six domes, including two built during that decade. Another would be "circular," the most common design. Other descriptions include "practical," "functional," "sensible," "efficient" and perhaps most accurately, "ugly." But what can you expect from a decade best known for giving us pastel sweaters?
Pros: A friend remembers that at Seattle's Kingdome, if you had a ticket for a Mariners game you didn't attend, you could use the ticket for an unreserved seat to another game. So yes, tickets were somewhat cheaper back then. More importantly, taxpayers weren't on the hook for construction costs to the extent they are today. Seats were often closer to the field than they are now as well. Some of the most cherished ballparks and arenas (Tiger Stadium, old Comiskey Park, the old Boston Garden) were still in use. As amazing as it seems now, you could actually hold a conversation with the person next to you during a basketball game without screaming to be heard above the arena noise. And best of all, you knew a stadium's name.
Cons: You could buy any food from the concession stand you wanted -- as long as it was an overpriced hot dog. Worse, you had to fight your way through narrow concourses for the privilege of standing in concession and bathroom lines. And if you missed a play while in line (which you often did, because you were probably in line at the bathroom)? Tough, because replays were either limited or entirely unavailable.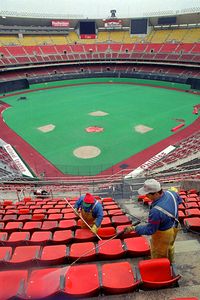 AP Photo/Amy Sancetta
Ah, the old multi-purpose Veterans Stadium.
Today
As the '80s drew to a close, work began on Camden Yards, the ballpark that would become the current luxurious standard. Baseball's retro parks are designed to capture the best features of the old classics -- but with more (and cleaner) bathrooms along with better beer. Mostly, the new stadiums are designed to make lots and lots of money for the owners.
Pros: Almost everything, aside from the ticket prices, is superior today. The stadiums are almost decadent in their comforts and features. Hungry? There are enough concession stands, restaurants and microbreweries to satisfy the most extreme foodie. The concourses are wide, and lined with TV monitors so you never miss a play. But if you do turn your head during the action, don't worry. You can just watch the replay on the 100-yard-wide HD video screen. Oh, and the between-inning scoreboard races are much more realistic.
Cons: Nothing, other than the fact that you need to take out a second mortgage to buy a ticket, and even then you'll still need to sell your plasma TV to cover the Ticketmaster "convenience" charges. And once inside, teams deafen you with constant loud music, blind you with advertising and segregate you with not just luxury suites but entire luxury "club" levels. And did we mention the ticket prices?
VERDICT:Today's experience is the clear winner -- as long as you can afford it. But if you're mostly interested in seeing, you know, what happens on the field rather than paying $20 for a microbrew and a crab cake sandwich, then you just might have been better served by one of the old stadiums that had more seats and cheaper tickets.
Jim Caple is a senior writer for ESPN.com.
2008 NBA FINALS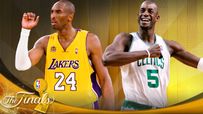 And then there were two -- the Lakers and Celtics. Who will win the NBA Finals? Let the games begin.
Finals schedule | Playoff bracket | Playoff home
Daily Dime
•
Celtics win 17th championship title
•
Did C's lose Regret Game?
•
A little help from Kobe's friends
•
Time for L.A. to go small
•
The Finals Can't Shake Donaghy Mess
•
Unlikely Game 4 comeback gives C's 3-1 lead
•
Rondo's ankle could change L.A.'s game plan
•
Kobe leads Lakers to Game 3 win
•
Lakers need to attack the paint
•
Lakers learn Powe's name in Game 2
•
Time for Gasol to step up
•
Lakers need better defense in Game 2
•
Pierce sparks Celtics in Game 1 victory
•
Expert predictions, clutch stats
•
Pierce loves playing Lakers
•
Celtics to meet L.A. in the Finals
Lakers vs. Celtics
•
Stein: Q&A after six-game "sweep"
•
MacMullan: Pierce's long road to greatness
•
Hollinger: From camp to champs
•
Stein: Boston's big three shine
•
Adande: Questions loom over Lakers' future
•
Hollinger: Celtics commit to defense
•
Scouts Inc.: Game 6 breakdown
•
Hollinger: Farmer steps up in Game 5
•
Sheridan: Late-game letdown for Celtics
•
Stein: Lakers ready to make history?
•
Adande: Greatness eluding Phil and Kobe
•
MacMullan: Doc adheres to dad's lessons
•
Jackson: Time for L.A.'s concession speech?
•
Stein: Game 4 not Kobe's finest hour
•
Adande: KG dominates Gasol again
•
Hollinger: Rivers makes all the right moves
•
Hill: Kobe's Laker legacy on the line
•
Hollinger: Vujacic lends helping hand in Game 3
•
Jackson: Jump shot Jesus has returned
•
Stein: Lakers need to earn sympathy
•
Adande: Lakers feel foul over whistle disparity
•
Jackson: Leading role suits Pierce
•
Adande: Kobe turns away from the pass late
•
Stein: Pierce's knee key to rest of series
•
Finals factor 1: Kobe Bryant
•
Finals factor 2: Celtics Defense
•
Finals factor 3: Paul Pierce
•
Finals factor 4: Home-court advantage
•
Finals factor 5: Battle of the benches
•
Hollinger: Lakers offense vs. Celtics defense
•
Broussard: Turning back the clock

•
Adande: How did Kobe get here?
•
Scouts Inc. breakdown: Lakers vs. Celtics
•
Coaching comparison: Red vs. Phil
•
Smith: Kobe's moving forward
•
Scoop: Fiendin' for a ring
•
Top 10 moments of Lakers-Celtics rivalry
•
ESPN Classic schedule: Relive the rivalry
TrueHoop
•
TrueHoop: Finals reflections
•
TrueHoop: Doc Rivers' redemption
•
TrueHoop: Lakers got Rondo'd
•
Tough night for Allen
•
Game 5 live blogging
•
Laker nation vs. NBA refs
•
Pierce and the evaporating knee story
•
Game 2 live blogging
•
Coaxing Kobe Bryant into hero mode
•
Game 1 live blogging
•
Today's game isn't so different
Simmons
•
Notes from the C's winning night
•
Boston's X factors
•
Game 4 running diary
•
Time for NBA Finals answers
•
The C's and city both look good
•
The Truth comes out in Game 1
•
NBA Finals forecast
•
Chat: NBA Finals preview
•
Simmons: You want a piece of Kobe, Boston?
ESPN The Magazine
•
Sporting Equivalency: NBA Finals meets hip hop
•
Broussard: Reporting from the NBA Finals
Fantasy
•
Join the fun of NBA Finals: Playcaller
Audio
•
Dish: NBA Finals recap
•
Wyc Grossbeck on C's championship
•
Ray Allen on how the Celtics evolved
•
Bob Ryan compares '86 C's to current one
•
Jon Barry credits Tom Thibodeau's team defense
•
Game 4 reactions
•
Rajon Rondo on Pierce, Game 2 plans
•
Bill Walton on Celtics-Lakers history
•
Dr. J on Finals, '80s hoops