1980s
The 1980s were quieter. Especially at the beginning of the decade, when ESPN was just getting off the ground. Things changed dramatically by the end of the decade, but it was a lot more peaceful back before 24/7 sports talk radio, the Internet, blogs and, well, "Around the Horn."
Pros: Give us some time -- we're thinking, we're thinking. Ummmm, you had a lot more free time on your hands, that's for sure. And because there were fewer games to watch, everyone wound up watching the same ones, which created a nationally shared experience you just don't have as often today. "Monday Night Football," for instance, was a very big deal; no broadcaster today is as big as Howard Cosell was back then. CBS did not have a monopoly on the NCAA basketball tournament. And there were a lot more newspapers providing daily coverage and multiple viewpoints. Oh, and Sports Illustrated was a heck of a lot better, with compelling, lengthy, back-of-the-magazine features that were written by actual SI staffers, not just excerpted from the latest book or, worse, turned into a two-page spread on a football player's impossible workout program.
Cons: Are you kidding? At the beginning of the decade, there often was only one college football game per week on national TV and often only one baseball game as well. And if your team's game ended after the local newspaper's deadline, good luck finding out what the score was the next day. Good lord, Sporting News not only still printed box scores a week after the games were played, but there was a real need for that service!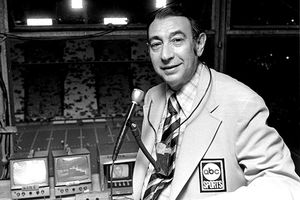 AP Photo
When Howard Cosell was on "Monday Night Football," it was a huge event.
Today
Sports coverage is so overwhelming and ubiquitous that 24/7 doesn't even begin to capture it. It's more like 25/8 or 26/9. About the only time you
can't
watch a game or get an update is when you are sleeping, although no doubt ESPN engineers are working to correct that even as you read this.
Pros: Want to watch a game in almost any sport at almost any level from almost anywhere in the world? You probably can find it, via cable, satellite or the Internet. Need to find Sandy Koufax's record when pitching on one day's rest? A box score from 1964? The Dodgers' 1986 Baseball Boogie video? A game highlight from last night or last year? It all is available at the touch of your fingers. Want to read daily updates on your favorite team, even though it plays several time zones away from your local newspaper's delivery area? Want analysis from stat freaks and hard-core fans who occasionally know more than the team's beat writers? Just go to your laptop. And best of all, all you need is an Internet connection to get it all anywhere in the world at any time of the day.
Cons: WE'RE SORRY, BUT WE CAN'T HEAR YOU BECAUSE TOO MANY TALKING HEADS ARE SCREAMING ABOUT SOME "CONTROVERSY" THEY ARE PRETENDING OUTRAGES THEM! Sigh. The problem with 24/7 sports coverage is that sports aren't actually played 24/7 (although, regrettably, that seems to be coming soon in college football), but all these sports networks and stations still have to fill their programming schedules with something. And while it's nice that the networks paying billions for broadcasting rights make sure the games are played when the most people can watch them on TV, it's often inconvenient for the people who actually pay for a ticket, only to find out the first pitch or kickoff was rescheduled for a different time (or even a different day) for TV purposes.
VERDICT: Please. It's not even close. While the noise, hype and overreaction surrounding even the most trivial sports events can be infuriating, only an aging curmudgeon would make the case that the fan was better served in the '80s than today.
Jim Caple is a senior writer for ESPN.com.
2008 NBA FINALS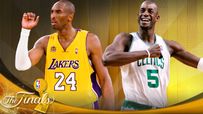 And then there were two -- the Lakers and Celtics. Who will win the NBA Finals? Let the games begin.
Finals schedule | Playoff bracket | Playoff home
Daily Dime
•
Celtics win 17th championship title
•
Did C's lose Regret Game?
•
A little help from Kobe's friends
•
Time for L.A. to go small
•
The Finals Can't Shake Donaghy Mess
•
Unlikely Game 4 comeback gives C's 3-1 lead
•
Rondo's ankle could change L.A.'s game plan
•
Kobe leads Lakers to Game 3 win
•
Lakers need to attack the paint
•
Lakers learn Powe's name in Game 2
•
Time for Gasol to step up
•
Lakers need better defense in Game 2
•
Pierce sparks Celtics in Game 1 victory
•
Expert predictions, clutch stats
•
Pierce loves playing Lakers
•
Celtics to meet L.A. in the Finals
Lakers vs. Celtics
•
Stein: Q&A after six-game "sweep"
•
MacMullan: Pierce's long road to greatness
•
Hollinger: From camp to champs
•
Stein: Boston's big three shine
•
Adande: Questions loom over Lakers' future
•
Hollinger: Celtics commit to defense
•
Scouts Inc.: Game 6 breakdown
•
Hollinger: Farmer steps up in Game 5
•
Sheridan: Late-game letdown for Celtics
•
Stein: Lakers ready to make history?
•
Adande: Greatness eluding Phil and Kobe
•
MacMullan: Doc adheres to dad's lessons
•
Jackson: Time for L.A.'s concession speech?
•
Stein: Game 4 not Kobe's finest hour
•
Adande: KG dominates Gasol again
•
Hollinger: Rivers makes all the right moves
•
Hill: Kobe's Laker legacy on the line
•
Hollinger: Vujacic lends helping hand in Game 3
•
Jackson: Jump shot Jesus has returned
•
Stein: Lakers need to earn sympathy
•
Adande: Lakers feel foul over whistle disparity
•
Jackson: Leading role suits Pierce
•
Adande: Kobe turns away from the pass late
•
Stein: Pierce's knee key to rest of series
•
Finals factor 1: Kobe Bryant
•
Finals factor 2: Celtics Defense
•
Finals factor 3: Paul Pierce
•
Finals factor 4: Home-court advantage
•
Finals factor 5: Battle of the benches
•
Hollinger: Lakers offense vs. Celtics defense
•
Broussard: Turning back the clock

•
Adande: How did Kobe get here?
•
Scouts Inc. breakdown: Lakers vs. Celtics
•
Coaching comparison: Red vs. Phil
•
Smith: Kobe's moving forward
•
Scoop: Fiendin' for a ring
•
Top 10 moments of Lakers-Celtics rivalry
•
ESPN Classic schedule: Relive the rivalry
TrueHoop
•
TrueHoop: Finals reflections
•
TrueHoop: Doc Rivers' redemption
•
TrueHoop: Lakers got Rondo'd
•
Tough night for Allen
•
Game 5 live blogging
•
Laker nation vs. NBA refs
•
Pierce and the evaporating knee story
•
Game 2 live blogging
•
Coaxing Kobe Bryant into hero mode
•
Game 1 live blogging
•
Today's game isn't so different
Simmons
•
Notes from the C's winning night
•
Boston's X factors
•
Game 4 running diary
•
Time for NBA Finals answers
•
The C's and city both look good
•
The Truth comes out in Game 1
•
NBA Finals forecast
•
Chat: NBA Finals preview
•
Simmons: You want a piece of Kobe, Boston?
ESPN The Magazine
•
Sporting Equivalency: NBA Finals meets hip hop
•
Broussard: Reporting from the NBA Finals
Fantasy
•
Join the fun of NBA Finals: Playcaller
Audio
•
Dish: NBA Finals recap
•
Wyc Grossbeck on C's championship
•
Ray Allen on how the Celtics evolved
•
Bob Ryan compares '86 C's to current one
•
Jon Barry credits Tom Thibodeau's team defense
•
Game 4 reactions
•
Rajon Rondo on Pierce, Game 2 plans
•
Bill Walton on Celtics-Lakers history
•
Dr. J on Finals, '80s hoops
ESPN Top Headlines