CARSON, Calif. -- The punk behind me just punched me in the kidney.
Hours after the curtains fell on David Beckham's first news conference, I'm crushed against the closed glass doors leading to the Los Angeles Galaxy team store outside Home Depot Center. The swelling mass of fans and paparazzi are still going ape-spit, but not because they're hoping to snag some Beckham gear.
No, they're here to stargaze.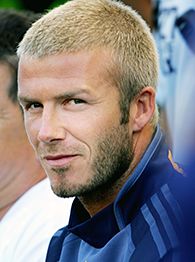 Stephen Dunn/Getty Images
The face MLS is betting $250 million on.
Beyond the tinted windows, Victoria Beckham -- known even in cave dwellings as Posh Spice -- is purchasing a soccer ball. Or so I think. Can't be certain because soccer moms Veronica Fleury and Adrianne Crysdale are breathing all my air. "We're designing T-shirts that say, 'My Mom Loves David Beckham More Than Your Mom,'" Veronica says. "We're trying to remind ourselves that we're here for our boys. But if Victoria goes missing, we've taken her shopping with us."
Suddenly, the doors fly open and four scary men in dark suits and wired earpieces carve a path through the mob, escorting Victoria toward a parked jet-black Lexus SUV. And somehow, I've been whisked inside their secure, fast-moving area. Victoria is wearing a pink number with Jackie O shades on her face, passing for the former first lady -- if Mrs. Kennedy looked like a pink tattooed tongue depressor.
"To be honest, I wasn't expecting this at all, not in America," she tells me, looking quite at ease among lunatics. "America has been very kind to us. This has been a fantastic day."
But will it be a fantastic stay? She can't answer this question and I can't ask it because one of her goons just put me in a headlock. The pain in my neck notwithstanding, I feel this is a harbinger of good things to come. If the Beckhams and their strange sport are to be embraced in this country, they'll need to win over Los Angeles first. So far? So crazy. And if there's one thing a jaded, soccer-ignorant Angeleno -- like, well, me -- can embrace, it's crazy.
We scouted out 10 locations, looking for evidence that the Beckham Invasion will succeed, as determined by the city that made Paris Hilton a star.
10. Venice Beach: He has street cred, sort of
Bikers, bladers, degenerates and beachgoers have swarmed the stands lining the Venice Beach basketball courts. I approach a group of ballers who openly pass around a philly blunt while waiting to enter the court. These are the dudes who buy Air Jordans and still wear his jersey, along with those of Kobe Bryant and Allen Iverson. If Beckham can be sold to the streets, he can be sold here.
"Man, I don't know no mothaf------ David Beckham," yelps Marcello Simmons, 19.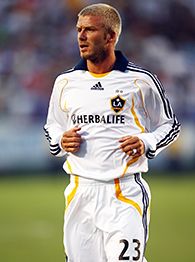 Shaun Botterill/Getty Images
The great unanswered question: How will Beckham fare on the field?
"He the dude with the short hair?" wonders tiny regular Sam Ogarro, 22. "Wears a white jersey?"
"Fool, he play soccer," says Steve Scott, a shirtless and ripped 27-year-old behemoth, while scribbling down his phone number. "But I'd love to bodyguard for him. If you know him, tell him to holla at me."
9. Campus Taco in Venice: Hispanic people will watch … maybe
Persons of Hispanic and Latino origin make up nearly 50 percent of the population of Los Angeles County and 100 percent of the clientele of Campus Taco, a crowded diner nowhere near a campus. Twenty men are seated at the 12 tables, cursing in Spanish at the archaic TV, which is tuned to the Uruguay-Mexico match on Univision. I'm greeted by a "Que onda?" from cashier Julio Guzman. "MLS sucks big time, yo," Guzman says. "We only show international here."
And will that change with Beckham's arrival? "Maybe," he replies, pointing to the tip jar.
8. Lucky Strikes in Hollywood: He fits in L.A.'s celebrity sports scene
Matt Leinart's first annual "Bowling with the Stars," to benefit his new namesake charity, is where L.A.'s jocks and celebrities collide. Malibu resident Kevin Garnett is bowling with Nick Lachey and Captain Morgan (yeah, some dude in a pirate suit), Serena Williams enjoys the festivities, and Leinart commends Stacy Keibler for bowling a 70, which is "good for a girl," he says.
It's also the night of Beckham's arrival at LAX, but when a "SportsCenter" segment airs on the many wall-mounted flat screens, only Edgerrin James notices -- if only for a moment. "Your turn," interrupts his billiards partner, Reggie Bush.
"Man, it's weird, but Beckham didn't come up one time tonight," Leinart tells me. "I would've loved to have him here, though. If he's not too busy hanging out with Tom Cruise and Katie Holmes."
Kobe Bryant also is intrigued. When news of Beckham's signing first hit, I asked him for his thoughts. "I've never met David before, but we have mutual friends and we're definitely going to talk and put something together," Bryant said. "For him to come to America and be a part of the Galaxy can be something truly special."
"And he's making a million a week?" he added. "Man, what would you do with a million a week?"
On behalf of Los Angeles, I'd give it to you, in cash, if you promise to stay. Do it for Beckham.
7. Sunset Boulevard in Beverly Hills: The stargazers are gazing
Under the flimsy shade of a palm tree, a man is reading about soccer in a Spanish language sports page. Beside him is a large wooden sign with red lettering: "Star Maps." For $10, Juan will give you a "summer 2007 edition" map of the stars' homes, along with a warning. "No Beckham," Juan says, before switching to Spanish. "It will be in the fall edition, next month. Every day, somebody asks about Beckham."
Rich Haddad, a tourist from Denver, would've like to have seen Beckham's pad, but he'll settle. "I'm good as long as you've got the Playboy Mansion on there," he tells Juan.
"You mean, as long as they've got Johnny Depp's place on there," corrects Rich's wife, Diana.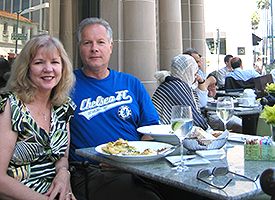 Joe and Lola Spay say Beckham will be a hot ticket in L.A.
6. Rodeo Drive in Beverly Hills: The rich are buying
Those who frequent Rodeo have the dough for season tickets and box seats, but do they have the interest? On the patio of The Blvd, a chic restaurant at the Beverly Wilshire, Joe and Lola Spay are dining on shrimp pizza and scallops and boasting of their midfield tickets for the Galaxy-Chelsea match. "The Beverly Hills clientele will respond to his celebrity," Joe says. "With the Lakers off, it'll be the hottest ticket of the summer."
Jenna Smyth, a 17-year-old with a leopard skin dress and Louis Vuitton purse, sister Marianna, 19, and mom Wilma are heading for Tiffany's. "He's the hottest guy in the world," Jenna says "We might get tickets for tomorrow's game."
It's sold out, I tell them. "Shouldn't be a problem," Mom says. "Dad will get tickets for us."
Can Dad get one for me, too?
5. adidas store at Third Street Promenade: They're buying his gear
Small dogs lead tall ladies with big chests at this outdoor mall, three blocks from the ocean, where locals come to shop, eat and be seen. And to buy soccer goods: The adidas store is here, and if Beckham is an alien invader, this is his mother ship. His mug is everywhere, his Galaxy jersey on every rack. Assistant manager Charles says the store moved 121 and 75 units Thursday and Friday, respectively. Those numbers nearly doubled this past weekend. "It's selling better than expected," Charles says.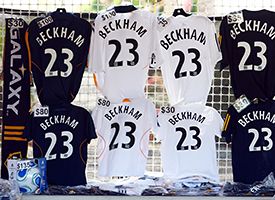 Shaun Botterill/Getty Images
All the cool kids will be wearing their Beckham jerseys.
As she exits the store with a bag of goods, former Pepperdine soccer player Lacey Ubaldi, 25, is hopeful. "Everybody in my little circle is freaking out about Beckham," she says. "He's our best bet to make soccer spread. He's like Paris Hilton with skills."
"But I just bought some Puma shoes," she adds.
4. Home Depot Center: The kids love him
Seventeen thousand kids have signed up for Beckham's soccer academy, and summer sessions are selling out fast. Three- and five-day sessions run $375 and $595, respectively, but Santy Oropel, a self-employed father of 11-year-old twins Alex and Tatiana, had no choice but to cough it up -- and to make the two-hour drive from Redlands. "The kids have been awake since 5:30 in the morning," Oropel says after one such session. "They couldn't wait to get here."
"Beckham is a man who follows his dreams and is really good at what he does," says Alex, who's wearing Beckham's new jersey. "He makes me like soccer."
We're interrupted by Scott De Roy, president of Team Colors (seller of licensed MLS products), a fast-talking man with an orange chinstrap beard. "Would you buy sneakers, ball bags or decals with Galaxy logos?" he asks excitedly. "How about toothbrushes? Do you like the slogan, 'Brush with Beckham?' Would you buy a Beckham toothbrush?"
Tatiana and Alex don't care if it comes with soft bristles. They're in, for all of it.
3. Westwood Park: We're now playing soccer, or trying to
On the morning of Beckham's debut, I phoned my pal John Peloian, a former UCSB soccer player, in search of a pickup game. My inquiry was met with laughter and insults. "You're a dork," he said. "It's mostly tight groups of guys, but you can try two places."
The two pitches at UCLA's intramural field were dormant, but at Westwood Park, 10 players are scampering about a makeshift pitch with portable mini-goalposts. Friends of friends, eight nationalities in all, with a common goal: to play a regular soccer game. "Maybe it's Beckham, but it's getting easier to get the guys together," Dimitri Malyshev says. "Now, do you mind? We're trying to play a game here."
But I too would like to play, I tell him. "Sure," he says. "If you can find another player."
2. The Sports Club/LA: Hollywood loves him … and her
The seven luxury cars -- all black -- parked at the curbside valet are the reminder that this is the gym to the stars. Beyond regulars such as Terrell Owens, Mark Wahlberg, Michael Clarke Duncan and Katie Holmes -- before she relocated to a nearby solar system -- Hollywood's power brokers come here to field pitches and strike deals. One week before Tom Cruise and Will Smith would throw the Beckhams a "Welcome to L.A." A-list bash, Jason Shuman, partner in Blue Star Entertainment ("Darkness Falls," "Little Black Book"), says he'd like to strike a deal with Beckham.
"He'd fit into a number of vehicles, whether it'd be a sports movie or a larger tent-pole movie," Shuman says, his eyes wide. "Remember, we made Vinnie Jones into a movie star. Beckham has the potential to be huge in this town."
True, but at the café downstairs, producer Mark Ciardi ("Invincible," "The Rookie") says he's more intrigued by Mrs. Beckham. "She's a performer, and she has some recognition with her musical background," he says, adding that Home Depot Center has the potential to become Hollywood's summer gathering place. "I know I'll probably head down at some point with my kids. If I can find out where it is."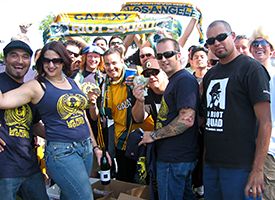 The Riot Squad doesn't need Beckham to root on the Galaxy.
1. Home Depot Center, Beckham's debut: They showed … all of them
And finally, it's game day. Home Depot Center prohibits tailgating, but today, the policy clearly does not apply. Fans from all over the Southland strike up hibachis, pelt you with soccer balls and beer cans, bang drums, blow horns and sing expletive-laden fight songs rarely heard around these parts.
"I've never seen anything like this," says longtime stadium maintenance worker Wade Vanzie. "Whether it's his image or his skills, fans are responding to Beckham in a deep way. It's like they're getting their souls involved now."
Not even Beckham's gimpy ankle could keep them away. Among the first-timers -- who included politicos like the Governator, jocks like Garnett and celebrities like Eva Longoria -- are die-hards like the LA Riot Squad, the club's rowdiest supporters. Come game time, you can find them in Section 138. But right now, they're peeing between cars -- and welcoming newcomers like me into their Euro-style, double-decker bus.
"Beckham brought the bandwagon with him, but you'd be a fool not to appreciate what's happening," says unofficial spokesman Marc "That Guy" Conroy after tossing me a beer. "We don't care if this is a long-term thing with the new fans. Win or lose, we'll be here.
"Of course, it'd be nice if Beckham plays and scores a few goals," he adds. "This town isn't going to like a low-scoring game."
Sam Alipour is based in Los Angeles. His Media Blitz column appears in ESPN The Magazine and regularly on Page 2. You can reach him at sam.alipour@gmail.com.