Despite what will surely be a drubbing by the Patriots over the Packers or Cowboys, I for one am counting the days until Super Bowl XLII.
Thank recently announced halftime performer Tom Petty & the Heartbreakers for that. Also, thank Zulu McPatty, the sweet blonde thing who lived down my street in Pleasanton, Calif. Zulu (not her real name) was a good girl who loved her mama, Jesus, America and putting a sound track to each and every one of our make-out sessions. And for our, umm, extra special session, she chose Petty's "Mary Jane's Last Dance."
(And yes, you're horribly mistaken if you draw any conclusions from this.)
Anyway, call it love at first listen. A few years and several Petty CD purchases later, I caught the Gainesville, Fla., rocker at a sold-out Shoreline Amphitheater with my high school pals and our girlfriends -- yes, Petty has been good to me -- where, after two hours of sing-alongs while under the cover of a manmade reefer cloud, I learned what Charles Coplin, VP of programming for the NFL, has come to appreciate, too: Petty, the new waver turned neo-classic rocker turned MTV star and now Rock and Roll Hall of Famer, is an exceptional live musician.
"There are three things we really liked: his catalog, our creative chemistry and the electricity of his performance, which is a big part of this," says Coplin of the act that will follow Prince, Paul McCartney and the Rolling Stones. "The guy was extraordinarily educated about the last three shows and was a real fan, and appreciates the uniqueness of the performance. You have to engage a crowd of 30,000 people who aren't there to see you perform while resonating with people at home. We went to shows and watched tape, and looked for energy and electricity. He and his band are fantastic performers."
And, as Coplin adds, "They're an American institution."
Indeed, but we here at Page 2 are aware today's kiddies may not know Tom Petty from Tom Selleck, despite the fact that one has sold over 50 million records (in line with Nirvana and Johnny Cash) and the other is most famous for his 'stache.
So, Bowlers, meet the latest geezer musician to rock America's greatest sporting spectacle, 17-time Grammy nominee and four-time winner Tom Petty.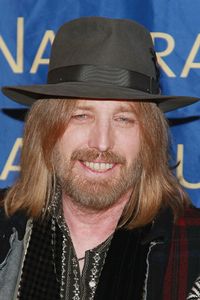 Dimitrios Kambouris/WireImage.com
With Tom Petty, expect just some good old-fashioned rock and roll during the halftime show.
For the NFL, much work lays ahead. Together with the artist, it must select a 12-minute set list (anywhere from three to seven songs) from a discography that includes 15 top-100 singles from 15 top-100 albums.
"We're always looking for songs that everybody in the stadium can sing together, and over the last 30 years, this artist has as many hits as anybody," Coplin explains. "That's the great thing about this artist. You can debate his set list for hours."
Luckily for the NFL, Page 2 was willing to pitch in. Check out Petty's halftime set list, as chosen by us. Sure, Petty looks less like a football fan than he does someone Tony Romo might tap, but he strikes us as a perfect fit.
"Free Fallin' (Full Moon Fever, '89)
A top-10 single in January 1990 thanks, in part, to a high-rotation music video. In '96, music maven/director Cameron Crowe would handpick the tune for Tom Cruise's sing-along in "Jerry Maguire." This was six years after Cruise came to believe we are all aliens, so don't peg this on Petty.
"Here Comes My Girl" (Damn the Torpedoes, '79)
Wanna get inside Bill Belichick's head? This is exactly what he'll be thinking when Wade Phillips runs onto the field.
"I Won't Back Down" (Full Moon Fever, '89)
After Brett Favre's five first-half interceptions, dude's going to need a pick-me-up …
"American Girl" (Tom Petty & the Heartbreakers '77)
Warning: This song will excite your lady, but not as much as Misters Romo and Brady.
"Even the Losers" (Damn the Torpedoes, '79)
… Get lucky sometimes, or so goes the chorus -- and Mike McCarthy's halftime speech.
"Into the Great Wide Open" (Into the Great Wide Open, '91)
Whatever happened to Eddie, who went to Hollywood and got a tattoo? Who cares. The Super Bowl falls on Feb. 3, two days before Super Tuesday (when many states hold their presidential primaries), so it's a time for optimism. Bonus point: You can tune out Fox's Joe Buck because the song provides sufficient analysis of Moss/Stallworth/Welker's on-field actions.
"Running Down a Dream" (Full Moon Fever, '89)
Sure, ABC used this infectious garage rock anthem in its NBA playoff coverage, but once the Pats/Boys get a load of this, they might just make a game of it. And if you believe that, we have a Laurence Maroney to trade you.
"Mary Jane's Last Dance" (Greatest Hits, '93)
This tune may not fly with the gestapo (er, family values groups … er, network censors) but the Super Bowl could be Favre's last dance, so there's a metaphor for ya. Plus, seven out of 10 American botanists agree that by adding this to the set, Randy Moss will give an extremely strange second-half performance.
What do you think, Bowlers? Which tracks would you like to hear? And are you on board the Petty train, or do you prefer previously rumored performers like The Eagles, Bon Jovi, Bruce Springsteen or The Police? (Discuss below.)
And as for you, Mr. Petty, good luck and, for the love of Belichick, please refrain from exposing a single body part. Thank you.
And thanks for, you know, the other thing.
Sam Alipour is based in Los Angeles. His Media Blitz column appears in ESPN The Magazine and regularly on Page 2. You can reach him at sam.alipour@gmail.com.