Single page view
By Jim Caple
Page 2 columnist
Editor's Note: This is the 14th report card in Page 2's summerlong series rating all 30 ballparks in Major League Baseball.
DETROIT -- Disclaimer: I love Tiger Stadium. It was always one of my favorite ballparks to visit and I still wish the Tigers played there. That said, if the Tigers had to move to another stadium -- and they didn't really need to -- at least they moved to a good one. And with that, we return you to your regularly scheduled ballpark review ...
REPORT CARD
Comerica Park
Capacity: 40,120
Opened: April 11, 2000
Surface: Grass

Our Ratings:
Seat comfort: 5
Hot dogs: 4
Concessions: 4
Signature food: 1
Beer: 3
Bathrooms: 4
Scoreboard: 4
P.A. system: 4
Fun stuff: 5+++
Souvenirs: 3.5
Tickets: 4
Exterior: 5+++
Interior: 5+++
Access: 1.5
Ushers: 3.5
Trading up: 5
Fan knowledge: 4
7th inning stretch: 3.5
Local scene: 3
Wild card: 10

---

Total: 82
George Carlin's routines got a little tired with age but he was dead on when he laid out the differences between baseball and football, including where they are played. "Baseball is played on a diamond, in a park. The baseball park!" he said. "Football is played on a gridiron in a stadium, sometimes called Soldier Field or War Memorial Field."
Nowhere is this clearer than in downtown Detroit, where a beleaguered city with acres of abandoned buildings and empty lots spent millions building lavish stadiums for its two sports teams directly across the street from each other.
Walk by the walls of Ford Field and you literally would not be able to tell whether it was a football stadium or an auto plant. It's absolutely perfect for the NFL -- it's cold, corporate, sterile and utterly unfriendly, just like the league itself. The only thing missing are "No trespassing, guard dogs!" signs.
And then there is Comerica Park, which is as colorful and welcoming as a state fair. There's a merry-go-round, a Ferris wheel, Coney dogs, picnic tables, fountains, beer halls and about a hundred giant tiger statues. Unlike its neighbor, the place is so downright open and inviting that you can even peer through the gates and watch the game from the street.
The only thing missing is a slick carnival barker offering to guess Dmitri Young's weight.
Actually, that's not right. The fans are missing as well. The Tigers are so bad that Detroit is drawing fewer fans in the new park than they did at Tiger Stadium. Which is too bad. Wandering around the stadium with my friend, Scooter, we kept talking about what a fantastic, happening spot it would be if only the Tigers could have a winning season.
Heck, it would be so fun, so festive -- so perfect -- that it would almost be as good as the old stadium.
The ratings:
1. Exterior architecture: No team has ever integrated its name into a stadium as extensively and successfully as the Tigers have. There are tigers everywhere. There are enormous tiger statues guarding the main entrances. There are stone tiger heads mounted on the exterior walls, each holding a lighted baseball in its mouth. There are even tiger claw marks down the walls. (No place ever cried out more to be called Tiger Stadium than this one.)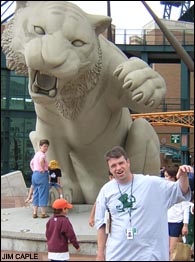 Jim Caple is just about as intimidating as the ferocious tiger that greets you at Comerica.
As I stared at all these statues, two thoughts kept recurring. One, this must be what Siegfried and Roy's living room looks like. Two, I hope the Padres don't try to copy Detroit at their new stadium.
I mean, can you imagine? Gigantic monk statues looming above the entrance. Altar boys hawking gold-leafed programs meticulously illustrated and lettered by hand. Holy water going for $4 a bottle. Priests charging $5 for regular, venial-sin confessions, $7.50 for biggie-sized, mortal sin confessions.
I better stop now. 5+++
2. Interior Architecture: The tiger theme continues inside -- the merry-go-round has tigers instead of horses to ride on -- but what really stands out is the attention to team history. Tiger Stadium may be empty but they transported the team's history as best as possible to the new one.
First, there are these lovingly-detailed, beautifully displayed exhibits to each decade of Tigers history mounted throughout the concourses. The 2003 team may stink but you can always drift over and read up on the '84 or '68 teams for a fix of when times were good.
In addition to the displays, there are these extraordinary statues behind center field of Tigers greats such as Ty Cobb, Al Kaline and Willie Horton. They're set in spectacular action poses -- Cobb is sliding, Horton is swinging -- though to really capture their essence, Horton should be scratching himself and Cobb should be spiking the third baseman and cursing him for bleeding on his uniform.
The best detail, though, is the Kaline statue. It pictures him leaping to make a one-handed catch and his glove has pins it just in case someone hits a home run into it so that the ball will stick in the glove. (If the Rangers thought of something that clever in Arlington, they would have put a statue of Jose Canseco in right field so that baseballs can bounce off his head.)
The only drawback is the statues face the field, which is a bit of a waste. They're too far from the seats to be seen clearly and they face away from fans trying to pose by them on the concourse. Better to turn them the other way so fans can get a good look at them. 5+++