By Jeff Merron
Page 2 columnist
Editor's Note: This is the fifth report card in Page 2's summerlong series rating all 30 ballparks in Major League Baseball.
ATLANTA -- I admit it. I'm a big Ted Turner fan. This is a guy who banked his billions by giving people what they wanted. Ted says and does silly things sometimes, but he's got savvy of the best kind and it shows up all over the place in the park that bears his name. Old Atlanta-Fulton County Stadium ("the Launching Pad") bit the dust in the mid-1990s, and now serves as the parking lot for its successor. With "The Ted," Atlanta got more than it could have hoped for.
REPORT CARD
Turner Field
Capacity: 50,091
Opened: April 4, 1997
Surface: Grass Our Ratings:
Seat comfort: 2
Hot dogs: 5
Concessions: 5
Signature food: 4
Beer: 2
Bathrooms: 4
Scoreboard: 4
P.A. system: 5
Fun stuff: 5
Souvenirs: 3
Tickets: 4
Exterior: 5
Interior: 5
Access: 3
Ushers: 3
Trading up: 2
Fan knowledge: 4
7th inning stretch: 5
Local scene: 1
Wild card: 10

---

Total: 81
Turner Field was, for a brief time, Atlanta's Olympic Stadium, hosting the track events and opening and closing ceremonies at the 1996 Olympics. Then it underwent a huge transformation for baseball; 30,000 seats were ripped out and replaced with huge pavilions that make Turner Field a unique combo theme park/ball park.
If you don't have fun at Turner, you're not trying. Pure baseball? Got it. Pure entertainment? Got it. Baseball history? Got it better than you can imagine. Stuff for the kids? Galore. Come early, bring a big wad of cash, and have at it. You won't regret it.
Two days after my fan visit to the Ted, one ESPN baseball regular appeared on "Gameday" and talked about how Braves fans take winning for granted and don't even bother to do the Tomahawk Chop anymore.
That isn't what I saw. On July 3, when I attended, the Braves were comfortably in first place. A crowd of 31,607 turned out for an Expos game, and they were into it. Folks chopping and cheering and standing and screaming even when the Braves went into an early 5-0 hole and stayed there most of the game.
And every time the Braves started the slightest hint of a rally -- a two-out walk, for example -- the fans made some noise.
It's been a long time since the "Go Braves & and Take the Falcons With You" bumper sticker was in vogue down here. Which makes Braves games all the more fun.
The rankings
1. Seat comfort:
Avoid the right field "Upper Pavilion" seats -- unless you're prepared to broil as the sun sets in your eyes for the first 90 minutes of a night game. After just two innings, I felt like the chicken-on-a-spit you see at the supermarket. Adding to my discomfort was the kid behind me, who thought my back would make a good practice surface for his next Dance Dance Revolution session.
Points: 2
2. Quality of hot dogs:
Which one? There are
20
varieties, including The Bison Dog, Kosher Dog, Chili Cheese Dog, and multiple grinds of sausage. Are
Octodogs next
? In any case, these wieners get high marks.
5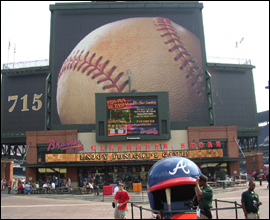 Turner Field acknowledges Hank Aaron's 715th home run (although it was hit at the old stadium, which is now a parking lot).
3. Quality/selection of other concession-stand fare:
You'll have to dig out your old Jane Fonda "Workout Challenge" video for a postgame calorie-burning session. The selection of high-fat, high-cholesterol food is excellent, running from the ballpark staples (dogs, Jacks, nuts) to the old standby, pizza (whole pies delivered to your seat). The Ted offers up the cool (smoothies) and the healthy-ish (salads, wraps), too. My strawberry-banana-yogurt smoothie was great, and a relative bargain at $5. The generous slice of New York-style pizza I downed as my "main course" was almost as good as at the stand-up places in Manhattan.
But don't be a dope. Bring water. Bring lots of it. I ponied up $4 for a 24-ounce bottle of Dasini that retails for a buck anywhere else. Sure, there are water fountains; but being in the Atlanta air in the summer is, as Chipper Jones puts it, "like breathing through mud." And who wants to have to pop out of his seat every half-inning to stay a half-step ahead of dehydration? Can't the Braves sell water for $2 and be happy with the 150-percent markup? 5
4. Signature Concession Item: Gotta be the Bison Dog, although Ted's attempt to thin his herd is buried under a bonanza of other options, including baby-back ribs, garlic fries, and, for the kids in the family-friendly "Tooner Field" restaurant, PB&J. 4
5. Beer:
Overpriced, as usual. "Beers of the World" stand had only two (2!) imports -- Heineken and Corona. This from the same folks who run the biggest international cable news network in the world? C'mon.
2
6. Bathrooms:
Clean throughout the game. No lines for either gender despite the crowd of 30,000-plus.
4
7. Scoreboard:
The scoreboards are big and clear and an advertiser's dream. The main center-field board with the video display could be bigger -- but that would take away ad space from Napa Auto Parts, BellSouth, Wachovia, and Publix. The left-field board is so packed with ads (Delta, Home Depot, Georgia Lottery, Southern Company) that there's only enough room to display four out-of-town scores at once. Couple of positives: very high-quality video. Running ERA provided cheap thrill of watching key Shane Reynolds' stat zoom up batter-by-batter as he gave up five runs in the first four innings. For a while, it looked like the NASDAQ ticker on CNBC.
4
TURNER FIELD BUDGET
Here's what Page 2's Jeff Merron spent during his day at Turner Field: Ticket: $7 ($5 face value, $2 Ticketmaster charge) Parking: $10

Smoothie: $5

Bottled water: $4

12-ounce beer: $5.50

Large slice of cheese pizza: $4.50

Program/scorecard: $5

Braves museum: $2

Total: $43.
8. Quality of public address system: If you wanna rock, Turner's the place. Excellent quality, and loud. Great selection of music, from Pink Floyd to Deee-Lite, almost always tied into a between-innings promotion. Ballplayers' intro music is loud and varied -- Santana (Vinny Castilla), House of Pain (Robert Fick), Pochy y Su Coco Band Familia (Rafael Furcal), 50 cent (Marcus Giles), Ludacris (Andruw), Kid Rock (Chipper), and Mystikal (Sheff). It's all good.
The P.A. announcer, Bill Bowers, is terrific, enthusiastic to just the right degree. (Atlanta's "Creative Loafing" newspaper defined Bowers' style as "a cross between Michael Buffer and Sydney Greenstreet." Um, thanks.) Don't expect a respite of even a half-inning from the barrage of trivia quizzes, plugs for upcoming games, contests, and so on. 5
9. Fun stuff to do besides the game:
It's a freakin' carnival at Turner. The enormous Grand Entry Plaza includes its own huge video scoreboard that's always on. Silly contests, live music, mascots for the kids, plenty of food and plenty of picnic tables. Baseball-related fun includes "Power Pitcher," "In Control," and "Throwin'Heat" booths. There are also a couple of hitting games, and much, much more.
5
10. Price/selection of baseball souvenirs:
If you can make your way past the bank of TV monitors showing other games from around the majors (a nice touch), you'll enter the Braves Clubhouse Store, where the only affordable item (among the huge selection) is the Official Braves Baby Rattle.
3
11. Ticket price/availability/location: I went the Ticketmaster route online, and paid $5 for my Upper Pavilion seat high above right field. And then shelled out another $2 in a service charge. I was glad, at first, that I could snag one of the best cheap seats; then mad, once I sat down, when I realized I wouldn't get the chance to see Sheff fire his gun from the right-field corner, thanks to the obstructed view of that area. That's info I could have learned at the ticket window, but Ticketmaster's online service knows nothing.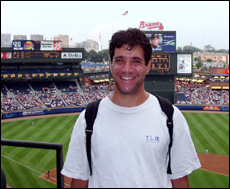 Jeff didn't mind his view from the cheap seats.
On the other hand, $7 is a bargain to get into this ballpark, and the view of most of the field was solid. Just as I was on the brink of sunstroke (at night in Turner, the sun sets in your face in right field), I was able to move to an "Upper Box" seat (retail price: $15) on the same level. 4
12. Exterior architecture: I still get the chills when I drive by Turner Field on my way into Atlanta (it's right next to the Interstate), and it's a sight to behold when you walk in from the parking lot through Monument Grove to the main gate. Turner has an old-school brick, limestone, and steel exterior; and the Grove, featuring statues of Braves greats Hank Aaron, Phil Niekro, Warren Spahn, Eddie Mathews, and Dale Murphy, is worth checking out before you enter the stadium proper. Outside the gates is a colorful array of six-foot-high baseballs that remains in place from the 2000 All-Star Game. 5
13. Interior Architecture: Turner always gets me on "Hello." We're talking retro without making a big deal of it, and we're talking modern in the layout. How can you not love a ballpark that has a huge area way up at the top where you can cool off in a misty walkway, gape at a 38-foot-tall Coke bottle made of recycled baseball gear, and gaze out on the Atlanta skyline? 5
14. Access: There's a Marta shuttle from the "World of Coca Cola" station, and many recommend using the service. But if you're driving, the short distance between I-85 and the parking lot is an adventure in trial-and-error, both pre- and postgame. Parking is plentiful if you come early (which I recommend), scarce if you're late. 3
15. Friendliness and helpfulness of usher staff:
Ushers, ushers everywhere, and they're always on duty. They'll help you get where you're supposed to go, but don't try anything too sneaky. They'll nab you.
3
16. Trading-up factor: See above. Even as late as the eighth inning, don't bother to ask if you can sit in an open seat down low. And it's also tough if you want to walk around and stand to get a good view. Narrow, crowded entryways mean you've got to keep moving. But I did find a better seat, shielded from the sun and with a full view of the field, and nobody bothered me. That was in the third inning, a nice bonus. 2
17. Knowledge of local fans: When you get tired of talking about the weather down here ("It's hot." "Sure is."), you talk about the Braves. All that talk, and years of postseason play, have created a pretty high baseball IQ. 4
18. Seventh inning stretch:
A loud, hale and hearty rendition of "Take Me Out," sung by all. And though it isn't part of The Stretch, the Braves grounds crew tends the basepaths with great flair, which is especially fine before the fourth inning when they do it to a stirring rendition of "The William Tell Overture." Bravissimo!
5
19. Pre-and-postgame bar-and-restaurant scene:
There's nothing going on outside Turner Field that doesn't require a set of wheels. But before the game, Turner Field displays all the southern hospitality you need (at NYC prices, of course).
1
20. Wild Card:
If you groove at all on baseball history, Turner Field is your place. The Braves Museum is a bargain -- $2 for a remarkably deep and detailed audiovisual tour through Braves history, from Boston to Milwaukee to Atlanta. Good videos and great memorabilia. (My personal highlight: Seeing Andy Messersmith's famous "Channel 17" jersey up close.) You can also walk through an actual Pullman train car the Braves used in the 1950s. That's a treat. And Scouts Alley, located in the West Pavilion and featuring a wealth of "inside" baseball info on current and past Braves, is a unique ballpark attraction.
10
Total Rating for Turner Field: 81