By Jeff Merron and David Schoenfield
Page 2
8. YOU HAVE TO BE A GOOD DEFENSIVE TEAM

Theory popularized by: Former catchers; 2002 Angels.
The numbers (Examining 20 World Series teams since 1995)
Defensive efficiency -- the percentage of batted balls (not including home runs) turned into outs -- is a better indicator of true fielding proficiency than fielding percentage, so that's the statistic we're using.
On average, the last 10 NL champions ranked sixth in the NL in defensive efficiency, and the last 10 AL champs have ranked sixth in the AL.
Of the 10 NL champions, four were in the top four in defensive efficiency (you can get all numbers at baseballprospectus.com) and nine were in the top eight.
Five of the AL champions were in the top four in defensive efficiency, but four were ranked ninth or lower -- among the worst defensive teams in the league.
The 1996 Yankees (11th in the AL) and 2003 Marlins (12th in the NL) were lousy fielding teams that won it all. The 1998 Yankees and 2002 Angels were the only league-leading teams that won it all.
And in the World Series itself, defensive teams don't have a significant edge; the better defensive team won six out of 10 matchups.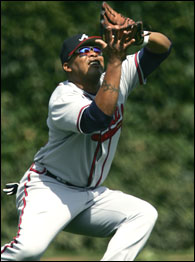 Even with Andruw Jones in center, the Braves aren't a great defensive team. (Jonathan Daniel/Getty Images)
Put those numbers all together, and you end up with an unspectacular theory: It helps to be a good defensive team, but not that much. And you can win it all without having a team of Gold Glovers.
Theory applied to 2005 playoff teams
The White Sox and Astros are excellent fielding teams. The Yankees and Red Sox are not. Overall league rankings (major-league ranking in parenthesis):
American League:
2. White Sox (2nd)
6. Angels (9th)
10. Yankees (22nd)
11. Red Sox (23rd)
National League:
1. Astros (4th)
3. Cardinals (6th)
10. Braves (18th)
12. Padres (21st)
Verdict: FALSE

Jeff
Merron
and
David
Schoenfield

PLAYOFF THEORIES