By Jeff Merron and David Schoenfield
Page 2
6. YOU NEED A STRONG BULLPEN

Theory popularized by: Mariano Rivera; the 2002 Angels; and, well, starters never go nine anymore, do they?
The numbers (Examining all playoff teams since 1995)
We broke down all playoff teams into the following categories: those with the best bullpen ERA in their league in the regular season and those with the worst.
The teams with the best bullpen ERA won 19 series and lost 17 and captured three World Series (the '98 and '99 Yankees and the '02 Angels).
The teams with the worst bullpen ERA went 14-18 and won two World Series (the '00 Yankees and '03 Marlins). While the Yankees had a 4.52 bullpen ERA, they did have Rivera (and the hot hand of Mike Stanton in the playoffs). The Marlins overcome their shaky pen by using late-season acquisition Ugueth Urbina as closer and starters Josh Beckett, Carl Pavano and Dontrelle Willis at various times in relief.
How important is a good closer? Of the 20 World Series teams since '95, only two had a closer with an ERA above 3.00 -- the '96 Braves (Mark Wohlers, 3.03) and '97 Marlins (Robb Nen, 3.89). Only nine of the 80 playoff teams had a closer with an ERA above 3.50.
Ten of the 80 teams had bullpens with losing records on the season. Only one of those 10 teams -- the 2003 Yankees, with a bullpen mark of 18-19 -- reached the World Series.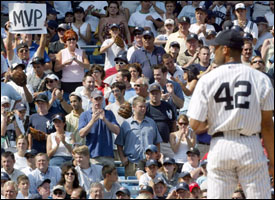 With No. 42 in the bullpen, the Yankees know they have the MVP of closers. (WireImage.com)
Theory applied to 2005 playoff teams
Mike Timlin has a 2.25 ERA, but the rest of the Boston bullpen has been a disaster. The team has a collective 5.19 bullpen ERA, easily worst among the playoff teams. The Braves are worst in the NL at 4.66. The White Sox have the best AL mark at 3.26, and the Cardinals have a 3.22 ERA.
The only closer with an ERA above 3.00 is San Diego's Trevor Hoffman, at 3.02 (and 1-6 W-L record). Rookie Bobby Jenks will be closing for the White Sox now, and his ERA is 2.75.
And though the Yankees' 4.28 ERA is second-worst in the AL, they do have the great Mariano.
Two teams had losing bullpen records -- Atlanta at 25-28 and Houston at 16-20.
Overall, the evidence is strong that you need a good bullpen, and this raises big question marks for Boston and Atlanta.
Verdict: TRUE

Jeff
Merron
and
David
Schoenfield

PLAYOFF THEORIES